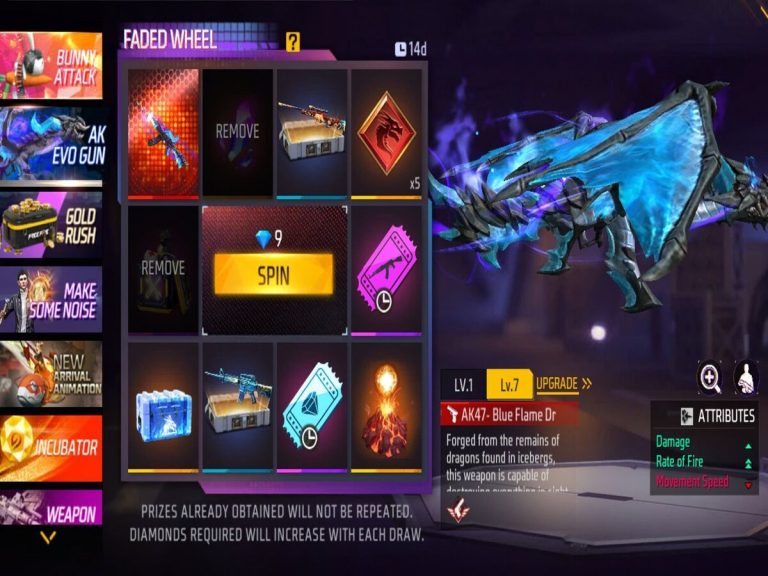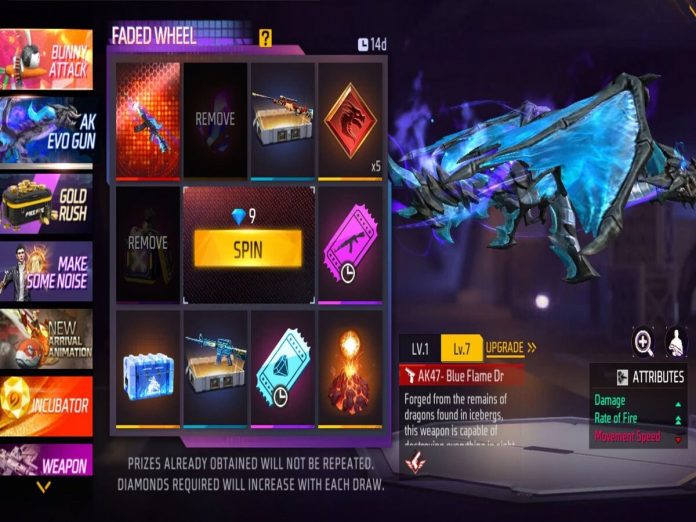 The next Faded Wheel event has been brought in Free Fire MAX. Those Free Fire players who earlier missed out on the desired Evo gun skin may now finally get it thanks to Garena's decision to reinstate it into the game.
One of the first Evo gun skins to be included in the game was the Blue Flame Draco AK47, and gamers have been vying for it ever since. The gun skin must be purchased with diamonds by interested fans, who must then acquire tokens to level it up.
As a result, Free Fire MAX now has three active Faded Wheels, the most recent of which, sporting the Evo gun skin, was released on March 20, 2023. All current Luck Royale events cost diamonds to participate in and are accessible to participants till April 2, 2023.
Faded Wheel rewards
The Blue Frame Draco AK47 is the prize pool's main draw, but the Faded Wheel also offers the following nine fascinating prizes:
AK47 – Blue Flame Draco
Volcano Loot Box
Blue Flame Draco Token Box
AK47 – Blue Flame Draco Token
Cube Fragment
Skyline Loot Crate
Lucky Koi Weapon Loot Crate
Diamond Royale Voucher (Expiry date: April 30, 2023)
Weapon Royale Voucher (Expiry date: April 30, 2023)
Supply Crate
Nevertheless, as they must pick and discard two undesirable gifts at the Faded Wheel's beginning, players can only acquire eight of these rewards. After doing so, users may only spin to claim the items.
While these are the least expensive items in the box, taking out the Cube Fragment and Supply Crate is the recommended course of action in this situation.
How to get the Free Fire MAXBlue Flame Draco AK47
To get the desired Blue Flame Draco AK47 in Free Fire MAX, just follow these steps:
Open the Luck Royale area after logging into your account.
Click on the AK Evo Gun skin by navigating to the relevant sections.
To choose the reward icons and press the Confirm button, click on the bottom left corner of each icon.
This option should be confirmed again. Ensure that you do not deselect one of the two major prizes. If you take away the two unwanted items, they can never be put back.
Use diamonds to spin to get one item at a time.
The fact that you can only get one of each item in this Luck Royale is its major feature. Every additional item, however, comes at a justifiably higher price. The initial one will cost nine diamonds, rising to 19, 39, 69, 99, 149, 199, and 499 in successive rounds.
Also Read: PUBG Mobile Brings In Dolby Atmos Audio Experience