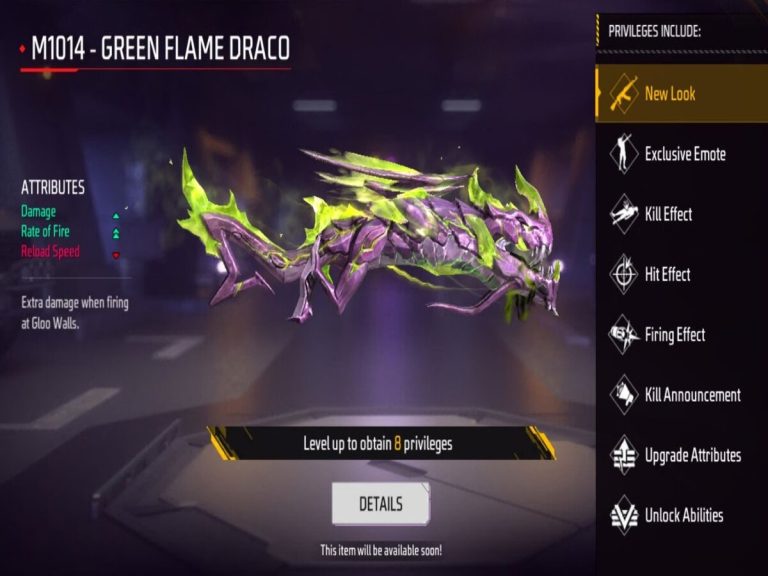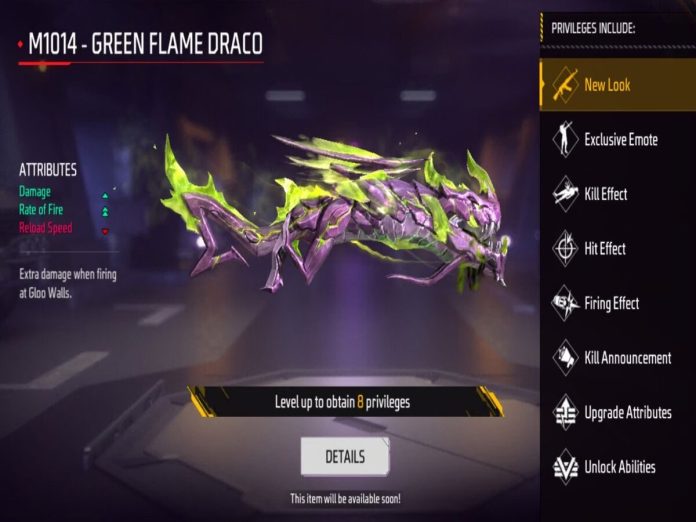 The most desirable weapon skins in Garena Free Fire and its MAX edition are the Evo weapons, which have altered characteristics and breathtaking special effects.
Free Fire has released several Evo weapons so far. The list of Evo weapons that Garena has so far released in the game is as follows:
Thompson – Cindered Colossus
AN94 – Evil Howler
Drachen Fist
M4A1 – Infernal Draco
M1887 – Sterling Conqueror
FAMAS – Demonic Grin
UMP – Booyah Day 2021
XM8 – Destiny Guardian
M1014 – Green Flame Draco
MP40 – Predatory Cobra
Scar – Megalodon Alpha
AK48 – Blue Flame Draco
Due to the popularity of Evo weapons, Garena Free Fire has periodically added new cosmetics to the game or brought back previously released ones. These skins for the AK47, FAMAS, UMP, M1014, and other weapons have so far been made available in the game.
Free Fire Evo M1014
If information from leaks is to be believed, an unknown cosmetic Evo gun for the M1014 may soon be made available in Free Fire and Free Fire MAX. The Evo M1014 2.0 has received a lot of attention from data miners, and it could soon appear on gaming servers.
The Green Flame Draco M1014 was the first Evo skin for the aforementioned shotgun and it has made intermittent appearances since May 2021. Although there have been several leaks concerning the Evo M1014 2.0, no one has yet been able to determine when it will be released.
Release Date
There is a very high likelihood that the second Evo M1014 will appear in the game following the rollout of the Free Fire and Free Fire MAX OB39 update. This is because a new edition frequently features events with brand-new themes or crossovers.
If Evo M1014 2.0 is launched, it will cost gamers a lot in diamonds because such collectibles are often a part of the Faded Wheel in the Luck Royale section.
In addition to using Evo tokens, which are expensive and need many diamonds, users who want to update the skin in order to receive more perks will also have to unlock the Evo gun.
Also Read: PUBG Mobile PMPL 2023 North America Spring: Schedule, Participating Teams, All Details