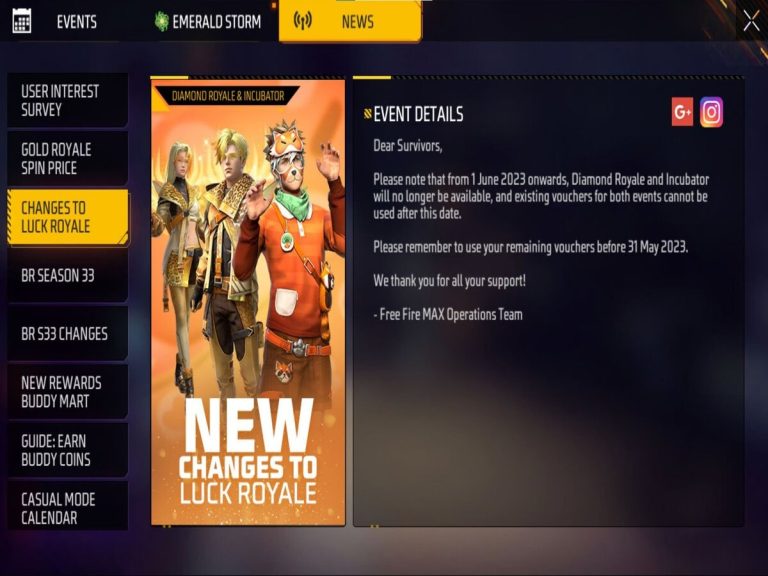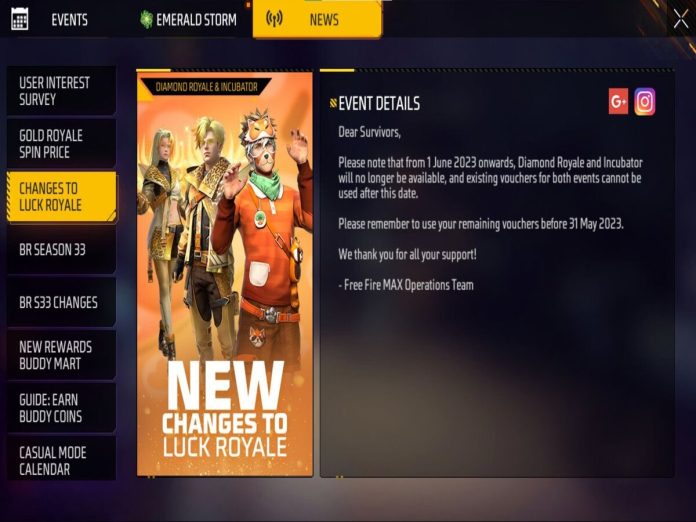 In Free Fire MAX, Luck Royales are quite popular. Most players count on them to get desirable cosmetics at affordable prices.
However, Diamond Royale and Incubator will no longer be available, as Garena unexpectedly announced recently, disappointing many players.
Garena has also disclosed a number of adjustments for the Gold Royale spins.
The latest update comes shortly after Garena revamped the widely popular Gold Royale in Free Fire to include additional prizes and Weapon Royale to enable players to purchase gun skins with gold.
Free Fire MAX Diamond Royale & Incubator
A Raccoon Rascal Bundle, Magic Cube, Cube Fragment, and several trial individual fashion pieces are all included in the current Diamond Royale in Free Fire MAX.
Each spin costs 40 diamonds. A 10+1 spin will cost 400 diamonds, and it will be available for the next 41 days.
The Incubator has a huge selection of themed outfits that players may purchase by gathering the necessary materials through spins.
The spin costs for this particular Luck Royale are 40 diamonds for one spin and 180 diamonds for five spins. It will be available for 26 days.
The Pop Host Bundle, Pumpkin Warrior Bundle, Cunning Witch Bundle, and Kopassus Bundle are some of the game's standout rewards in terms of rewards.
Gold Royale also offers a variety of other rewards. The spin price is currently 300 gold.
End of Diamond Royale And Incubator
Diamond Royale and Incubator will no longer be available in the Luck Royale section of Free Fire MAX beginning in June, according to a recent announcement from Garena.
Players were made aware of this recent change by Garena via the news section that read:
"Please note that from June 1 2023 onwards, Diamond Royale and Incubator will no longer be available and existing vouchers for both events cannot be used after this date."
Players have been urged by the developer to use up any Diamond Royale and Incubator Vouchers they now own before May 31, 2023, since they will stop working after that date.
This is because of the adjustments that have been made.
Garena also revealed plans to revamp the current Gold Royale in Free Fire MAX. On April 25, 2023, the special launch pricing for the Gold Royale spins will expire.
Furthermore, each new spin will cost 800 Gold as of April 26, 2023. The current free spin will likewise end.
Also Read: League Of Legends: Get Free The Mageseeker-Themed Rewards