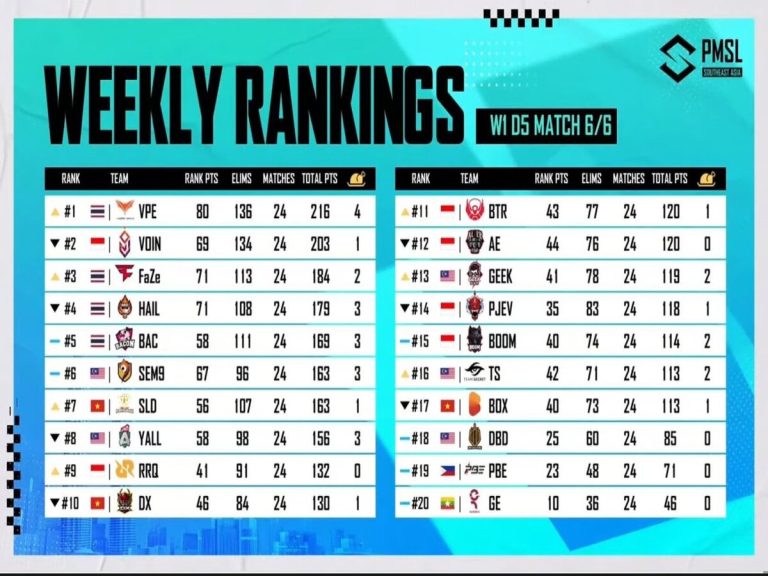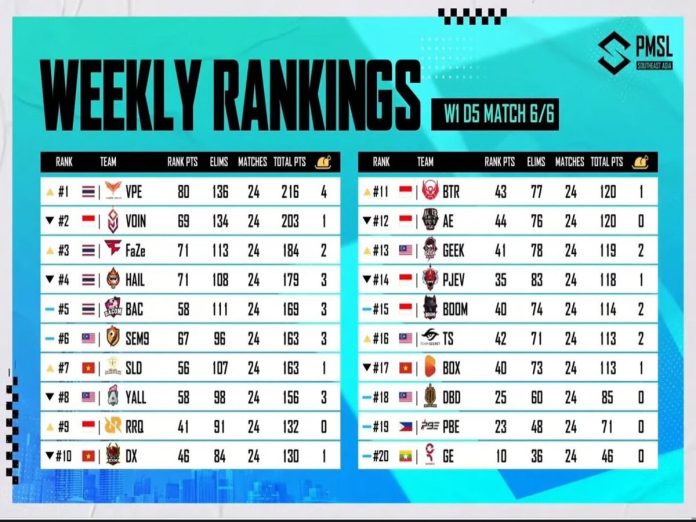 The first week of the PUBG Mobile Super League (PMSL): Spring 2023 has officially come to a close. Thai team Vampire Esports took the top spot at the end of the week.
Vampire Esports outperformed the Indonesian team VOIN Esports, surpassing them for the top place and taking the lead with 216 points and 136 kills. They were able to gather a total of four chicken dinners this week, including two on the last day.
VOIN Esports was ousted from first place in the PUBG Mobile Super League 2023 Week 1 after finishing their required 18 matches for the week. Nevertheless, the team displayed excellent performance all week long and finished in second place with 203 points and 134 kills.
PMSL 2023 Spring Week 1 Overall Rankings
Vampire Esports
VOIN Esports
FaZe Clan
HAIL Esports
Bacon Time
Players to focus
FaZe MELA – 48 eliminations
FaZe MELA – 9646 damage
HAIL TIGERx – 27 assists
PMSL 2023 Spring Week 1 Highlights
The Thai team Faze Clan was able to take third place at the end of the week. In contrast to their prior playstyle, the team remained consistent, and with the assistance of two chicken dinnerss, they were able to score 184 points and record 113 kills.
In the PMSL Spring 2023 Week 1, Mela from Faze Clan is in the lead on the MVP list. This week, the player, who was already fairly lethal, secured 48 eliminations with total damage of 9946 HP.
With 45 kills, SchwepXz from Vampire Esports is now ranked second. Rosemary, an Indonesian player from Alter Ego, is currently in third place with 36 frags.
HAIL Esports and Bacon Time were ranked in the top five, with the latter having had a fantastic last day and winning two Chicken Dinners. However, after being passed by Faze Clan, HAIL Esports, who had previously been in the running for the top three slots for the week, dropped to fourth place.
At the beginning of the week, Team Bigetron was having a terrible time, but towards the conclusion of the week, they had made some progress. Persija EVOS struggled to overcome the fierce competition.
The RRQ and D'Xavier teams from Indonesia and Vietnam were ranked ninth and tenth, respectively, in the points standings. Both of these teams displayed moments of brilliance, but they failed to deliver reliable performances.
Teams for the second week will now be categorised based on how they performed in Week 1 when the first week is over. The teams who missed out this week will strive to rebound better in the following two weeks for a chance to advance to the PMSL event Finals.
Also Read: Free Fire MAX OB39: Get Red Carpet Ready Bundle And More Rewards