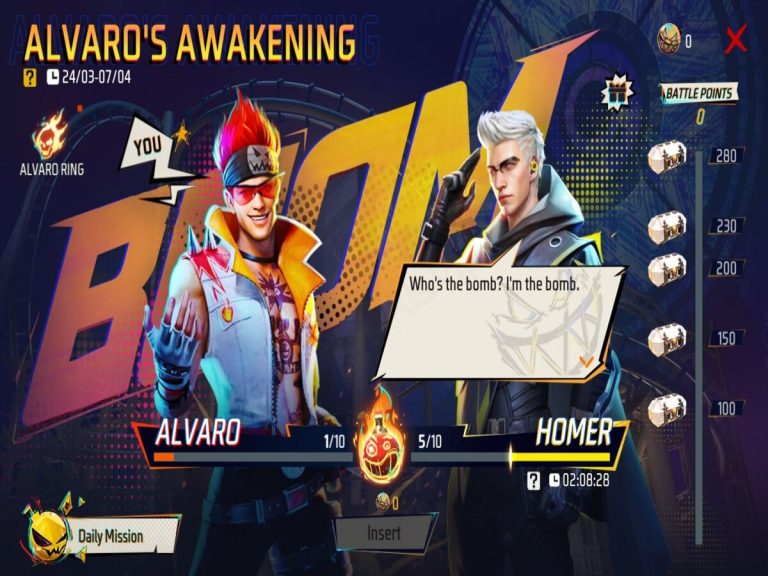 In the Free Fire MAX Indian server, the Alvaro: Reignition is currently active. A number of events have been gradually introduced that give enticing rewards to players. Fans will be able to enjoy the brand-new Alvaro's Awakening event until April 6, 2023.
This event in Free Fire MAX will be active for the following two weeks and urges players to play games and finish tasks in order to obtain the given rewards. Although the much-anticipated Alvaro character, banner, and avatar are among the event's rewards, the Red Carpet Ready Bundle, a permanent outfit, is what most fans are most interested in.
Simply completing missions will get players access to Boom Boom tokens. The war against Homer can then be won by inserting these tokens. Users can earn Battle Points based on the result and their performance as the round finishes as soon as their progress reaches 100%.
Free Fire MAX Alvaro Awakening rewards
Players may earn fantastic rewards from this event at no additional cost after they achieve a specific level of points. The following is a list of the Battle Points milestone and associated rewards:
Obtain 100 Battle Points to get a free Alvaro character and 5x Alvaro Awakening Emblems
Obtain 150 Battle Points to get a free Explosive Surprise and 10x Alvaro Awakening Emblems
Obtain 200 Battle Points to get a free Angry Bomb Avatar and 10x Alvaro Awakening Emblems
Obtain 230 Battle Points to get a free Angry Bomb Banner and 10x Alvaro Awakening Emblems
Obtain 280 Battle Points to get a free Red Carpet Ready Bundle and 10x Alvaro Awakening Emblems
To get all five rewards, fans just need to gather 280 of these event tokens.
How to get free rewards
Once you have completed the necessary tasks in Free Fire MAX, you may access the special event interface. Your Boom Boom tokens may be obtained by visiting the Daily Missions page.
You must then insert the tokens.
Once the battle is over, you will be awarded combat Points based on your performance.
By selecting the items from the progress bar on the right after earning the necessary number of points, you may eventually claim the above-mentioned rewards.
Also Read: PUBG Mobile: PMSL 2023 Spring Week 1 Day 4 Rankings, Match Highlights