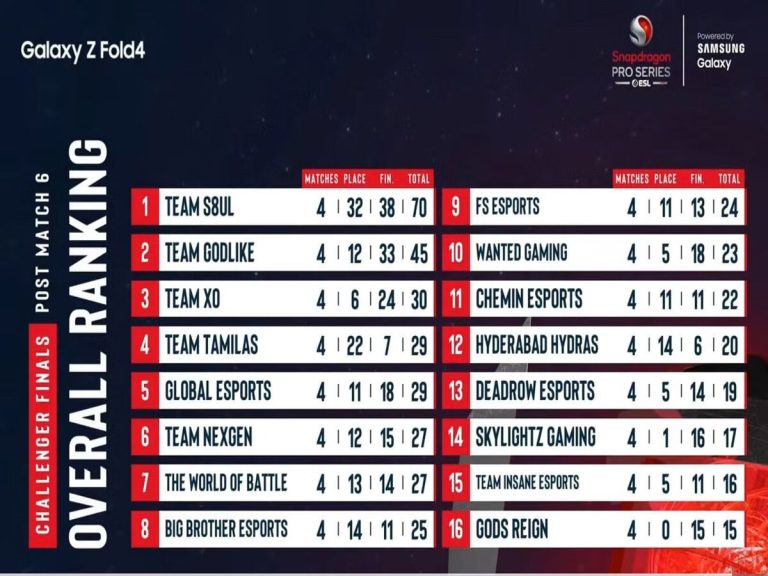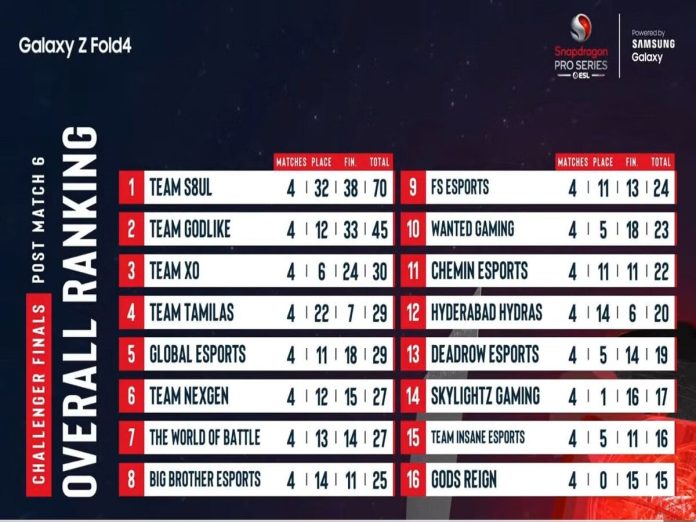 The Challenger Finale of the PUBG New State Pro Series kicked off on January 26. Team S8UL displayed their prowess and won the day. On the first day, they won three of their four games. The squad have already nearly made it to the championship round after scoring 70 points overall on the strength of 38 frags in the PUBG New State Challenger Finale Day 1.
They are followed by GodLike, who have 33 frags and 45 points. Team Tamilas took third place with 29 points after four games, while Team XO earned third place with 30 points. To know more details about the results, match highlights, and overall standings of the PUBG New State Challenger Finale Day 1, keep reading.
PUBG New State Challenger Finale Day 1 Overall Standings
Team S8UL
Team GodLike
Team XO
Team Tamilas
Global Esports
Match 1
Bagging nine frags, Team S8UL won the opening game of Day 1 between groups A and B. The match was played in Erangel. Divine defeated GodLike in a 1v3 battle that altered the course of the game. XO Fierce put up an outstanding performance and earned the MVP award for the game.
Match 2
With 10 frags, Team S8UL triumphed in the second match that was conducted on the Troi map. Optic God was chosen as the MVP as they displayed balanced gameplay to win. Big Brother Esports took third place, with Global Esports placing second.
Match 3
With four finishes, FS Esports won the third game of the day by playing conservatively. GodLike looked strong, scoring 14 points. Team Insane and Big Brother each received nine and eight points.
Match 4
The fourth game of the PUBG New State Challenger Finale day 1 was won by Team Nexgen with 10 frags. GodLike once more displayed their aggressive play winning the match with 10 frags. Skylightz Gaming finished in third.
Match 5
Chemin Esports triumphed with five frags in the matchup between Group B and C's second and third games. Despite being defeated early, Team S8UL continued on the offensive and vanquished 11 enemies. Furthermore, Wanted Gaming obtained 10 frags.
Match 6
The sixth match was won by Team S8UL with eight frags after setting up another outstanding performance. They amassed a third Chicken Dinner and appeared invincible. Team XO and Global Esports were among the two next-best teams, taking eight frags despite being dismissed early.
Eight teams will be eliminated from the PUBG New State Challenger Finale on Day 2. The 16 teams that will advance to the grand finale will be decided in the last six games of Day 2. Stay tuned to find out the results and standings after Day 2.
Also Read: Free Fire Redeem Codes 27 January 2023 In India; How To Apply And Win Mega Prizes