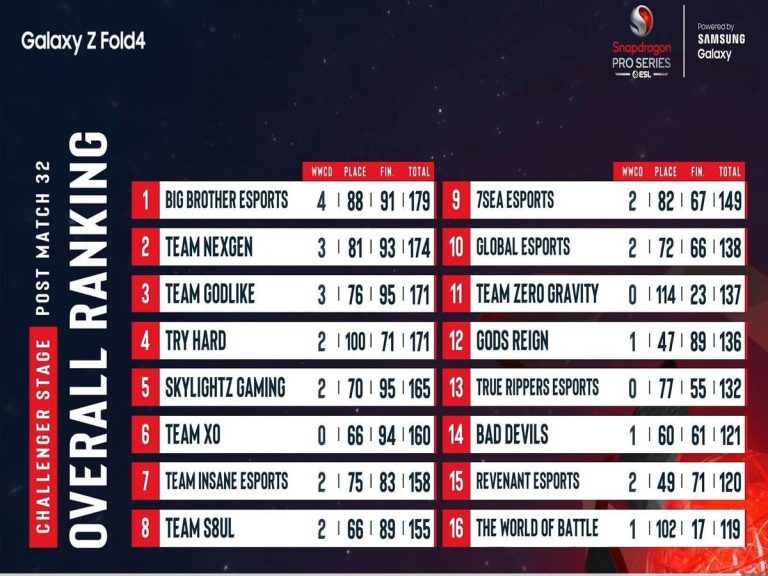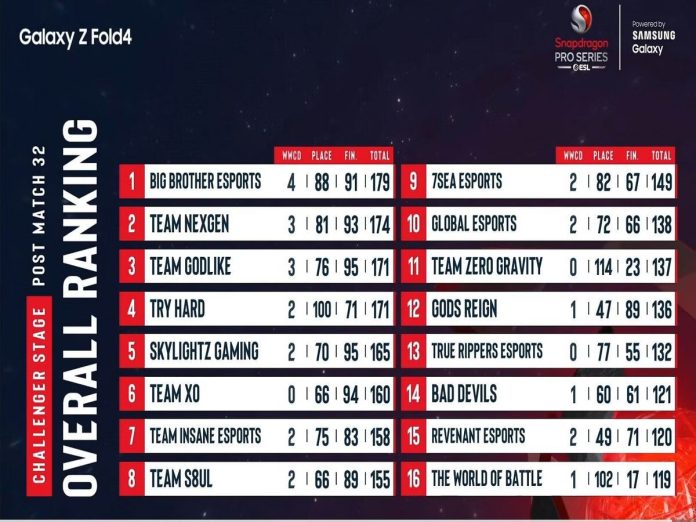 Another action-packed day has come to an end in the PUBG New State Pro Series Mobile Challenger. Day 6 culminated with Big Brother Esports rising to the top by bagging two wins and 179 points. On Day 6 alone, they amassed 71 points.
Each match of Day 6 was one for the books and the hopes for the last two days of the PUBG New State Pro Series Mobile Challenger looks more promising than ever. Here are the overall standings after Day 6 and the match-wise summary.
PUBG New State Pro Series Overall Standings
Big Brother Esports
Team NextGen
GodLike
Try Hard
Skylightz Gaming
Match 1
Gods Reign won the opening game among Groups A and D with 13 frags because of their consistent gameplay. K47 from WSF Esports led his team to second place with the help of a healing battle. Void from Big Brother gave it his best to bring his team to third place.
Match 2
After 13 kills, Big Brother Esports prevailed in the second game played on Troi. Up until the last circle, the team didn't lose a single member, which helped them win the match. Hyderabad Hydras and TWOB, the two teams who followed them, played safe.
Match 3
Revenant Esports won the game between Groups A and C with nine frags in a tough encounter. With nine kills, Team NextGen performed admirably and finished in second place.
Match 4
In the fourth match of the PUBG New State Pro Series Mobile Challenger Day 6's competition, 7Sea Esports' intelligent performance enabled them to win with nine frags. Team S8ul recorded 12 kills in the game, while XSpark managed to get seven finishes despite getting eliminated early.
Match 5
GodLike won the Chicken Dinner with 12 frags in the fifth match. They were followed in second place by Skylightz Gaming, who had nine kills, and Chemin, who had five kills.
Match 6
Big Brother Esports put on an amazing show of brilliance in the last match, winning with 10 finishes. With 12 frags, Gods Reign finished second in the match, and Team XO managed 10 kills despite finishing fifth and being eliminated.
Final Thoughts
We will have to wait and see who takes the title after the upcoming battles on the remaining days of the PUBG New State Pro Series Mobile Challenger. From the matches we've seen so far, we can expect many more stellar performances.
Also Read: Free Fire OB38 Update APK Download Link