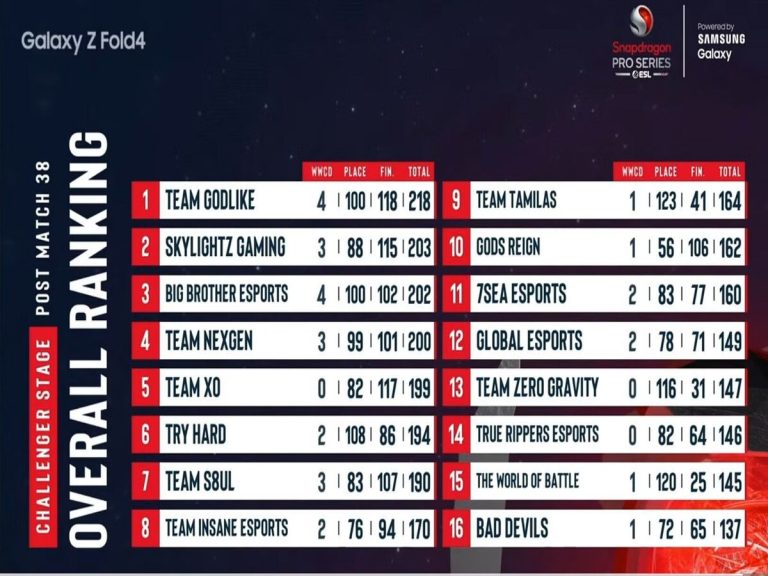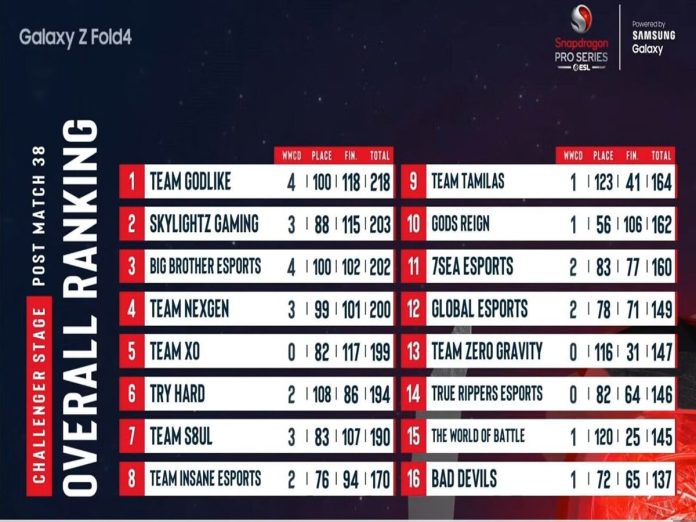 With just 1 day remaining in the PUBG New State Pro Series Mobile Challenger, all teams put up a valiant battle on Day 7 of the tournament. As Day 7 came to a close, we witnessed Team GodLike soar to the top position on the podium. In the four matches that they played on PUBG New State Pro Series Mobile Challenger Day 7, Team GodLike amassed 47 points and 1 chicken dinner. Keep reading to find out the current overall standings and match-wise summary of Day 7.
PUBG New State Pro Series Mobile Challenger Overall Rankings
Team GodLike
Skylightz Gaming
Big Brother Esports
Team NexGen
Team XO
Match 1
Team GodLike began their winning ways by securing a win in the opening game between Groups A and B on Erangel. Team S8ul finished third in the game despite being eliminated a bit early in the contest. They managed to accumulate 10 kill points.
Match 2
S8ul did well in the second game of the PUBG New State Pro Series Mobie Challenger. They grabbed a win with eight frags. Team XO came second with 7 eliminations. Wanted Gaming placed third with 2 eliminations. 
Match 3
Team Skylightz Gaming made it all the way to the end, and they reaped the benefits of this to win the third match of Day 7 with 11 kills. Hector led his team XSpark to a second-place finish with five eliminations. Bagging six frags, XO earned a position in the top three.
Match 4
In the fourth game, which was contested on Troi, Team Tamilas leveraged cover and high ground to win with 13 frags. Second place went to Wanted Gaming owing to their healing-battle approach.
Match 5
In match 5 of the PUBG New State Pro Series Mobile Challenger, WSF Esports took home the Chicken Dinner with seven frags. Gods Reign also put up a commendable performance, which enabled them to accumulate 11 kill points whereas XSpark only managed to accrue four.
Match 6
In the last match on Day 7, Direct Rush eliminated nine players to win their first Chicken Dinner of the Challenger round. Hyderabad Hydras used their standard healing-battle tactics and finished in second place with just one kill.
The final day of the PUBG New State Pro Series Mobile Challenger will tell us who will take the top spot. Will Team GodLike continue their winning streak? Will Skylightz Gaming close the gap to rise to the top? Stay tuned to find out.
Also Read: Free Fire MAX: How To Get Free Gun Skins