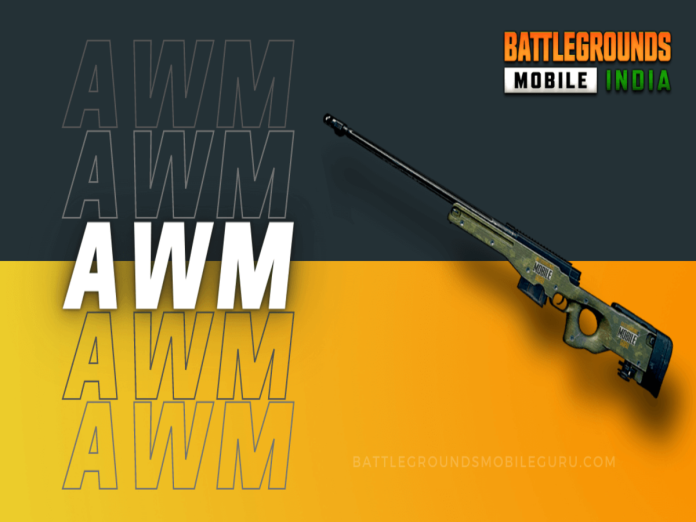 Battlegrounds Mobile India has some of the most complex and well-thought-of weapons in a battle-royale game. Each weapon differs in terms of the type of ammo, range, and damage, among other factors. Although all weapons have their pros and cons, there are some weapons that players are especially delighted to find when they loot because they stand out from the rest. Here are the top 5 weapons in BGMI:
1. AWM
The AWM is without a doubt one of the best weapons in BGMI and the best sniper rifle. With this weapon, a single headshot guarantees knockout or death. The sole drawback of the AWM is that it doesn't appear as frequently as other weapons in BGMI and can only be obtained via drops. The weapon's massive damage output more than makes up for its shortcomings.

2. M416
The M416 is one of the best guns in Battlegrounds Mobile India. In addition to possessing the most number of attachments of any weapon, it also fires at a good pace and is extremely versatile for all types of battles. Strong in both close-quarters and medium- to long-range combat, the M416 is a formidable weapon. Additionally, it has an excellent balance in medium-range fighting, making it the most preferred weapon in BGMI.
3. DP-28
Another adaptive weapon that may be deadly when utilized properly in BGMI is the DP-28 light machine gun. Similar to the M416, it can accommodate a 6x scope, making it appropriate for close-quarters, medium-range, and long-range warfare. Although it is one of the slowest rifles to reload, it also comes with a large 47-bullet cartridge. You cannot add any other attachments to this gun except for the scope. However, the DP28 is extremely consistent in terms of recoil.
4. UZI
In close-range, and in BGMI Deathmatches, in particular, UZI easily takes the cake. The UZI has a limited range which is its only downside. However, if you accurately aim, one clip of this weapon will suffice to finish your opponent in close fights.
5. Groza
Consider the game yours if you manage to obtain this weapon! This gun can be obtained only from drops. The weapon, which uses 7.62 mm ammunition and has a basic damage of 49HP, is among the most lethal ones except grenades and sniper rifles. Although it has a minor recoil and the highest fire rate in the game (750), there is no better gun in BGMI for mid to close-range combat than this one.
Also Read: Free Fire Mystery Top-Up event: How To Get Free Emote, Kunai, And Other Rewards