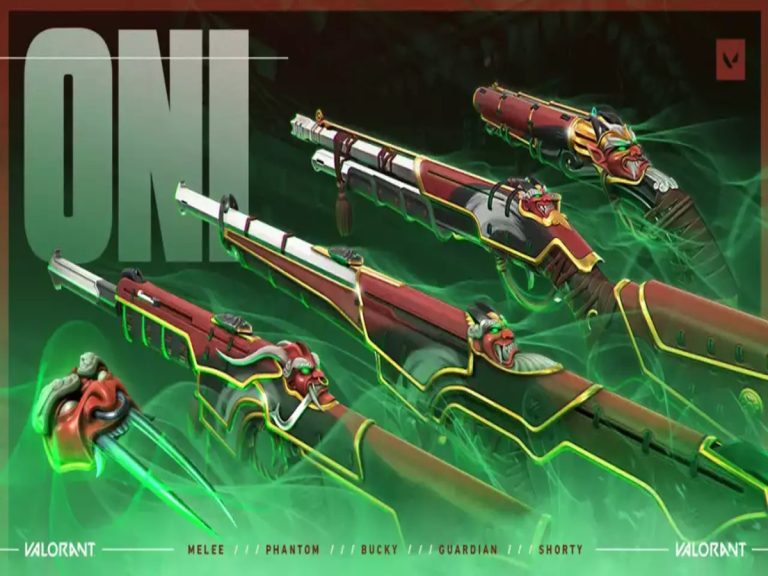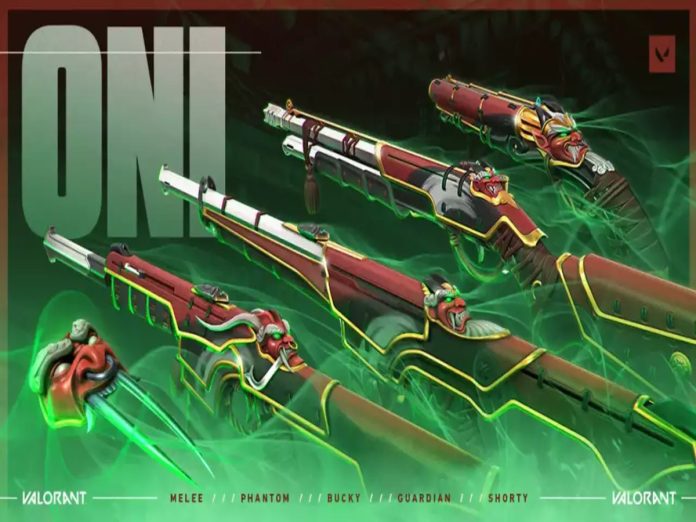 Riot Games has officially released the teaser for the Oni 2.0 cosmetic bundle for Valorant. The Valorant community has been requesting the next version of the Oni skin bundle, akin to Magepunk 2.0 and Glitchpop 2.0, as the initial collection was one of the most well-liked in-game cosmetics ever.
Riot Games' designers and developers have done a great job of providing Valorant players with cosmetics in a variety of colours and themes. The community has frequently been flooded with options to add a little more colour into their gaming, such as the enigmatic gothic mood of Ruination Collection.
Valorant Oni 2.0 Skin Bundle
Today, Riot Games's FPS game's official Twitter account posted a photo of four katanas poking out of the ground with the sun in the background. Players can  see a mask in front of the blades that uncannily resembles the one Yoru wears and has blazing eyes and smoke coming from it.
A number of cherry blossom trees, also known as Sakura and Japanese cherry, are also included in the frame. The cosmetic bundle was revealed to be Oni 2.0, ending the community's speculation that the tease was tied to the Agent.
Oni 2.0 Skin Bundle Release Date
The Oni 2.0 skin bundle will be made available on Tuesday,at 3.30 a.m. IST on March 8 for the Mumbai, India server. Players may now purchase the VCT LOCK/IN and Reverie bundles from the in-game store.
A Vandal and a melee katana weapon will also be included in the Oni 2.0 bundle. The initial bundle contained a melee claw weapon, Shorty, Bucky, Guardian, and Phantom. The cost of the new Premium bundle is anticipated to be 7100 VP (Valorant Points).
Along with the katana, it has been speculated that each of the new bundle's weapon skins would include the original 4 variations. The base colours for the previous bundle were red, black, green, and white. Like the original bundle, it's anticipated that the new package would include animations and finishes for the weapons.
Once Oni 2.0 bundle is available in the Valorant in-game shop. Players will also be able to purchase additional in-game items besides weapons. These include a player card, a gun buddy, and a spray. The community has been anticipating the original bundle's successor for a while. It now appears that their hopes have finally been met.
Also Read: BGMI And PUBG Developer Krafton Reveals Launch Of New Game In India: Road To Valor Empires