February 8, 2021 by KhelTalk
Pros
+ Fast and snappy Apps + Hassle-Free Withdrawal + Multiple cash leagues + Practice games
Cons
- Buggy Desktop UI - Less Promotional Offers
BalleBaazi Review –
The BalleBaazi app or the BalleBaazi.com website is an online Fantasy Sports podium. It is the brainchild of Navkiran Singh, Puneet Dua and Saurabh Chopra.
The website was launched in January 2018. BalleBaazi's mobile app saw the light of the day in September 2018.
BalleBaazi provides its users with multiple sports with Fantasy Cricket, Kabaddi leagues and Football being prominent. The Fantasy Cricket platform has 3 formats of the game such as Batting Fantasy, Classical Fantasy and Bowling Fantasy.
If you are passionate about sports and possess a bit of knowledge, then you may find Fantasy sports games lined up on BalleBaazi exciting and take home some real cash.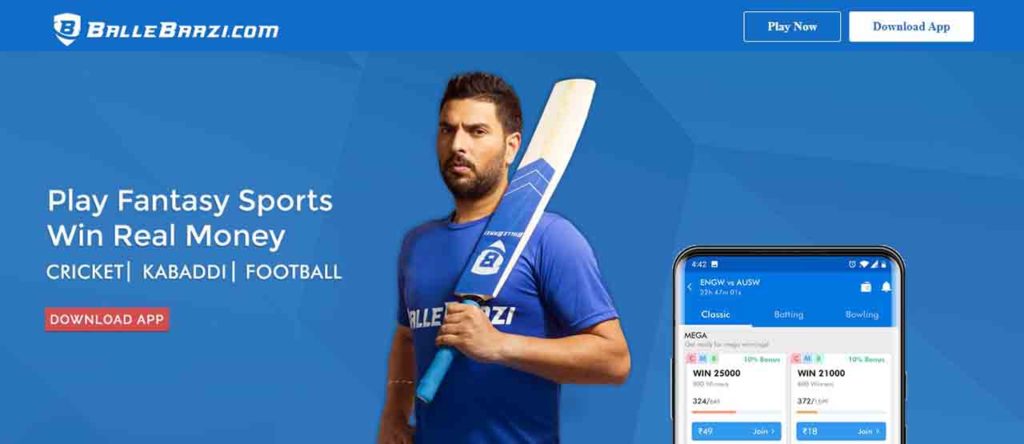 BalleBaazi Overview – Everything you need to know
Here is our Brief BalleBaazi Review, here you'll find everything you need to know about this platform.
BalleBaazi is the ultimate stage to provide a keen sports enthusiast with enriching online gaming experience. It also comprises of diversified Cricket Fantasy Leagues, Fantasy Points System, monthly promotions, top rewards, referral bonuses and monthly leaderboards. It would be recommended to get in the action with an enhanced show of your passion and skills for the sport that you just love adoring.
Factors that would help you decide in your factor at a glance
Secure, safe and trusted gaming environment
Comes with 3 multiple gaming versions such as Classic, Bowling and Batting
Fast and snappy smartphone apps
Getting expert advice on Team Selection possible
Thrilling monthly contests for you to take part in and win real cash
Micro Leagues with the cost of buy-ins as lower as Rs.1
Multiple cash leagues and practice games
Access a devoted blog that provides inputs on everything from News, Fantasy Cricket Tips and of course Analysis by experts
Get expert analysis and match insights from none other than Yuvraj Singh under #YuviBaazi
Partnership programs and referral bonus available
Consistent performers get monthly leader boards (The most excitingly you play, the better it shows in your game. It is also possible to invite your friends to enjoy more thrills to the journey towards the moon and huge!
How to play Fantasy Cricket on BalleBaazi.com?
BalleBaazi is an ace and one of the best Fantasy Cricket websites operating in India. 3 thrilling online game formats powers this platform and it also has 2 free smartphone apps, a blog with expert opinion and loads of quality rewards. The portal provides its users with the same level of class experience to all Fantasy players no matter if they are pro at it or new to this genre.
It would be suggested to download the daily Fantasy Cricket app of BalleBaazi to make the most of your Fantasy online gaming experience. It is a one-stop platform to enjoy 3 amazing online Fantasy gaming versions that you get free as per your wishes. As discussed earlier, they are Classic, Bowling and Batting. And needless to state here but they are as thrilling you would speculate them to be.
Continue reading this page with us if you wish to know how to play Fantasy Cricket according to your favourite variants on BalleBaazi. Read on!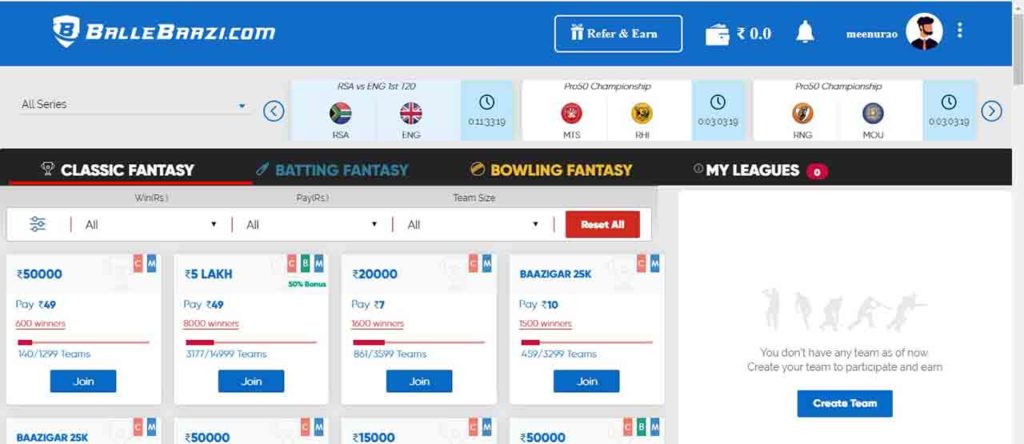 Getting started
The first step is getting started on BalleBaazi, the online Fantasy Cricket platform and get going is easy as 1-2-3. Go through the below-mentioned steps if you wish to get started right away:
Log in or sign up to the gaming account on BalleBaazi
Download the new look BB app on either your iPhone or Android smartphone
Select the existing Cricket Series that you would like to play
Now you will need to choose among Classic, Bowling and Batting variants
Select between Practice Games or Cash Leagues
Create your Team of 11 best players for playing Classic Fantasy
You will need to choose 5 batsman and bowlers for Bowling and Batting respectively from two sides that are competing in a league
To choose your players and create a Team, you will be allotted specific points
Once you have selected the Team, you can relax (once the real match goes live, you would also start receiving points based on the performance of your selected players. It is easier to check your progress after clicking on 'My Leagues' tab at the BalleBaazi apps' bottom. Your accumulated points in the game would be your base to win the league for that specific encounter)
BalleBaazi App Download Link –
BalleBaazi is available on both Android and IOS. Here are its Download Links
BalleBaazi APK download for android – https://www.ballebaazi.com/download/
BalleBaazi App Download for IOS – https://apple.co/39m7EMV
BalleBaazi Referral Code
Here is Kheltalk's BalleBaazi Referral Code that will help you get extra bonus when you signup.
BalleBaazi Referral Code – BYVK5C1
How to make a deposit on BalleBaazi?
There 3 main ways to deposit money on BalleBaazi –
Debit / Credit Card
Patym
Net Banking
Adding money on BalleBaazi is very simple. Just click on the wallet icon in the main lobby. After that you have to click on "Add Money" Button, on this page you can also add promo code. After that, you have to select your payment method and your sorted.
BalleBaazi Promo Code
| | | | |
| --- | --- | --- | --- |
| Code | Offer | Validity | Condition |
| MARCH25 | Get 25% Bonus on Deposit b/w ₹ 500 to ₹ 50,000 | 31-Mar-20 | Multiple Use |
| START100 | Get 100% extra Bonus Money on 1st deposit b/w ₹ 100 to ₹ 5000 | 30-Apr-20 | 1st Deposit only |
How can I withdraw my Winnings from BalleBazzi?
There are two simple by which you can withdraw your winnings from BalleBazzi
Bank Transfer (Minimum Amount – INR 100 & Maximum Amount – INR 2,00,000)
Paytm Wallet Cashout (Minimum Amount – INR 10 & Maximum Amount – INR 5,000)
But there are certain Withdrawal policies made BalleBazzi that you must understand in order to successfully make a withdrawal. You can read about these policies in detail here.
How to play in all 3 versions on BalleBaazi?
BalleBaazi provides you with thrilling gaming variants on its website and app to help you discover your skills to be capable of having the match-winning dimensions. The 3 formats that you get to participate in relate to different facets of the game. BB offers them as our favored online variants so that you can extract the maximum benefits of playing them. They are Classic Fantasy, Bowling Fantasy and Batting Fantasy.
How to play the Classic Fantasy?
You are free to select maximum 11 players for your squad
It is possible to select up to 7 players from a Team that is participating in a live match
Captain and Vice-Captain carry 2x and 1.5x points
You will be allotted a maximum of 100 points to build a squad under the online Fantasy Cricket match on BalleBaazi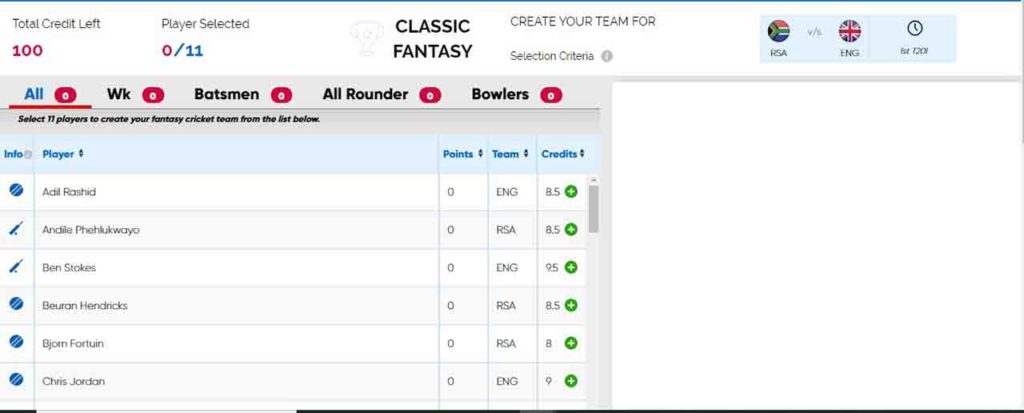 How to play the Bowling Fantasy?
You are free to choose 5 bowlers and up to 3 players from one team that is taking part in a live match
You would earn 2x and 1.5x points for selecting a Captain and a Vice-Captain
A total of 45 credit points are allocated when you create 1 Team for playing in a league

How to play the Batting Fantasy?
You can choose 5 batsman out of which, 3 players may be from one Team that is taking part in a live match
As usual, you will get 2x and 1.5x points respectively when you include a Captain and a Vice-Captain into your Team fold
The creation of the Team enables you to accumulate a total of 45 points for a league

The three-dimensional (3D) set of versions that you get to feature in on BalleBaazi is your passport to winning huge on this platform as and when you chose to play in 2020.
As you are now aware of the Cricket Fantasy Online concept, it's time to move forward to get informed about the daily Fantasy Cricket rules. It will assist you in getting started with your game built up.
It would be suggested to choose a maximum of 3-5 batsman and bowlers, 1 wicketkeeper-bat and max 3 all-rounders to feature in the Classic Fantasy versions.
It would be good to include a Captain and Vice-Captain that are guaranteed to play and perform.
This way, you would be able to have maximum advantage regardless of the variants that you decide to feature in. It is obviously because they let you an extra 1x and 1.5x points and could be the difference between a winner and loser on any day.
Practice Games and Cash Leagues
Choosing between Practice Contests and Cash Leagues on BalleBaazi is dead easy to do. It would be suggested to go for the practice contests if you are new in this genre. If you are a bit informed about the genre and the game, then you can begin playing cash leagues on BalleBaazi.
Do you want to maximize your passion for the game and take it to another level?
If yes, then you can feature in Private Leagues of BalleBaazi, and it is simple to do. You can simply refer your friends to BB, and request them to download the app.
This way, you can claim your referral bonus and then let your friends have a Private League invitation. Once they join, you will be in a position to begin playing Private League on BB with them!
Points system on BalleBaazi
The player-centric and pioneering points system on BalleBaazi is among the best in the online Fantasy sports industry. You can go to the Point System page on BalleBaazi to explore more on how you can derive enhanced benefits. The points that you earn will be spread over the below-mentioned heads:
Bowling, Batting and Classic Fantasies
Test matches, One-Day Internationals (ODIs), T10 and T20
Wickets being taken, 4s and 6s hit and runs scored
Runs in the range of 30, 50 and 100 scored by a batsman
2-5 wickets claimed by a spinner, pacer and overall a bowler
Bowler's economy rate
The strike rate of a batsman
How to win Fantasy Cricket matches on BalleBaazi?
Winning on BalleBaazi's online Fantasy platform is easy if you know the game and can use your skills or experience of following or playing the game for a long time. As said, winning a game on BalleBaazi will need you to have skills, persistence and patience.
BalleBaazi app and website provides its patrons with transparent procedures of offering virtual matches and then decide the winners as per their respective performances.
An online Fantasy player gets to collect some points, which is awarded on the basis of his/her choosing of players and their performances in a given real or live game. It is mandatory and applicable across all the versions on BB, from Cash Leagues to Practice Contests.
What's more, there are also a specific number of payable levels in a league. The details are only game-centric and are always pre-detailed on the BalleBaazi app.
You should also note that you will become eligible and be able to win a prize provided if you are falling into a bracket.
Thus, it is also advised to all patrons of BalleBaazi that you should give the Practice Contests on the portal and app a chance on a daily basis. It will assist you in learning the basics of the game and growing through the match like a Pro!
Once you are done with the basics, there is always the Cash Leagues on BalleBaazi waiting to let you play and win MASSIVE!
FAQ
Is BalleBaazi Safe & legal?
Yes, playing Fantasy Sports on this platform is completely safe and legal. Indian Supreme Court, has agreed to the fact that Fantasy Sports is a game of skill, not a game of luck. Thus it completely safe to play.
Fast and snappy App
Hassle-Free Withdrawal
Multiple cash leagues