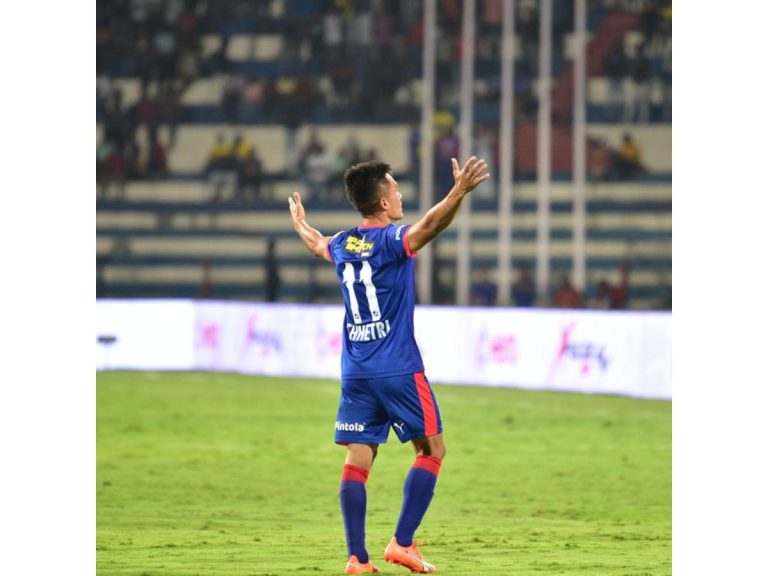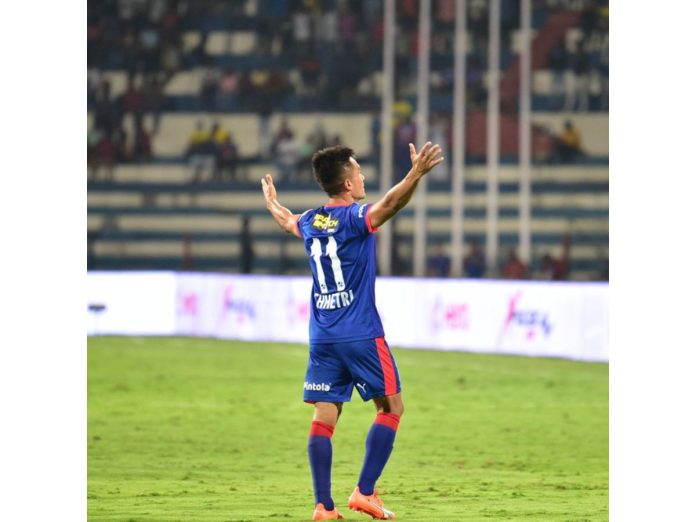 Bengaluru FC were embroiled in a controversy in the extra-time of the playoff game against Kerala Blasters FC in this Indian Super League (ISL) 2022-23 game. The free-kick goal from Sunil Chhetri meant that Bengaluru FC had taken a lead in the game.
But controversy engulfed the game as the referee Crystal John didn't given the Kerala Blasters FC defenders time to set up their defence. And acting quickly and with a sharp presence of mind, Sunil Chhetri pulled the trigger and scored the goal through the set-piece free-kick.
The Yellow Army players were visibly disappointed and were in a state of shock. Led by skipper Adrian Luna, the players kept arguing with the referee. Kerala Blasters FC coach Ivan Vukomanovich was extremely agitated in the side-lines and was involved in a heated argument with the 4th official.
Seeing no fruits to his arguments, he signalled his players to come back to the pavilion. This was a bold move and received mixed responses from the pundits and lovers of football.
Because of this gesture, Kerala Blasters FC now face a serious chance of getting a ban from the apex body of Indian football, the All India Football Federation (AIFF).
The final score-line read 1-0 but ISL took the score-line as 3-0, which is the usual case during an abandonment of the game. 2 goals would be added to the goal-scoring tally of the team's highest goal-scorer.
For more than 90 minutes, there was nothing that could separate the two teams. It was a neck-to-neck battle and no one could score a goal.
Bengaluru FC will now be facing Mumbai City FC in the semi-finals and there will be 2 legs to it. Kerala Blasters FC on the other hand have crashed out of ISL 2022-23.
Squads
Kerala Blasters FC
Prabhsukhan Singh Gill, Karanjit Singh, Muheet Shabir, Sachin Suresh, Victor Mongil, Marko Leskovic, Hormipam Ruivah, Sandeep Singh, Bijoy Varghese, Nishu Kumar, Jessel Carneiro, Harmanjot Khabra, Jeakson Singh, Ivan Kaliuzhnyi, Lalthathanga Khawlhring, Ayush Adhikari, Saurav, Adrian Luna, Sahal Abdul Samad, Bryce Brian Miranda, Vibin Mohanan, Nihal Sudeesh, Givson Singh, Dimitrios Diamantakos, Rahul K.P, Apostolos Giannou, Bidyashagar Singh, Sreekuttan
Bengaluru FC
Gurpreet Singh Sandhu, Lara Sharma, Amrit Gope, Alan Costa, Namgyal Bhutia, Parag Shrivas, Wungngayam Muirang, Prabir Das, Hira Mondal, Sandesh Jhingan, Aleksandar Jovanovic, Bruno Ramires, Jayesh Rane, Suresh Wangjam, Danish Farooq, Rohit Kumar, Biswa Darjee, Javi Hernandez, Sunil Chhetri, Prince Ibara, Udanta Singh, Sivasakthi Narayanan, Leon Augustine, Roy Krishna, Faisal Ali.
Also read: ISL 2022-23 Playoff Fixtures, Teams, Date, Live Streaming Details