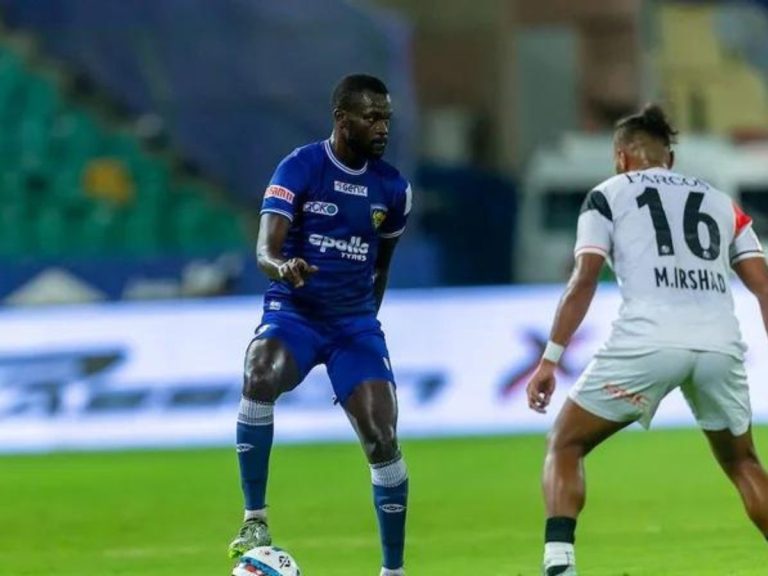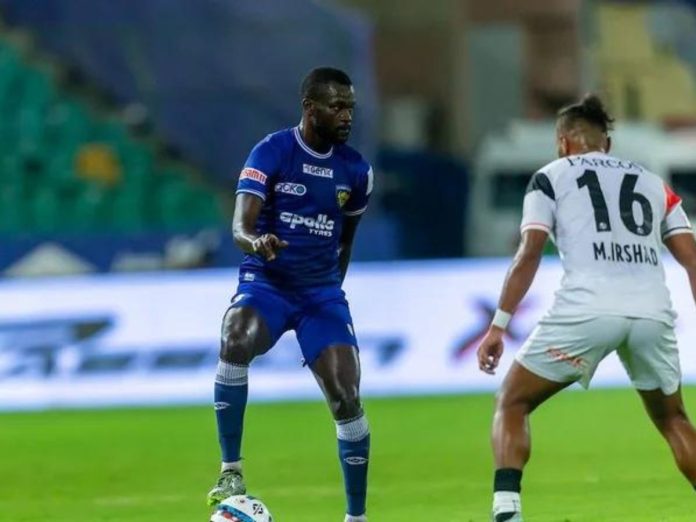 The last 2 games between Chennaiyin FC and NorthEast United FC in the Indian Super League (ISL) has witnessed 17 goals. Both matches have taken place in this season and they have been goal-fests.
Chennaiyin FC edged past NorthEast United FC yesterday and the score-line read 4-3. It was the last game of both the teams in ISL 2022-23 and it was essentially a dead rubber. Chennaiyin FC would now be heading into the Super Cup in April with renewed energy and confidence.
While Rahim Ali, Kwame Karikari, Anirudh Thapa and Sajal Bag netted the goals for the home side, Wilmar Jordan scored a brace for the Highlanders and the other goal was scored by Parthib Sundar Gogoi.
Chennaiyin FC snatched a victory as they scored a last minute goal. Abdenasser El Khayati ran into the box and passed the ball to Bag, who scored the goal for the home side in this ISL 2022-23 game.
It was the 8th goal of Gil in this tournament and he has been one of the shining stars in this otherwise forgettable and disastrous ISL 2022-23 campaign for NorthEast United FC.
NorthEast United FC logged just 1 win in their 20 matches and encounter 17 losses. Their campaign also witnessed 2 draws. While one came against FC Goa, the other one came against East Bengal FC.
Chennaiyin FC on the other hand finished their campaign in the 8th position. Thomas Brdaric's men registered 7 wins and 6 draws in ISL 2022-23. If they could convert a few draws into wins, then Chennaiyin FC could've easilt qualified for the ISL 2022-23 playoffs.
The two-time ISL winners would be heavily disappointed with their ISL 2022-23 campaign and would be hoping to bounce back with a lot of resilience.
Squads
Chennaiyin FC
Debjit Majumder, Samik Mitra, Devansh Dabas, Lovepreet Singh, Narayan Das, Aakash Sangwan, Bikash Yumnam Vafa Hakhamaneshi, Fallou Diagne, Gurmukh Singh, Md. Sajid Dhot, Ajith Kumar, Monotosh Chakladar, Md. Aqib. Nasser El Khayati, Jiteshwor Singh, Anirudh Thapa, Edwin Vanspaul, Julius Duker, Sajal Bag, Chris White, Mohammed Rafique, Sourav Das, Suhail Pasha Forwards: Ninthoi Meetei, Vincy Barretto, Rahim Ali, Romario Jesuraj, Petar Sliskovic, Kwame Karikari, Prasanth Karuthadathkuni, Jockson Dhas, Senthamizh, Jobby Justin, Gulab Singh, Mohamed Liyaakath.
NorthEast United FC
Arindam Bhattacharja, Mirshad Michu, Nikhil Deka, Khoirom Singh, Michael Jakobsen, Aaron Evans, Gaurav Bora, Gurjinder Kumar, Joe Zoherliana, Mashoor Shereef, Tondonba Singh, Provat Lakra, Jon Gaztanaga, Romain Phillippoteaux, Emanuel Lalchhanchhuaha, Emil Benny, Pragyan Gogoi, Mohamed Irshad, Imran Khan, Sehnaj Singh, Matt Derbyshire, Sylvester Igboun, Rochharzela, Laldanmawia Ralte, Jithin MS, Gani Nigam, Dipu Mirdha, Alfred Lalroutsang, Parthib Gogoi
Also read: ISL 2022-23: Odisha FC Qualify To The Playoffs