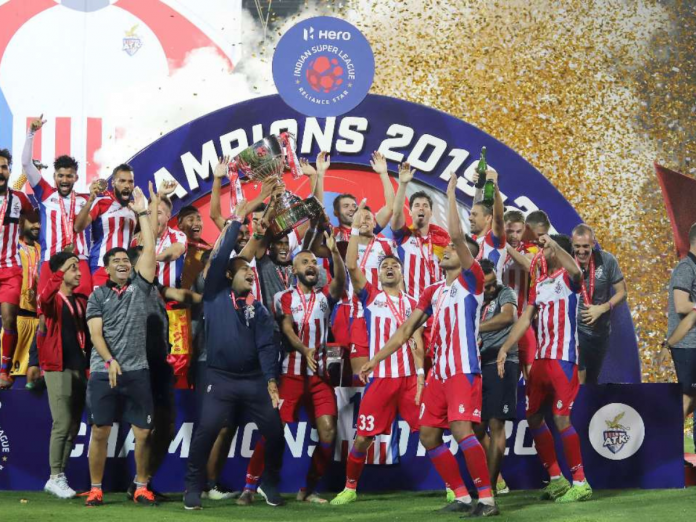 The Indian Super League (ISL) is a revolutionary football league of India. It has changed the landscape of Indian football and has made India a sporting hub. Several players from across the globe come to play in the ISL for the lucrative deals and the exposure.
Started way back in 2014, the ISL has provided a perfect launching pad for several footballers to showcase their skills and mettle in front of the whole world. The Indian footballers have benefitted largely and people in India have started watching football more religiously.
India has become a humongous football market, thanks to the ISL and the several stakeholders involved in it. At present, there are 11 teams in ISL and each team plays 20 matches in the group-stage.
The winner of the group-stage of ISL is awarded the ISL Shield Trophy. Then the playoffs take place and out of 4 semi-finalists, one of them win the coveted ISL title.
Several European clubs have invested in the ISL clubs and this has played a role in increasing the popularity of this league.
In this article, we take you through the complete list of winners and runners-up of all ISL editions:
Complete list of winners and runners-up of ISL
2014
Winner: Atletico de Kolkata
Runners-up: Kerala Blasters
2015
Winner: Chennaiyin FC
Runners-up: FC Goa
2016
Winner: Atletico de Kolkata
Runners-up: Kerala Blasters
2017-18
Winner: Chennaiyin FC
Runners-up: Bengaluru FC
2018-19
Winner: Bengaluru FC
Runners-up: FC Goa
2019-20
Winner: Atletico de Kolkata
Runners-up: Chennaiyin FC
2020-21
Winner: Mumbai City FC
Runners-up: ATK Mohun Bagan
2021-22
Winner: Hyderabad FC
Runners-up: Kerala Blasters
Also read: Hyderabad FC ISL 2022-23 Squad & Schedule, Fixture, Captain, When & Where to watch Live Streaming in India