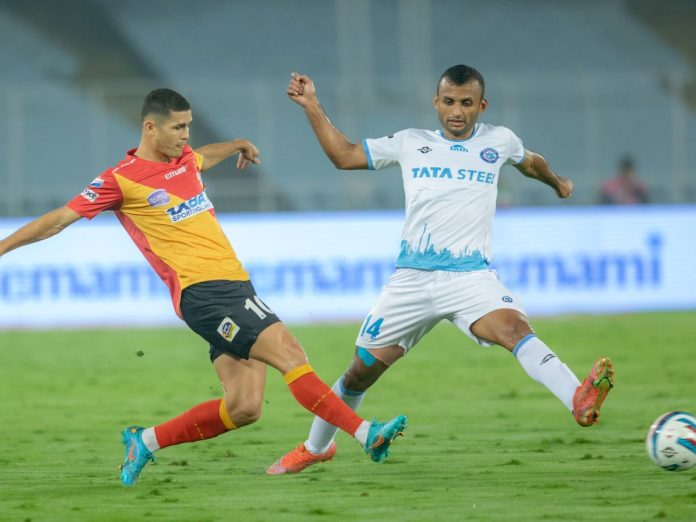 It was once again the same set of problems for Head Coach Stephen Constantine. Not having a plan B to execute once the opposition comes in full swing to attack is causing pertinent headaches to East Bengal FC. They went down 1-2 against Jamshedpur FC.
It was once again the man of the moment, Cleiton Silva acting as a shining light for the Red and Gold Brigade. The Brazilian maverick netted a goal after a good pass from Naorem Mahesh Singh from the left flank.
The lead came for East Bengal FC in the 10th minute itself and the passing of East Bengal FC was superb. Aidy Boothroyd's men were quite desperate to change their dwindling fortunes of this season and they came a refurbished and rejuvenated unit in the 2nd half.
Goals from Harry Sawyer and Ritwik Das in the 2nd half, in the 61st and 85th minute respectively, stamped the seal on the fate of East Bengal FC. Ritwik Das has been in hot and blistering form and he had netted a brace in the previous game of Jamshedpur FC, against Chennaiyin FC.
East Bengal FC's defence was completely breached in the 2nd half and even though the gaffer made a few changes, they could not negate the incoming threat from the Men of Steel.
One positive for the Red and Gold Brigade would most certainly be Ivan Gonzalez, who acted as a rock-like figure in the defensive region. He blocked several shots and made many interceptions to help goalkeeper Suvam Sen, breathe some fresh air.
East Bengal FC next lock horns with defending champions Hyderabad FC on 20th January 2023. The match will be taking place at the Salt Lake Stadium. Stephen Constantine's men have 7 games remaining and all of them are do-or-die encounters for them.
Jamshedpur FC on the other hand will be hosting Bengaluru FC in their next match, on 18th January 2023.
Also read: KLASA FC Snubbed From I-League 2 Promotion