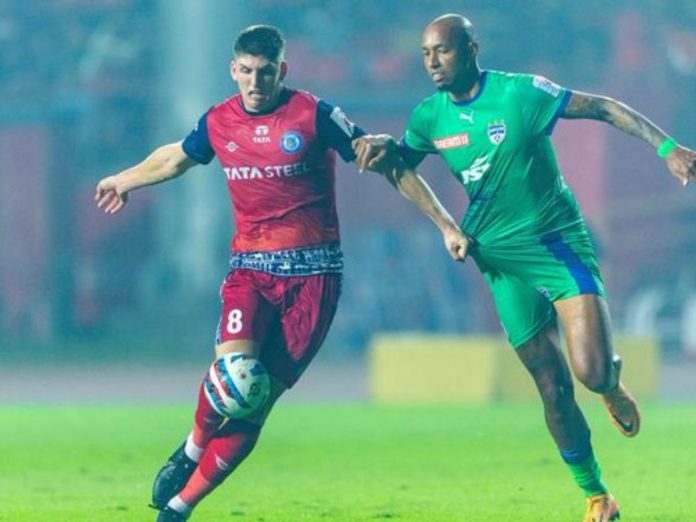 In what was an absolute show of dominance and assertiveness, Bengaluru FC steamrolled past Jamshedpur FC 3-0 at the J.R.D. Tata Sports Complex in Jamshedpur. The Blues continued their winning run in the Indian Super League (ISL) 2022-23 and look like a unit with renewed energy.
Rohit Kumar helped the Blues take the lead right away. The midfielder was unmarked as he tapped the ball into the goal after receiving a whipped cross from Prabir Das.
Sandesh Jhingan was in his beast mode in the backline as he made sure that all the incoming threats were neutralized by him. He once again proved to all why he is one of India's best defenders.
At the halfway mark, the score line 2-0 in favor of Simon Grayson's Bengaluru FC. Roy Krishna continued his impressive form in the blue jersey after he scored a goal in the 34th minute and helped the Blues have an edge in the game.
Jamshedpur FC had their backs against the walls at the half-time mark. They needed a special performance from their side if they had to win the game. Just a few minutes post the half-time start, Harry Sawyer missed an easy header after a brilliant cross.
A major talking point in the game is if it was converted into a goal, the momentum would've shifted towards Jamshedpur FC and the Men of Steel could've staged a comeback.
Simon Grayson had mentioned it in the pre-match conference that his side is growing in confidence. And that was shown in the results. Bengaluru FC has now won 3 games on the bounce and looks like a re-energized unit.
The young Sivasakhti Narayanan, who replaced Sunil Chhetri in the starting XI, scored the 3rd goal for Bengaluru FC. He had impressed in the Durand Cup 2022 and after getting a chance here, he once again proved why he is the shining star of Bengaluru FC.
Squads
Jamshedpur FC
Rakshit Dagar, Vishal Yadav, Rehenesh TP, Mohit Singh Dhami, Laldinliana Renthlei, Ricky Lallawmawma, Muhammed Uvais Moyikkal, Sandip Mandi, Laldinpuia Pachuau, Eli Sabia Filho, Pratik Prabhakar Chaudhari, Dylan Fox, Boris Singh Thangjam, Komal Thatal, Farukh Haji Kasam Choudhary, Seiminlen Doungel, Ritwik Kumar Das, Wellington Cirino Priori, Jitendra Singh, Sekh Sahil, Germanpreet Singh, Jay Aston Emmanuel Thomas, Harrison Hickey Sawyer, Ishan Pandita, Daniel Chima Chukwu
Bengaluru FC
Gurpreet Singh Sandhu, Lara Sharma, Amrit Gope, Alan Costa, Namgyal Bhutia, Parag Shrivas, Wungngayam Muirang, Prabir Das, Sandesh Jhingan, Aleksandar Jovanovic, Bruno Ramires, Jayesh Rane, Suresh Wangjam, Danish Farooq, Rohit Kumar, Biswa Darjee, Javi Hernandez, Sunil Chhetri, Prince Ibara, Udanta Singh, Sivasakthi Narayanan, Leon Augustine, Roy Krishna, Faisal Ali.
Also read: ISL 2022-23: Odisha FC Secure The Services Of Tankadhar Bag