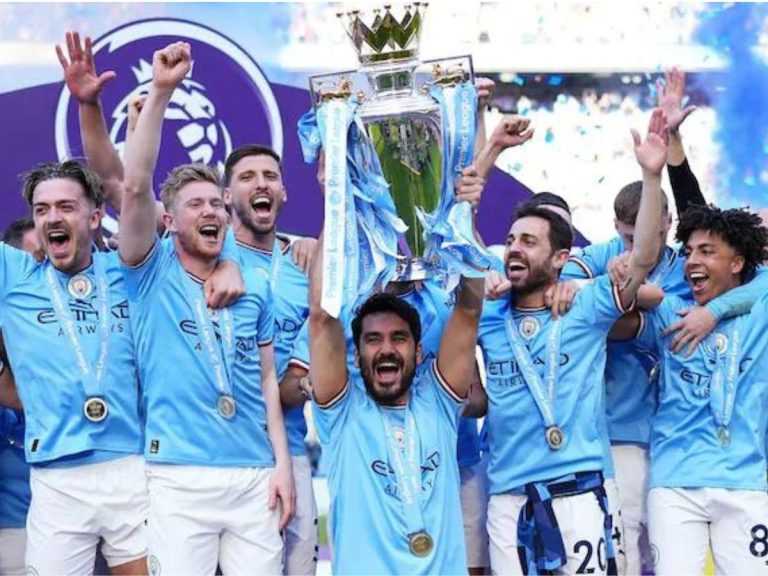 Manchester City have been crowned as the Premier League champions for the 5th time in 6 seasons. They have been a dominant juggernaut in English football and have been a team that brims with class.
This is the 3rd title they have won continuously and Pep Guardiola's men are simply unstoppable. With this victory, they have sent out a statement to the rest of the teams in the Premier League! That they are a team which never gives up!
Manchester City defeated Chelsea 1-0 on 21st May 2023 and handed the Arsenal fans, a major heartbreak. Notably, Arsenal were touted to be the champions of the Premier League for the majority of the campaign.
But a few losses in the last few weeks meant that their campaign got derailed. And Manchester City were consistent as always.
A title party was seen happening at the Etihad Stadium on 21st May 2023, which was incidentally City's last home game in this season.
Who were the key players for Manchester City in this season?
One of the vital cogs in the Manchester City team has been Norwegian striker Kevin De Bruyne. The 22-year-old scored 36 goals in this Premier League 2022-23 season and this is also the most goals ever scored by a footballer in a single season in the Premier League.
Phil Foden has been another incredible player for The CItyzens and he netted 10 goals in the Premier League 2022-23 season. The 22-year-old midfielder is one of the finest midfielders of our generation and he also has 6 assists under his belt.
Ederson who is City's goalkeeper had an excellent season too and was amazing between the sticks. He has 11 clean sheets in the tournament and the shot-stopper saves several goals for Manchester City.
Ederson's presence also took pressure off the defenders of Manchester City. In the defence, the likes of Ruben Dias, Kyle Walker and Manuel Akanji were superb with their performances.
Manchester City have also qualified for the finals of the Champions League 2022-23
After steamrolling past the defending champions Real Madrid in the 2nd leg on 18th May 2023, Manchester City qualified for the finals of world's most prestigious event in club football, the Champions League.
With an aggregate of 5-1, City booked their flight tickets for Istanbul, Turkey. In the 2nd leg of the semi-finals, Bernardo Silva netted a brace. The other two goals for Manchester City were scored by Manuel Akanji and Julian Alvarez.
Also read: India Name Squad For Hero Intercontinental Cup & SAFF Championship