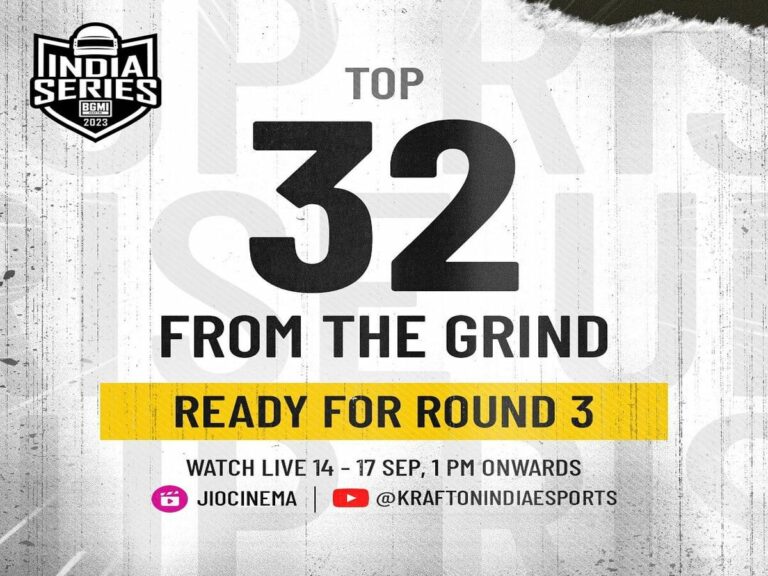 On September 14, the third and final round of the 2023 BGIS Online Qualifiers begins. It will include 256 teams overall, split into 16 groups.
The top 32 teams from The Grind, a competition held from July 20 to August 20, will join the top 224 teams from the second round.
The third round, which takes place from September 14 to 17, has six matches for each group.
The top four teams from each group go to the quarterfinals, the fifth-placed team is selected for the losers bracket, and the other 176 competitors are eliminated.
BGIS 2023 Round 3 Qualified teams from The Grind Finals
The 32 top teams from The Grind who advanced straight to the third round are listed below:
Chemin Esports
CS Esports
Hyderabad Hydras
Growing Strong
Team Soul
Acid Esports
Aslaaa Esports
Blind Esports
LOC Esports
Medal Esports
The World of Battle
Gujarat Tigers
Autobotz Esports
FS Esports
Marcos Gaming
Gladiators Esports
Hindustan Gaming
X7 Wolves
Big Brother Esports
Midwave Esports
Redemption Crew
Signify Esports
Hub Esports
Team Mayavi
WSB Gaming
Lucknow Giants
Team VST
Bloodrose Esports
Team Silent Killers
X7 Officials
Gods Reign
Dragon Esports
In particular, Krafton has not released the complete list of all the BGIS Round 2 qualified teams for the future round.
However, during the first round, they live-streamed a select groups' matches.
BGIS 2023 Round 3 Qualified teams from Round 2
Skulltz Esports
Numen Gaming
Blood Bashers
Nameless Crew
Stellar Titans
Titan FTW
Team Executors
GenXfm Esports
Flanker Esports
Orangutan Gaming
U4G Esports
Cobra Esports
Mashroom Boyies
Claw Esports
Team GodLike
Team XSpark
4 Sentinels
Deus Esports
9Tail Esports
War Gods
Team GWL
Crosskill Esports
OR Esports
ELF Clan
BR Vintage
4Strangers
Team Fuze
TeM No Skills
Many seasoned and well-liked teams, like Gladiators, Team Soul, Blind Esports, and Gods Reign, will compete in this event for the first time.
The best-performing team at The Grind was Chemin Esports.
Also Read: PUBG Mobile Ban Pan Update: Check Details