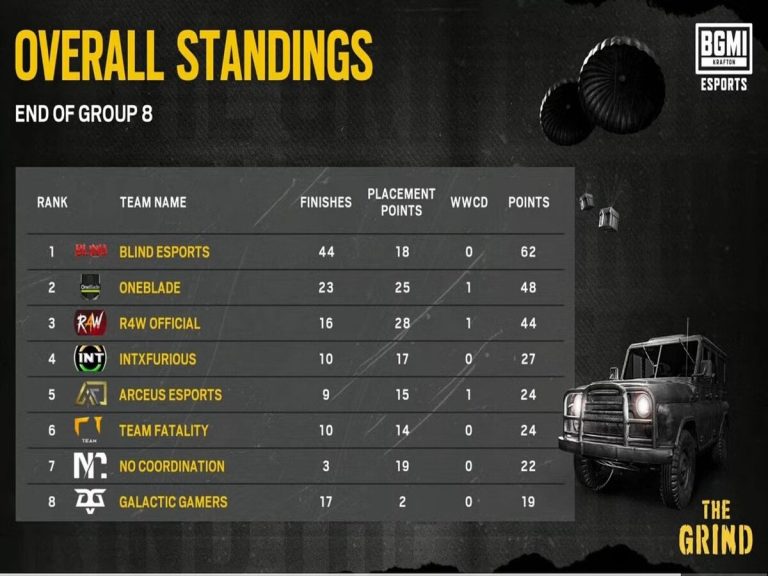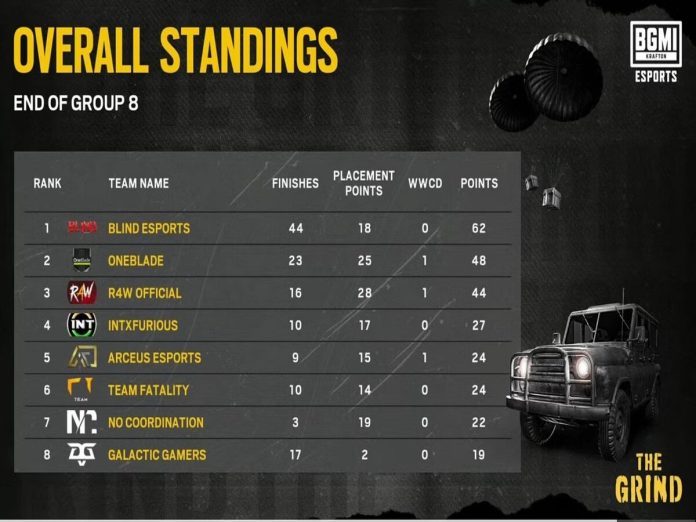 Today marked the end of Week 1 of the BGIS The Grind, where a total of eight groups participated in the first round.
The second week of The Grind will include games between the last eight Round 1 teams. The competition's second week will start on July 27.
The 64 teams who were disqualified must sign up for the Battlegrounds Mobile India Series 2023.
On July 23, the fourth day of BGIS 2023 The Grind came to an end. With 62 points and 44 finishes, Blind Esports won Group 8 and took first place.
In the most recent two games, the star lineup, captained by Manya, displayed their own style of play. With 48 points, Oneblade put up a fantastic performance and took second place.
With 44 points, R4W Official, a brand-new team made up of seasoned players like Ronak and Paritosh, took third place.
With 27 points and 10 finishes, INTxFurious came in fourth, followed by Arceus Esports.
BGIS The Grind Round 2 Qualified Teams
Blind Esports
Oneblade
RAW Official
INTxFurious
Arceus Esports
Team Fatality
No Coordination
Galatic Gamers
Match Highlights
R4W Official crushed Team Fatality in the last circle of Match 1 on Day 4 of the BGIS 2023 The Grind to finish the first match with 11 eliminations. 
Five frags were taken by Superman from the roster. No Recoil got 15 points with seven kills. Blind Esports also did well in the first game, scoring a total of 15 points. INTxFurious scored 13 points after adopting a defensive strategy.
Blind Esports took first place in the second match's rankings with 31 points, which included 21 kills. Having scored 27 points, Oneblade won the match.
Team Legendary and Beast Hunter each received six points, leaving Team Furious with 13 points.
In Match 3 of Day 4 of the BGIS 2023 The Grind, Arceus Esports competed intelligently to win the third match with nine points.
Due to Blind Esports' aggressive strategy and Rony's outstanding play, they scored 16 points overall. Oneblade and R4W Official both scored 15 and 14 points. 
Also Read: BGMI A1 Royale Pass Details, Release Date