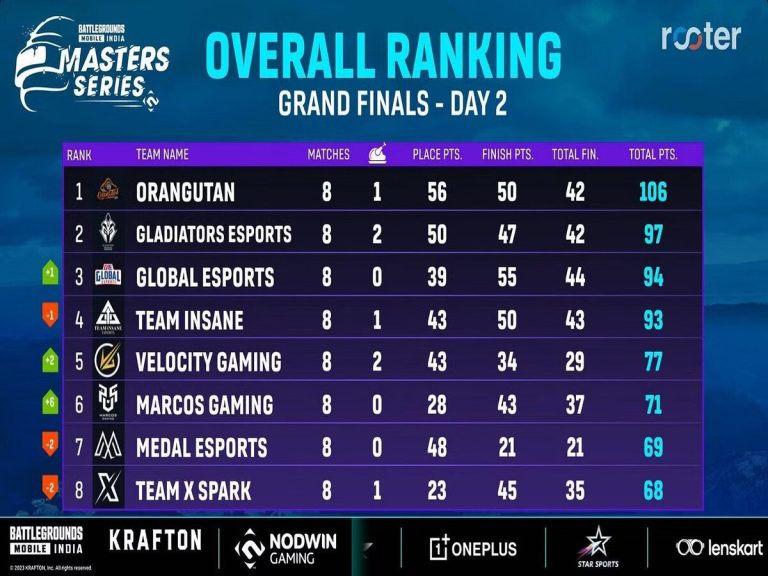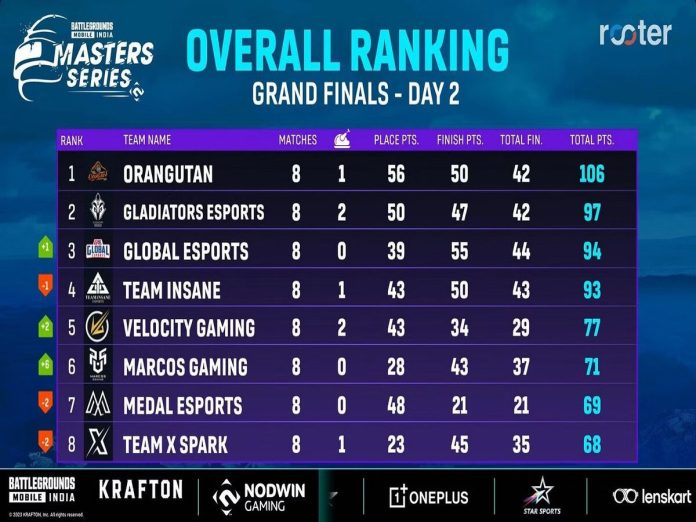 Orangutan maintained its lead on Day 2 of The BGMS Season 2 Grand Finals with 106 points with just four games left.
With 97 points, Gladiators Esports took second place, just ahead of Global (94) and Team Insane (93).
A total of two Chicken Dinners and 77 points put Velocity Gaming in fifth place. Marcos performed well in the last match of Day 2 and held onto sixth place with 71 points.
With 61 points, Blind Esports took ninth place, ahead of 8Bit and OR, who placed 10th and 11th, respectively. Oneblade earned a dismal 24 points, or three per game, and came in 16th place.
With 80 kills, SprayGod took the top place on the Most Wicked Players list. With 76 eliminations, Justin is not far behind in second place, followed by Rony (71), Harsh (67), and Nakil (66), who took third, fourth, and fifth place, respectively.
BGMS Season 2 Finals Day 2 Rankings
Orangutan Esports – 106 Points
Gladiators Esports – 97 Points
Global Esports – 94 Points
Team iNSANE ESports – 93 Points
Velocity Gaming – 77 Points
Marcos Gaming – 71 Points
Medal ESports – 69 Points
Team X Spark – 68 Points
Blind ESports – 61 Points
Team 8Bit – 54 Points
OR ESports – 54 Points
WSG Esports – 53 Points
Lucknow Giants – 46 Points
God's Reign – 41 Points
Enigma Gaming – 26 Points
OneBlade ESports – 24 Points
Match Highlights
In the opening combat of Day 2 of the BGMS Season 2 Grand Finals, Team XSpark put on a strong effort and earned their first win with 26 points. 
Because of his five spectacular eliminations, their IGL Pukar was named MVP. Both Team Insane and Blind Esports had outstanding starts, scoring 21 and 20 points, respectively. Medal, OR Esports, and Orangutan managed to score 15, 9, and 8 points, respectively.
Thanks to DeltaPG's outstanding performance, Gladiators Esports once again won the second Sanhok match of the BGMS Finals with 23 points.
8Bit and Global Esports both accrued 17 points, while WSB scored 15. Both Medal and Team XSpark contributed enough for each to get 12 points.
Team Insane managed to win by an astounding 22 points because of their brilliant strategy. From the opening zone, Global Esports engaged in aggressive combat and earned 33 points.
Blind, Orangutan, and Gods Reign scored 14, 13, and 12 points, respectively, in the lower ranks. In the second game of the BGMS Finals Day 2, Team XSpark and Medal only managed to score eight points each after a lacklustre performance.
Team Velocity received an unexpected 18-point Chicken Dinner thanks to Octavius' help. The aggressive strategy used by Marcos Gaming allowed them to earn 26 points.
With time running out, the Lucknow Giants produced a powerful comeback and scored 25 significant points.
Way behind the rest, Global and Orangutan settled for 12 points each, while Insane sat at 10.
Also Read: Free Fire MAX Ink Ring Luck Royale Details, How To Get Rewards