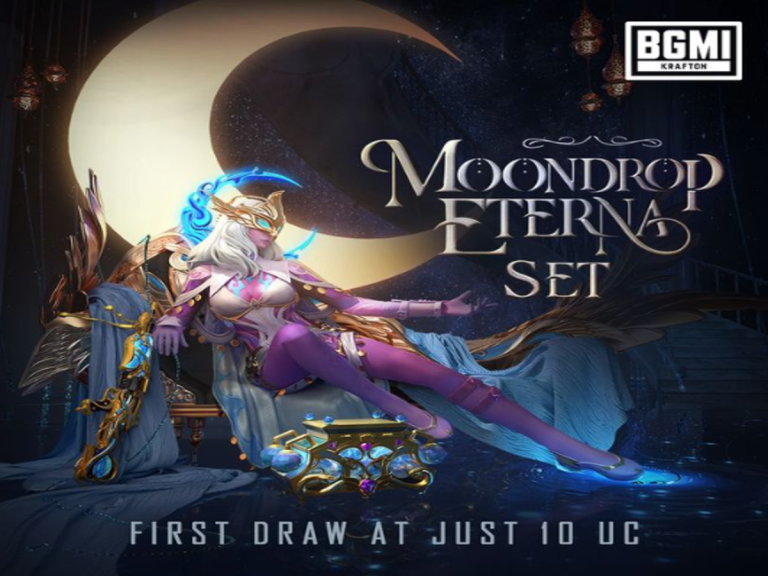 The Moondrop Eterna set, which debuts during BGMI's enchanting Moonlight Throne event and enchants players with its distinctive rewards, is one of the most sought-after sets.
Players may get the coveted Moondrop Eterna set as the final reward by taking part in the Moonlight Throne event in BGMI.
By gathering Moondrop Gems in Battlegrounds Mobile India, participants in this event may win a variety of alluring rewards. 
BGMI Moondrop Eterna rewards
Here is an extensive list of the rewards that are available, along with the associated Moondrop Gem requirement:
Moondrop Eterna cover – Three Moondrop Gems
Moondrop Eterna set – Six Moondrop Gems
Moondrop Eterna M249 – Three Moondrop Gems
Moondrop Eterna helmet – Two Moondrop Gems
Moondrop Eterna glider – Three Moondrop Gems
Moondrop Eterna emote – One Moondrop Gem
One material – One Moondrop Gem
How to unlock the Moondrop Eterna Set
To obtain Moondrop Gems, take part in the Moonlight Throne event. Each draw contributes to the luck bar's filling and helps players reach milestones that provide Moondrop Gems.
The day's first draw is for 10 UC, and the following draws are for 60 UC. The Moondrop Eterna set may be unlocked by collecting a total of six Moondrop Gems.
Open the event redemption option in the Moonlight Throne event interface when you have collected the required quantity of Moondrop Gems.
Find and pick the Moondrop Eterna set from the redemption menu to start the redemption procedure.
When asked, confirm your choice to redeem the Moondrop Eterna set.
You will now have the Moondrop Eterna set in your possession.
Keep an eye out for the Moonlight Throne event milestone draws. You will get access to other rewards. In particular, achieving the 250-draw mark is important since you will get the Moondrops.
The luck bar steadily increases with each participation. You will get a Moondrop Gem as a reward when the luck bar hits 100.
As a result, keep an eye on the luck bar's development and try to carefully plan your draws to improve your chances of getting these gems.
Also Read: BGMI: How To Increase RP Quickly