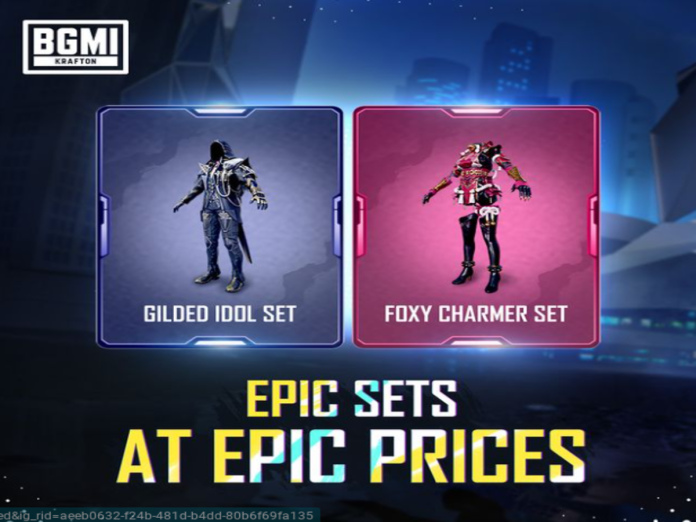 One of the most played battle royale games in India is Battlegrounds Mobile. In order to keep the game fresh, developers constantly add new content, objects, and cosmetics.
Mythic sets and outfits are often brought to BGMI by Krafton.
In the premium crate segment, Krafton debuted the BGMI Gilded Idol Set and Foxy Charmer Set in Battlegrounds Mobile India.
This can be easily obtained in the game, if you have enough UC. Read ahead to find out how.
How to obtain new Epic sets in BGMI
The following is the procedure to get the Foxy Charmer Set and Gilded Idol Set:
Launch the BGMI app.
Go to the Shop section of the game by clicking the icon.
To find the Premium Crate area, scroll below.
Click the draw rewards.
To open the crate, you may either spend UC or a Lucky Spin.
You could be fortunate enough to get the new epic sets.
Two newly launched premium sets in BGMI are the Gilded Idol Set and the Foxy Charmer Set. The Foxy Charmer Set is a female set, whereas the Gilded Idol Set is a male set. The Premium Crates include both sets.
The Gilded Idol Set is a regal-looking set with a golden theme. It comes with a bag, shoes, suit, helmet, and mask.
The mask has a golden dragon motif, while the helmet has a golden crown on top. A golden robe with a dragon design serves as the attire.
A golden chest with a dragon's head on top serves as the backpack. Golden sandals with dragon claws on the toes are the footwear.
A pink-themed set is called the Foxy Charmer Set. It comes with a bag, shoes, suit, helmet, and mask. The mask features a pink fox motif, while the helmet has pink cat ears.
A pink dress with a fox tail completes the look. A pink heart with a fox paw print is the shape of the backpack. Pink boots with fox paw patterns decorate the bottoms of the footwear.
Log into the game to grab these sets today!
Also Read: PUBG Mobile: More Features Added To Dragon Ball Event