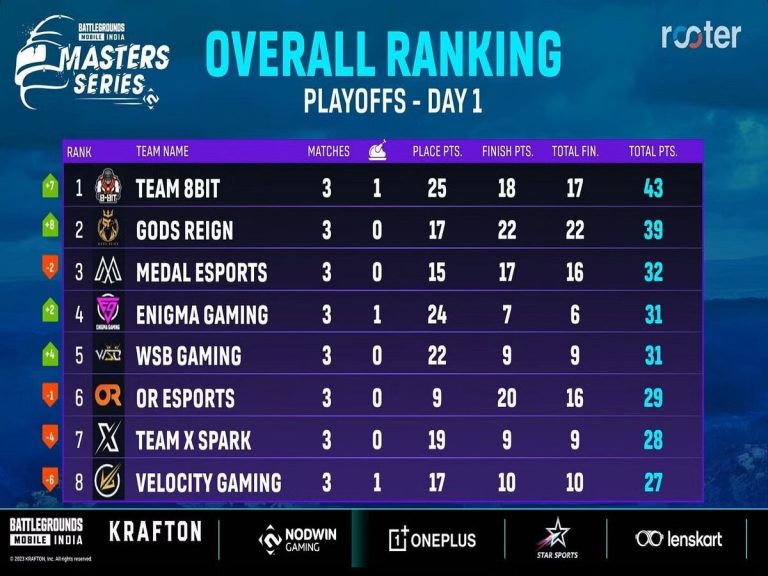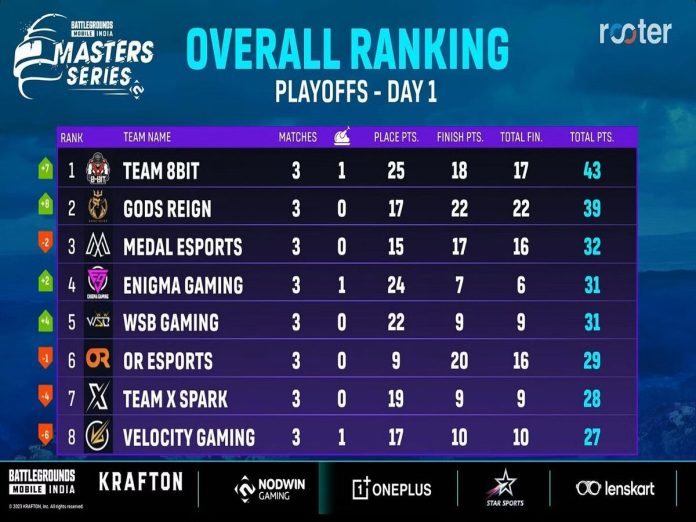 Team 8Bit secured a top place on the first day of the BGMS 2023 Playoffs by scoring 43 points for themselves.
Additionally, Gods Reign and Medal got off to a strong start in this key phase, taking second and third position with 39 and 32 points, respectively.
Enigma focused on survival games, earning 31 points overall, including 24 placement points, to rank fourth.
Numen scored 21 points in the first game but had little luck in the next two contests. Gladiators Esports, one of the standout teams in the BGMS League Stage, started the Playoffs off poorly with just eight points after three games.
Team Soul lost all three bouts early and finished with eight points for the fourteenth place. Taking just six points apiece on average, Entity and Oneblade also had a poor day.
Only the top 12 teams will be given the opportunity to participate in the Grand Finals, therefore these teams will need to produce resounding victories in their last three games.
BGMS Season 2 Playoffs Day 1 Rankings
Team 8Bit
Gods Reign
Medal Esports
Enigma Gaming
WSB Gaming
OR Esports
Team X Spark
Velocity Gaming
Match Highlights
In the opening game of the day, Velocity Gaming triumphed by a score of 21 points. Due to Topdawgg's seven eliminations, Medal Esports also put up a remarkable effort, earning 25 points.
Numen Gaming had a strong start to the day by scoring 21 significant points. After securing one point early on, Team Soul faced a knockout.
Enigma Gaming earned a 2-kill Chicken Dinner in the second round of the BGMS Playoffs. Getting 18 points, 8Bit also demonstrated good skill.
OR Esports fared quite well, scoring a total of 17. Team XSpark and Orangutan both scored 15 significant points.
The top two teams from the first game, Velocity and Numen, were eliminated with two and zero points, respectively.
8Bit maintained their momentum and scored 25 points in the third game of the BGMS Playoffs. Ninjajod contributed to Gods Reign's 25-point haul.
Also Read: League Of Legends: NA Legends Invitational Hosted By Disguised Toast Announced