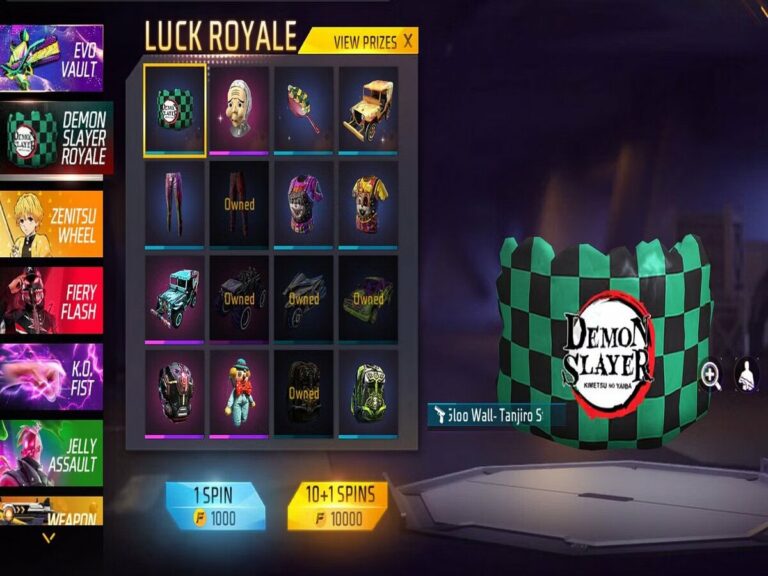 Garena has been regularly releasing a number of events that provide limited-edition items and collectibles as part of the collaboration between Free Fire and Demon Slayer.
These rewards are either free to get or may be purchased with diamonds. Fans have paid close attention to the Demon Slayer Royale event, one of the crossover content, because of its amazing rewards.
Gold may be used to attempt to acquire them. This in-game currency's accessibility allows a larger audience to take part in Demon Slayer Royale and compete for rewards.
Free Fire Demon Slayer Royale
The newest Luck Royale in this game is Free Fire Demon Slayer Royale.
You have till October 12, 2023 to collect spins in it after it went online on September 29, 2023.
For a single spin during these two weeks, you may pay 1,000 Gold, as opposed to 10,000 Gold for the second option of 10+1 spins.
You will get items from the prize pool after finishing a spin, including the themed cosmetics. Free Fire Demon Slayer Royale provides the following rewards:
Gloo Wall – Tanjiro Style
Haganezuka Mask
Pan – Giyu Style
Jeep – Zenitsu Style
Funflair Hare (Bottom)
Funfair Hare (Bottom)
Funflair Hare (Top)
Funfair Hare (Top)
Jeep – Stormbringer
Monster Truck – Sabertooth
Motorbike – K.O. Night
Pickup Truck – Flame Draco
Full Stealth Backpack
The Baby Clown
The Wasteland Backpack
Earth Elemental
Fateful Wrath Loot Box
Box of Balance
Tin Can Loot Box
Beach Crate
Yellow Strike
Disease
Planet Destroyer
Wasteland Skyboard
Egghunt Paradise parachute
Sunshine Coconut parachute
Rapper Underworld parachute
Melody Blast parachute
The Brick Warrior avatar
Sound of Music avatar
Ruby Wolverine avatar
Battle Viking avatar
Brick Warrior banner
Perfect Tempo banner
Full Metal Wolverine banner
Viking's War banner
Pop Host (Facepaint) 3d
Pop Host (Head) 3d
Pop Host (Mask) 3d
Pop Host (Shoes) 3d
Pop Host (Bottom) 3d
Pop Host (Top) 3d
Pumpkin Warrior (Head) 3d
Pumpkin Warrior (Shoes) 3d
Pumpkin Warrior (Bottom) 3d
Pumpkin Warrior (Top) 3d
Cunning Witch (Head) 3d
Cunning Witch (Shoes) 3d
Cunning Witch (Bottom) 3d
Cunning Witch (Top) 3d
Armor Crate
Leg Pockets
Scan
Secret Clue
With each draw, your chances of winning the more rare rewards will rise.
Also Read: Free Fire OB42 APK Download Guide