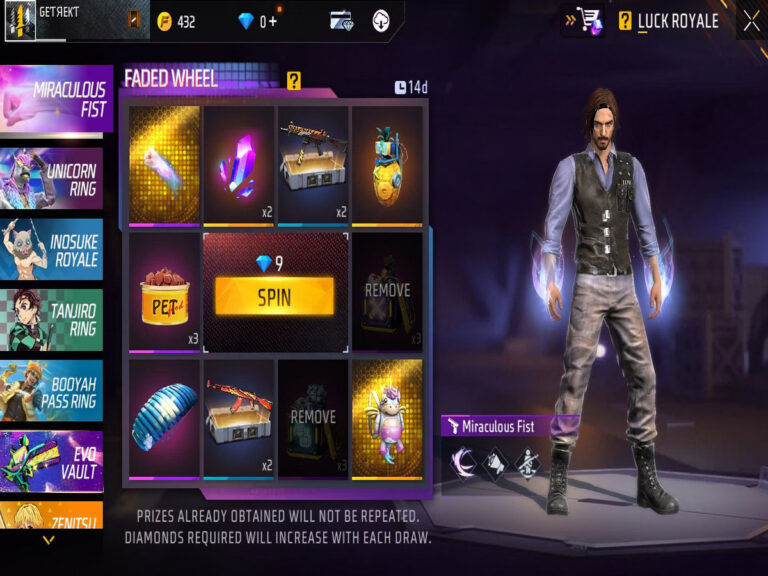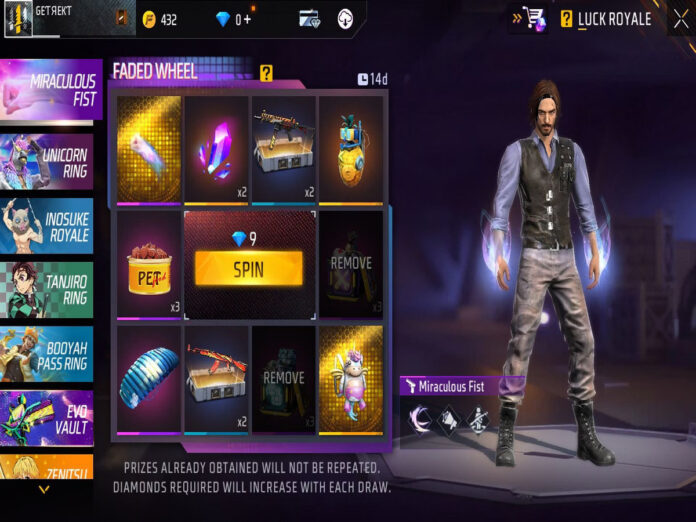 The Miraculous Fist has officially been introduced to Free Fire as part of a Faded Wheel event, confirming that the leaks regarding it were true. 
A bag skin, grenade skin, and weapon loot crates are among the other rewards available through the special Luck Royale in addition to the unique fist skin. As usual, players must use diamonds to attempt to win the various prizes.
For a duration of two weeks, Free Fire will host the new event. Players who wish to obtain the Miraculous Fist can use the in-game cash to obtain it.
Free Fire Miraculous Fist Faded Wheel
Starting on October 17, 2023, Miraculous Fist Faded Wheel will be accessible in Free Fire till October 30, 2023. 
A premium attack effect and elimination announcement are included in the special Fist skin that is available as part of the new event. Additionally, players will be able to show it off in the lobby.
Like every other Faded Wheel, there are ten prizes in total, and in order to start pulling them out, players must take out two undesirable objects. The precise prize pool for the event is shown below:
Miraculous Fist
2x Magic Cube Fragments
2x Wilderness Hunter Weapon Loot Crate
Grenade – Pineapple Fizz
3x Supply Crates
Miraculous Backpack
3x Armor Crates
2x Flaming Red Weapon Loot Crate
Clear Skies (Parachute)
3x Pet Food
Nine diamonds will be needed for the event's initial spin, while the next seven spins will cost 19, 39, 69, 99, 149, 199, and 499 diamonds each.
Players will therefore be eligible to receive the Miraculous Fist for a grand total of 1,082 diamonds.
In the case that they do not have enough diamonds to spend, they can use them in Mystery Shop events, where they will always get the rewards for less money.
How to obtain the rewards
Open the game on your smartphone and press the "Luck Royale" symbol located on the left side of the screen. On your screen, a list of the various Luck Royales will appear.
After choosing the Miraculous Fist Faded Wheel, take out two things from the reward pool that you do not desire.
Since you will have plenty of stuff like supply and armor crates, it is advisable that you eliminate them.
Spend diamonds to make the spins in the Faded Wheel and draw the prizes.
Once you have obtained the Miraculous Fist, you can use it in the game.
Also Read: Minecraft 1.21 Update Copper Bulb Guide