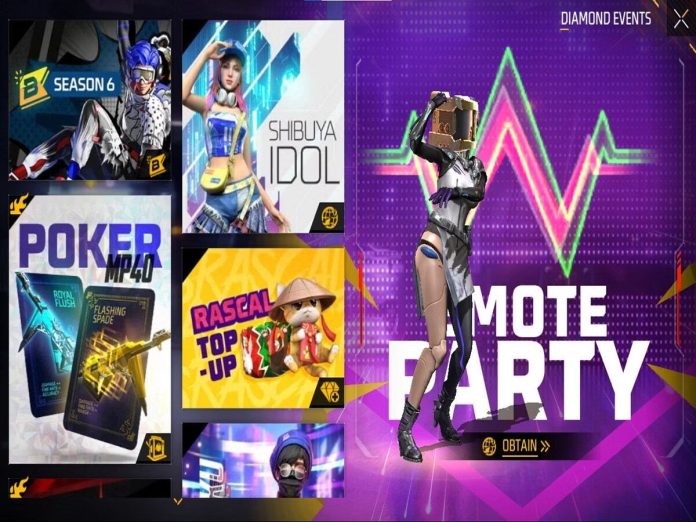 The new event in Free Fire MAX is called Emote Party and it is all about emotes. Players often use the event to add to their emote collections.
In the game, you may now view the most recent version of the event. The much-desired Flowers of Love and Sonorous Step are among the grand prizes, along with a number of additional emotes.
Other common emote rewards are available in this version of the Emote Party. Players will not be able to get any of these emotes for free since all of the spins in the event demand diamonds.
Free Fire MAX Emote Party Event
Players may get unique emotes until June 15, 2023, as part of the most recent Emote Party, which began in Free Fire MAX on June 2, 2023. 
The prize pool for the competition is set and is split into categories for Grand Prizes and Bonus Prizes.
An item is chosen at random from both prize pools during a Normal Spin, which costs 19 diamonds.
A Super Spin, on the other hand, has a price tag of 199 diamonds and awards an emote.
Sonorous Steps Emote is a given to players after five Super Spins. They will also get a 50% discount on their first Super Spin.
The following is a list of the things from both categories that players may get by spinning with diamonds:
Grand Prizes
Sonorous Step
Graffiti Cameraman
Kungfu Tigers
Dribble King
Flowers of Love
Normal Prizes
Arm Wave
Baby Shark
Shuffling
Dangerous Game
Threaten
Agile Boxer
Moon Flip
Wiggle Walk
Shake It Up
Dance Party
Soul Shaking
Death Glare
The Swan
Bring it On!
Fancy Hands
Shimmy
Challenge On
Bhangra
Number 12x Cube Fragment
2x Water Ballon (AK) Weapon Loot Crate
2x Flaring Bionica (G36 + M1873) Weapon Loot Crate
2x Egg Hunter (M14 + Parafal) Weapon Loot Crate
2x Royal Warrior (AC80 + Scar) Weapon Loot Crate
2x Wraith Patrol (Bizon + Parafal) Weapon Loot Crate
2x Night Bite (Charge Buster + KAR98K) Weapon Loot Crate
2x Pet Food
How to obtain rewards in the Free Fire MAX Emote Party Event
The steps you may take to get rewards from the Free Fire MAX Emote Party event are listed below:
Launch Free Fire MAX and choose the event option in the upper left corner.
Select the Emote Party option from the list of events.
Choose the kind of spins you want to do to draw prizes at random from the prize pool.
Since the Sonorous Step is a guaranteed reward after five Super spins, purchasing the emote will cost 895 diamonds.
This offer is made even better by the fact that you also get four more emotes.
Also Read: League Of Legends Pride 2023 Details, Rewards, And More