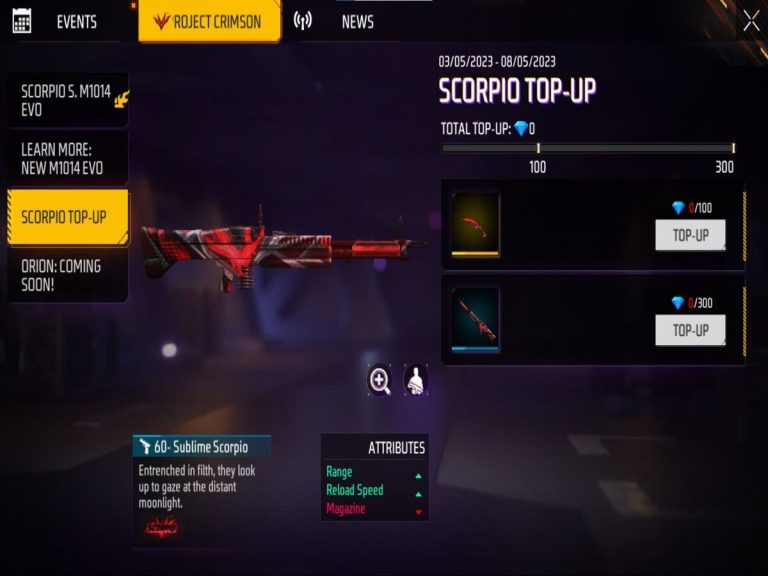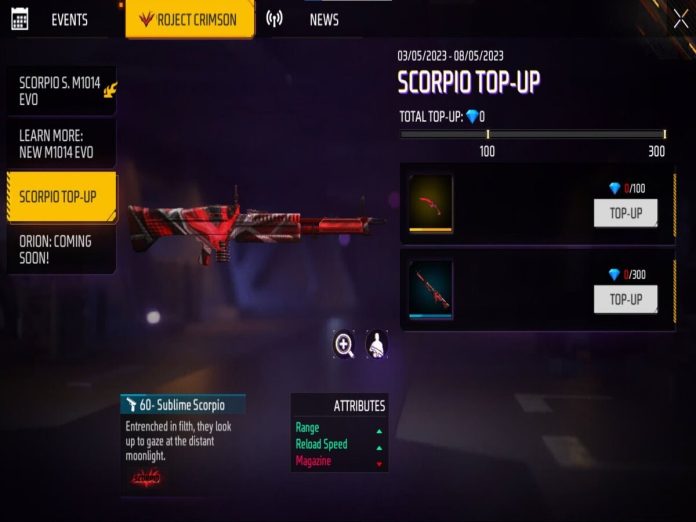 In Free Fire MAX, top-up events are always available, and as soon as one ends, a new one is released by the creators.
Further leaks about the impending top-up event have appeared, indicating that it may also include rewards with a Scorpio theme.
The upcoming version of the top-up event will provide a free pan skin, bike skin, and Scorpio Glare. This is according to reliable data miners like Pureleaks_ofc and Vipclow_ofc.
According to the information that has leaked, the new event will start as soon as the current Scorpio Top-Up is over.
Players will probably need to spend 500 diamonds in order to get all three things for free.
The data miners recently published a video of the Scorpio Top-Up 2 event on Instagram. It will most likely be added soon to the servers for India and Bangladesh of Free Fire MAX. 
The event, in their estimation, will go live on May 9 and remain accessible until May 14, 2023.
Free Fire MAX Scorpio Top-Up 2 Event Rewards
The following conditions and rewards are most likely in store for the next Scorpio Top-Up event, as per the video:
Free Pan – Scorpio on purchase 99 diamonds
Free Motorbike – Scorpio on purchase of 299 diamonds
Free Scorpio Glare on the purchase of 499 diamonds
Any in-game purchase will, as usual, contribute towards all three criteria, so players need only buy 500 diamonds to be qualified to get all three rewards for free.
Indian players would be able to purchase the premium in-game currency for 400 INR to obtain all the items if the event goes live.
In spite of the fact that several data miners published the leak on the new top-up event in Free Fire MAX, it is crucial to keep in mind that the event hasn't been formally announced by Garena.
Thus, it may or may not be included in the game.
On May 3, 2023, the Scorpio Top-Up event was introduced to Free Fire MAX. Players still have until May 8, 2023, to get the M60 – Sublime Scorpio and the Scorpio Dagger for free.
The first and second purchase thresholds are 100 and 300 diamonds, respectively.
A 310-diamond bundle valued at INR 240 may be purchased by interested players to get a free legendary and epic item.
Considering that the direct cost of such cosmetics is significantly greater, this is unquestionably a fantastic deal.
Also Read: VALORANT Pro SicK Arrested Once Again: Find Out Why