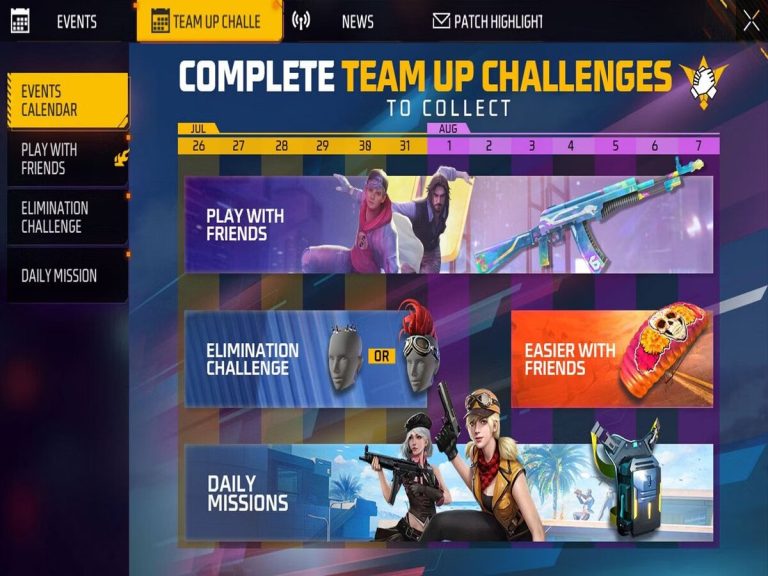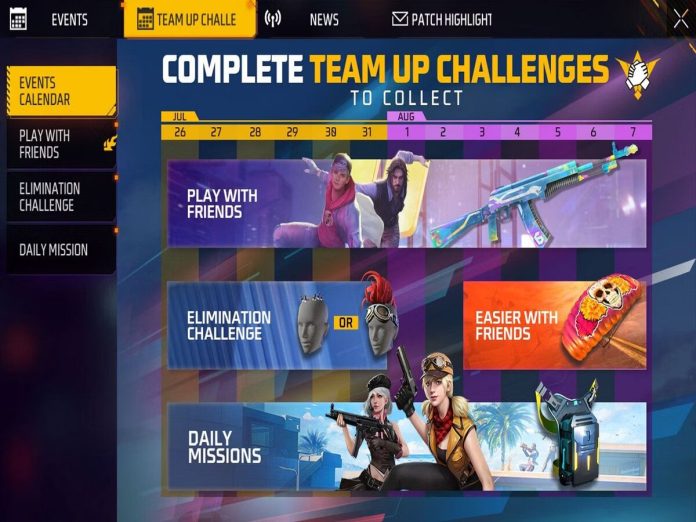 A new Team Up Challenge was added to Free Fire MAX by Garena after the 6th Anniversary festivities in the game were over.
The creators have also revealed an event calendar that provides a thorough summary of the activities planned for the community and is jam-packed with free rewards.
As a result, Free Fire players may take advantage of this chance to get a variety of rewards, including a free pistol skin, parachute, and head, all of which are made accessible without paying anything upon completing event-related tasks. 
Free Fire MAX Events Calendar
The Team Up Challenge part of the events page has a special events calender. As a result, throughout the course of the next two weeks, Free Fire MAX will host the following events:
Play with Friends – July 26, 2023, to August 7, 2023 (Free AN94 – Bliss Popper gun skin)
You must play a certain number of games with your friends in order to earn a free, permanent gun skin in this event in Free Fire MAX.
To get a permanent AN94 – Bliss Popper gun skin, 3000 gold, and a free Gold Royale Voucher, you must participate in a total of 18 games during the course of the event.
Elimination Challenge – July 26, 2023, to July 31, 2023 (Free Wasteland Roamer (Head) or Wasteland Wanderer (Head)
As the name suggests, you may defeat your opponents to get free gun crates and either the Wasteland Wanderer or Wasteland Roamer head.
To win the rewards, however, you must defeat 50 opponents within a short period of time since the event is only temporary.
Easier with Friends – August 3, 2023, to August 7, 2023 (Free parachute skin)
The event is scheduled to start on August 3, 2023, however, the prerequisites have not yet been released. It will reward you with a free parachute skin, according to the calendar.
Daily Missions – July 26, 2023, to August 7, 2023 (Free Leg Pockets daily)
Daily Missions, which solely provide Leg Pockets, are among the most fundamental activities in Free Fire MAX. To earn a straightforward Loadout item, you must accomplish a basic assignment that refreshes every day at 4 am IST.
You must meet the prerequisites for each event in order to get the associated rewards.