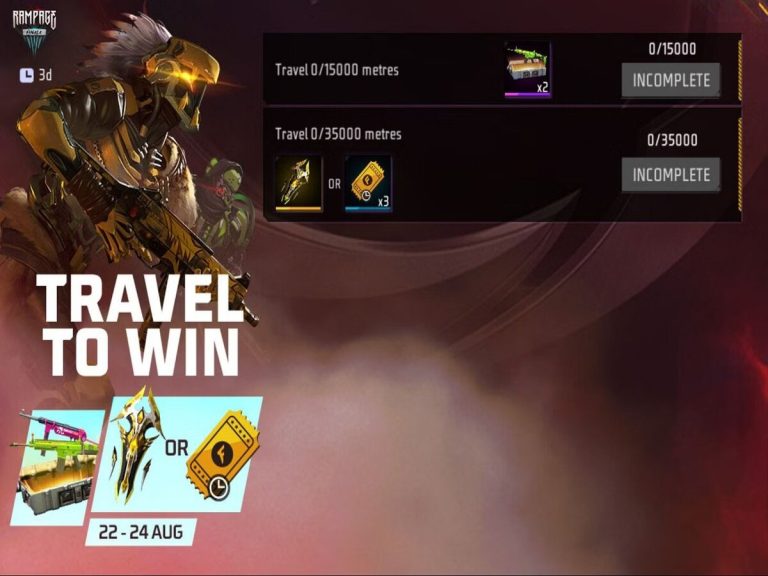 One of the newest additions to the battle royale game Free Fire MAX is called Travel for Rewards, and it offers tempting goodies like a permanent skyboard and weapons crates.
As the name suggests, you must go the required distance to get a free Ventus Skyboard as well as other rewards.
Players of Free Fire MAX who already possess the cosmetic may choose three Gold Royale Vouchers instead, however, they have a shorter validity date.
Free Fire MAX Travel For Rewards
The Free Fire MAX event Travel for Rewards began on August 22, 2023, and it will last for three days before coming to a conclusion on August 24, 2023.
You just need to fulfill the stated conditions to be eligible for the rewards.
The following are the milestones and rewards:
Travel 15000 meters to get a free 2x Futuristic Weapon Loot Crate
Travel 35000 meters to get free Ventus Skyboard or 3x Gold Royale Vouchers (Expiry date: September 30, 2023)
Furthermore, Garena has not placed any limitations on how you may meet the aforementioned requirements.
Unranked battle royale battles, however, need to be your first preference since you may concentrate on maximal survival to make sure you cover enough ground.
How to obtain the rewards
The following steps must be followed in order to get the Ventus Skyboard or 3x Gold Royale Vouchers:
Sign into your account and begin playing matches to fulfill the prerequisites for travel.
The specific event interface makes the current progress evident.
Access the Rampage: Finale tab and choose Travel for Rewards after you have achieved a certain level.
To claim the specific reward, click the Claim button. You will need to confirm your choice for the Ventus Skyboard and 3x Gold Royale Vouchers.
Last but not least, once you choose the skyboard, it will stay yours. It is available for equipping in the vault area.
Also Read: Call Of Duty Next 2023 Details, Schedule, How To Watch Live