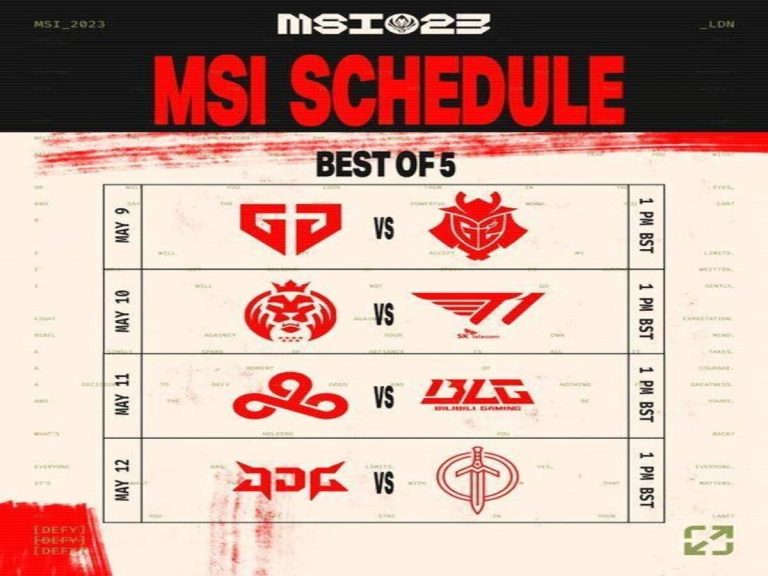 The main stage of League of Legends MSI 2023, the year's first significant international competition is here.
Fans anticipate intense matchups as the qualifying teams begin to battle in the bracket round.
Following the last play-in game between the Golden Guardians and PSG Talon, the bracket stage draw was conducted.
The bracket stage matchups were drawn by the primary guest and top laner from Excel Esports, Andrei "Odoamne" Pascu.
Yet, since fans are upset with the MSI 2023 bracket stage matches, he has become the subject of a lot of trolls.
On May 9, 2023, in London, England, the League of Legends MSI 2023 bracket stage will start.
Eight teams from each of the main regions will participate in the renowned tournament. Matches in the bracket will all be best-of-five.
Participating Teams
The teams competing in the bracket stage are as follows:
GenG (LCK)
T1 (LCK)
JD Gaming (LPL)
Bilibili Gaming (LPL)
Mad Lions (LEC)
G2 Esports (LEC)
Cloud9 (LCS)
Golden Guardians (LCS)
Bilibli Gaming, G2 Esports, and Golden Guardians progressed to the bracket stage after a fantastic play-in stage.
They qualified with GenG, T1, JDG, Mad Lions, and Cloud9 after winning their regional finals.
T1 will get an extra slot even if they did not take first place in the LCK Spring Split in 2023. The reason for this is because the LCK's DRX are the current world champions.
League of Legends MSI 2023 Main Stage Schedule
In the first round of the bracket stage, the following matches will occur:
Tuesday- May 9, 2023: GenG vs G2 Esports
Wednesday- May 10, 2023: MAD Lions vs T1
Thursday – May 11, 2023: Cloud9 vs Bilibili Gaming
Friday – May 12, 2023: JD Gaming vs Golden Guardians
At 5 am PT/5:30 pm IST, the first-round matchups of the bracket stage will begin.
How to watch the League of Legends MSI 2023 Main Stage live
The first round of the bracket stage of the League of Legends MSI 2023 will be broadcast live on the official LoL Esports website, Riot Games' Twitch, and LoL Esports' Youtube account.
Also Read: PUBG Mobile: PMPL South Asia Championship 2023 Spring League Stage Results, Rankings