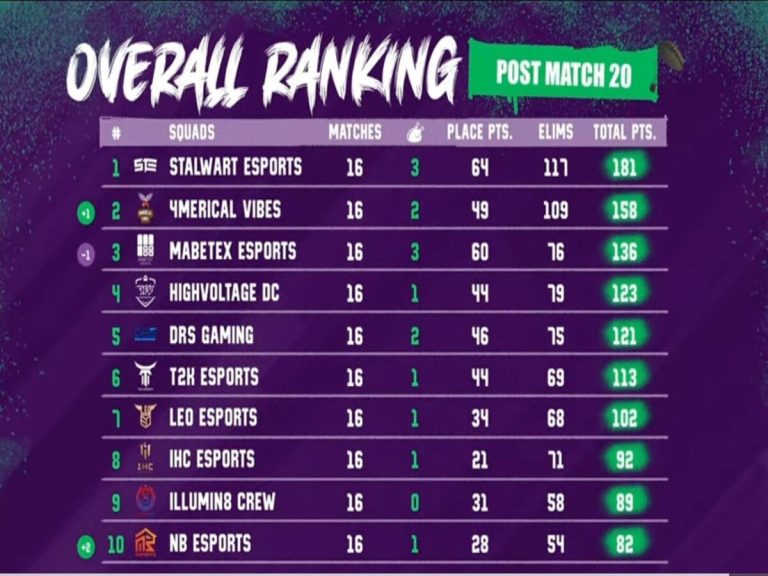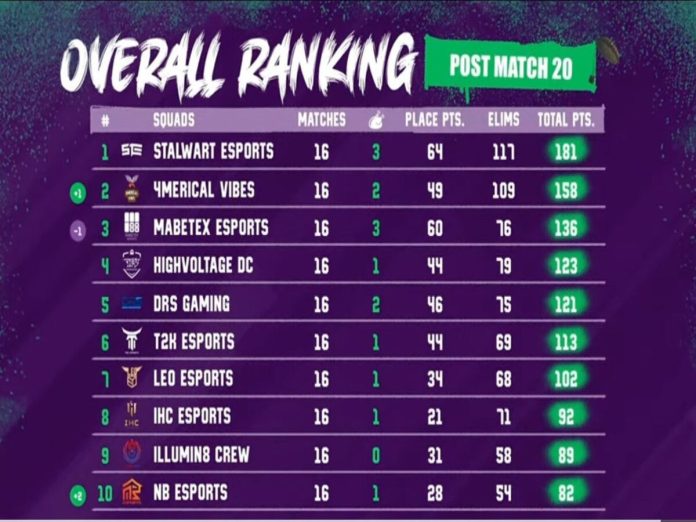 The first leg of the PMPL South Asia Championship 2023 Spring concluded with the top 16 teams advancing to the Grand Finals.
It will take place from May 10 to May 14. All three of the best teams are from Mongolia and have had a stellar season.
With 181 points and three Chicken Dinners to their name, Stalwart Esports maintained the top rank in the League Stage.
On Day 2, this squad performed flawlessly, and they carried that energy into the final match.
Mabetex Esports came in second in the PUBG Mobile: PMPL South Asia Championship 2023 Spring League Stage with 158 points, followed by 4Merical Vibes.
With 123 points, High Voltage from Nepal took fourth place, ahead of DRS Gaming and T2K, who scored 121 and 113 points, respectively.
PMPL South Asia Championship 2023 Spring League Stage Overall Rankings
Stalwart Esports
4Merical Vibes
Mabetex Esports
Highvoltage DC
DRS Gaming
Match Highlights
Goku and Senior put up an outstanding fight in the end zone of match 1 against Stalwart Esports, which enabled Quantum Rage to win the first game on Miramar with 17 points. 
Stalwart, on the other hand, scored 19 points thanks to their aggressive performance throughout the match.
TUFX excelled in Erangel in match 2 of the PMPL South Asia Championship 2023 Spring League Stage and scored a nine-kill Chicken Dinner.
Each of the teams Illumin8 Crew, Stalwart, and High Voltage earned eight points.
In match 3, Mabetex Esports put up an impressive performance to win with 7 kills in Sanhok.
Stalwart Esports was eliminated by TUFX as they entered the safe zone. However, both teams scored 16 points overall.
In the final circle of match 4, DRS Gaming outperformed Stalwart Esports to win with 21 points.
The match between these two teams was tense. By scoring 18 points, Stalwart improved their standing on the scoreboard as well.
With 27 points, 4Mercial Vibes won the last match of the PMPL Championship League phase. Magnus displayed excellent gameplay to get 12 points.