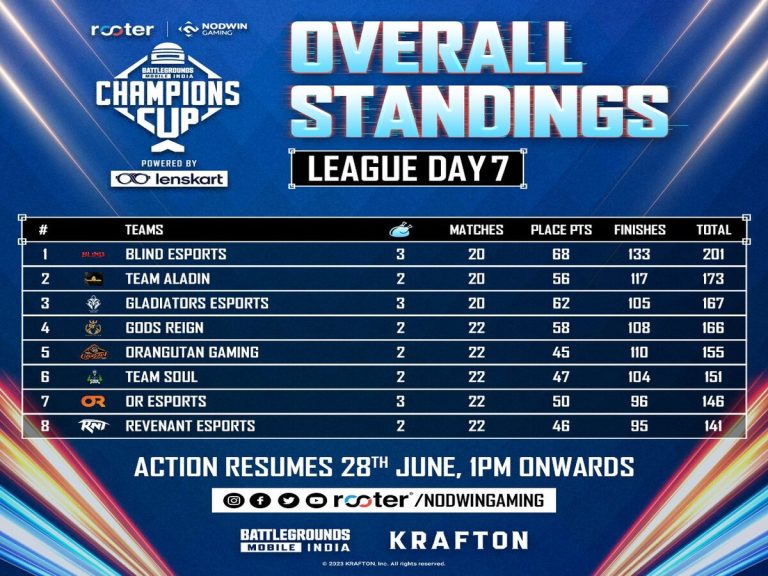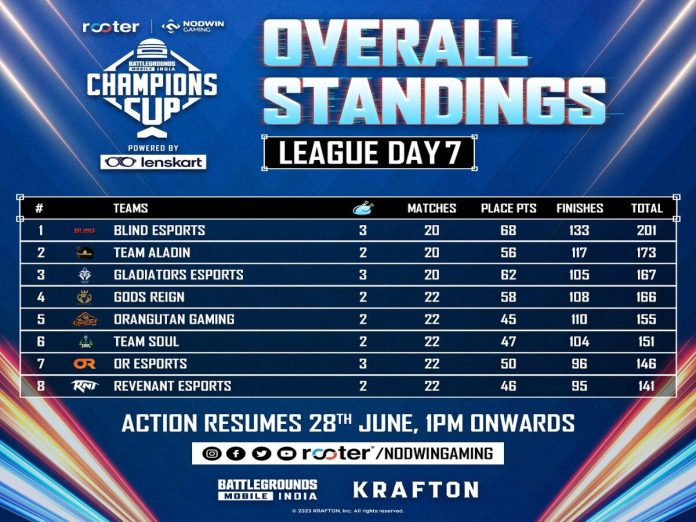 The Nodwin x Rooter BGMI Champions Cup 2023 League Stage's seventh and final day of the League stage has come to an end, with Blind maintaining the lead with 201 points and 133 eliminations.
With 173 points and 117 kills, Team Aladin placed second after putting up an outstanding display today. With 151 points, Team Soul had a rather solid day and moved up to sixth place.
Team XSpark placed 24th in the Nodwin x Rooter BGMI Champions Cup League Stage with 90 points, while GodLike Esports slipped to 21st with 100 points.
Blind Spower continues to dominate the kill table with 54 eliminations, followed by Soul Neyo (39) and GT Prince (38). With 37 frags, Sarvit also grabbed a spot in the top five of the Nodwin x Rooter BGMI Champions Cup League Stage.
Nodwin x Rooter BGMI Champions Cup Day 7 Rankings
Blind Esports
Team Aladin
Gladiators Esports
Gods Reign
Orangutan Gaming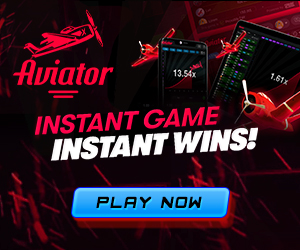 Match Highlights
Thanks to Paradox's performance, Medal Esports demonstrated their skills in the first game by winning with an astounding 11 kills.
Blind Esports increased their lead in the standings after scoring 13 points, including eight finishes. Entity Gaming and Velocity both scored 11 points.
Team Gladiator put up an outstanding effort during the second fight in Miramar, winning the Chicken Dinner with 12 incredible kills.
Blind and Team Insane, meanwhile, scored 12 and 10, respectively. No points were scored by Hyderabad Hydras or Gods Reign.
In the third match, Revenant Esports demonstrated their expertise by decisively obtaining the crucial 13-kill Chicken Dinner.
Team XSpark and Team Veterans scored eight and six points, respectively, while Team Soul and Team AVI both comfortably earned 13 points.
Genxfm Esports secured their second Chicken Dinner with six frags in the fourth game after showcasing their impressive talents in the end zone. To get 14 points, Team Aladin also played really well. Both GodLike Esports and Team AVI were defeated during their first matches and were left empty-handed.
In the ninth circle of the fifth round, Team Veterans showed excellent game sense by getting the Chicken Dinner from Team Soul.
There were several spellbinding moments throughout this game, which was played in Sanhok.
Although they didn't win, the BGMI team headed by Omega earned 15 points to take first place in the competition.
Ten players were eliminated from the contest as a result of the strong rivalry from Big Brother Esports.
Rivalry put up an amazing performance in the sixth match, winning with 14 eliminations. With 11 points, Big Brothers Esports also put up a solid performance.
In the last match of Day 7 of the BGMI Champions Cup, Team Soul got seven frags.
Also Read: Upthrust BGMI Challengers Showdown 2023 Winners, Tournament MVP, Results, Rankings