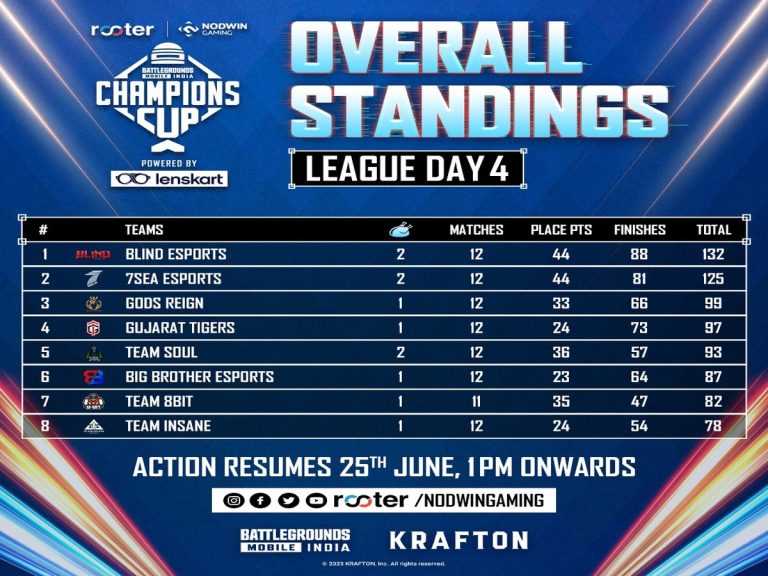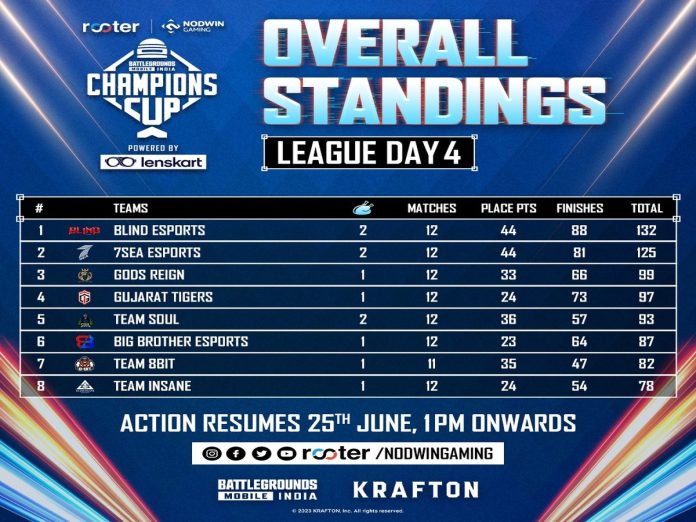 Blind Esports is in the lead after Day 4 in the Nodwin x BGMI Champions Cup League Stage with 132 points.
On Day 4, they engaged in tough competition and collected 56 points across their last four matches.
Gods Reign and 7SEA Esports finished second and third, respectively, with 125 and 99 points.
With 97 points, Gujarat Tigers dropped to fourth place in the Nodwin x Rooter BGMI Champions Cup, while Team Soul maintained fifth place with 93 points after 12 games. GodLike received only five points, falling to the 19th spot. 
Spower from Blind Esports earned 37 total eliminations, while Manya took home 26. Vexe and SprayGod each recorded 24 and 23 kills, respectively.
Nodwin x Rooter BGMI Champions Cup League Day 4 Rankings
Blind Esports
7SEA Esports
Gods Reign
Gujarat Tigers
Team Soul
Match Highlights
With a crucial win to start the day off well, Team Enigma Forever eliminated seven players. The second-place team, Blind Esports, earned 16 points thanks to 10 outstanding eliminations.
In this first battle of Day 4 of the Nodwin x Rooter BGMI Champions Cup, 7SEA scored the most kills, earning 15 points.
In the second match, Team Underdogs earned their first victory with eight frags, and Blind Esports put up another hard fight to win with 16 points, 14 of which came from eliminations.
Rivalry stunned the audience in the third round with an eight-kill victory. Hyderabad Hydras and Team Insane each scored 15 and 11 points.
In the fourth game, Team Insane played aggressively and earned a huge 14-kill Chicken Dinner. Gods Reign scored 18 points with 14 frags under the direction of BGMI pro Robin.
Although being eliminated quite quickly, OR Esports still managed to score eight kills.
With four finishes, Genxfm won their second Chicken Dinner. However, Velocity Gaming topped the game and earned a total of 15 points.
After a string of defeats, Team XSpark put out a valiant effort in the fifth game to score 15 points, including 10 kills.
In the last match of Day 4 of the Nodwin x Rooter BGMI Champions Cup, Entity Gaming triumphed with nine kills. Spower, a BGMI standout, performed an outstanding performance, scoring eight kills and giving Blind Esports 18 points. Team Gladiators also scored 17 points.
Also Read: Fortnite Shadow Tracker Pistol Details, Guide To Locate