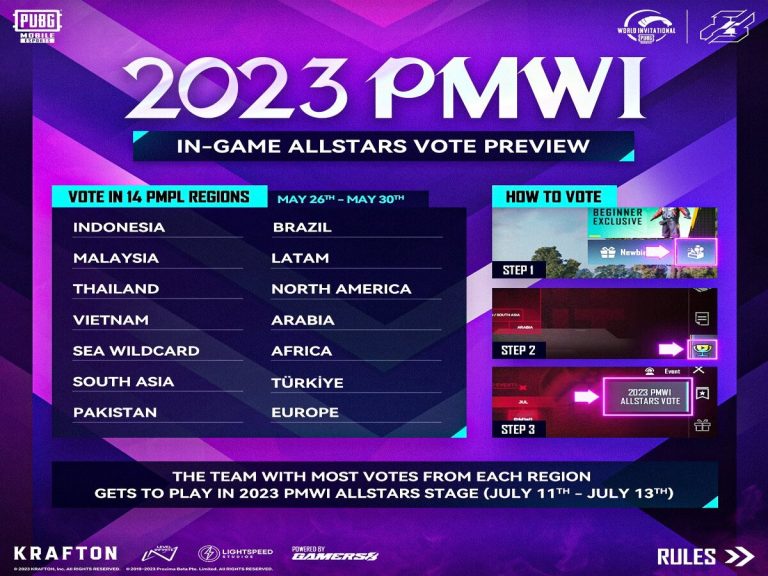 For the PUBG Mobile World Invitational (PMWI) 2023 All Stars, the voting process is about to come to an end.
Fans may vote for their favorite teams to advance them to the PUBG Mobile World Invitational 2023 All Stars tournament. 
Teams need their fans more than ever since entry into the PMWI All Stars stage is determined by fan votes.
Players may earn vote tickets by completing daily in-game activities and taking codes from social media.
With just 14 qualifying slots available for the 2023 PMWI All Stars Stage, players may improve the prospects of their favourite team by using these tickets.
PUBG Mobile World Invitational 2023 All Stars
Players must first collect vote tickets, which may be done in one of four methods, in order to take part in the fan vote.
Players who have reached Level 9 may earn up to five vote tickets every day just by playing PUBG MOBILE by fulfilling daily in-game activities like playing a classic style match or taking out three enemies in classic mode.
"We wanted to provide an update on the PMWI All Stars Vote event, as we have been monitoring an invalid vote count.
To ensure the integrity of the final numbers, we will verify all entries once the voting is closed and remove all invalid votes. In the meantime, the current data displayed on the event page is not final and is subject to change," PUBG Mobile Esports stated.
The organizers will check all submissions once voting is over and weed out any invalid votes to guarantee the accuracy of the final results.
Additionally, the information currently shown on the event page is provisional.
How to vote for your favourite team
Go to the in-game Event Center.
Find the given tasks and complete them.
Cast your votes for your favourite team.
It is thus a simple process that will propel your favourite team to glory. 
Also Read: Minecraft 1.20 Pre Release 7 Patch Notes: Full Details