Axar Patel, the Gujarat-born Indian all-rounder's name has been in the spotlight for quite a while now. He has hogged the spotlight for his world-class bowling in his first couple of Test matches. The left-arm player took his 2nd consecutive five-wicket haul in his Test career. The homeboy is turning out to be a mystery for the England batsmen in the ongoing four-match Test series. Now, he has talked about his transition from being a fast bowler to the spinner and how his fast-bowling experience helps in bowling his exceptional arm-balls.
Axar Patel was part of the Test squad that lifted the Border-Gavaskar Trophy 2020-21. But. he didn't get a single game to play. However, his wait got over as he was picked by the team-management in the series opener against England. He did impress everyone with his bowling and took a five-wicket haul on his Test debut in Chennai.
Axar Patel Surprised On Taking Six Wickets Against England On Day-1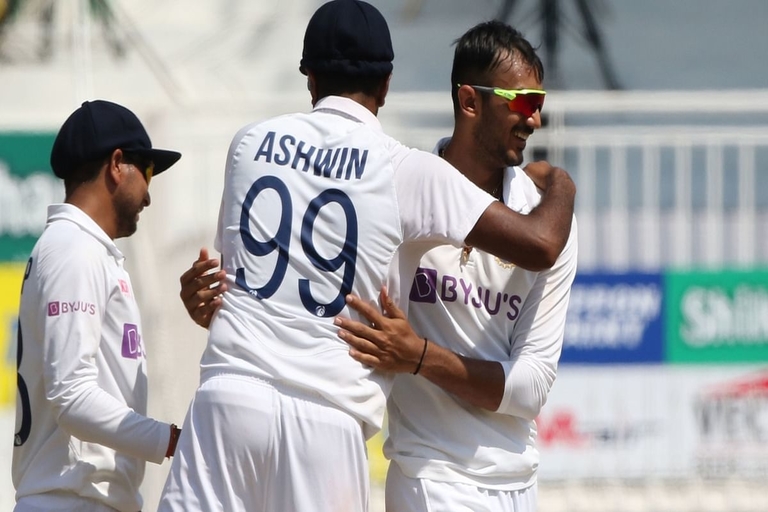 He carried his momentum and brilliant bowling form to Narendra Mode stadium in Ahmedabad. Axar Patel paved enough problem for English batsmen on Day-1 with his skillful bowling and variations. The visitors' batter failed to adjust against Axar's bowling. This is the reason why homeboy managed to take his 2nd consecutive five-wicket haul. He registered amazing bowling figures of 6-38.
On Day-1, Axar Patel's arm-ball took England's batting line-up by storm. His deliveries were simply skidding into the wickets. The Indian all-rounder asserted that he uses his fast-bowling experience to ply precise arm-balls in the games. He added that during the initial days he was a fast-bowler. But due to a knee injury, he turned into a spinner.
"I have learned the arm ball myself. I worked with Venkat Sir (Venkatapathy Raju) at the NCA to master this delivery. I was a fast bowler in the early days of my career, which is why my bowling style is a bit quicker. So, I think my experience of being a fast-bowler also helps me bowl arm balls. I converted myself into a spinner only because of knee problems, but what I used to do in my early days helps me bowl those arm balls quicker," said Patel in the post-match press conference.
Axar Patel was very happy and excited and mentioned that he never expected of taking six wickets on Day-1. But his confidence from the previous game helped him a lot in taking wickets on his home ground.
"But to be honest, I didn't expect getting a six-for on the first day itself as there was no guarantee that we would be bowling first. However, the confidence was always thereafter I took five wickets in the previous Test and was bowling well too," concluded Patel.