IPL 2021 has already been suspended by BCCI for an indefinite period after four players, one coach and two non-playing members were tested Covid-19 positive. The Board Control for Cricket in India is already facing the heat of the fans. Now, betting clouds have started hovering over the league. Police have arrested two individuals that attended the RR vs SRH game with fake identity cards.
Indian Premier League 2021 got off the mark on April 9 and its final was scheduled to be played on May 30. But, Covid-19 played spoilsport as four main players were tested Covid-19 positive. In the end, BCCI was forced to suspend the tournament for an indefinite period.
Police Arrest Two Unknown Individuals That Attended RR vs SRH Game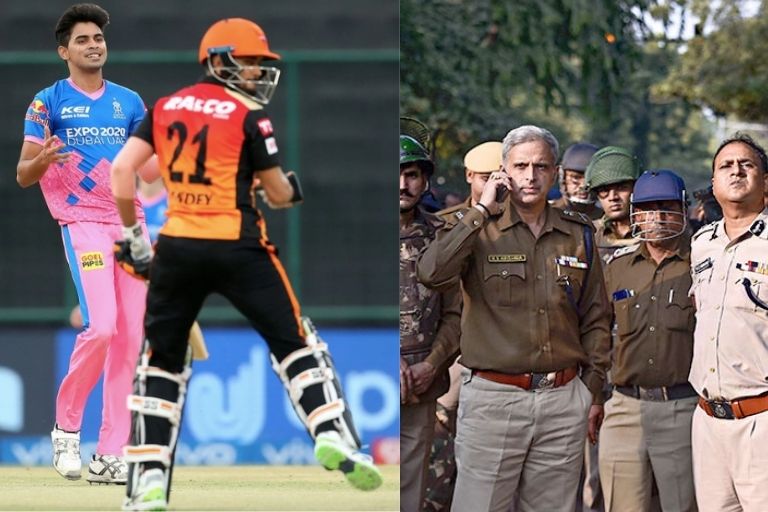 The tournament was being played behind closed doors without spectators. Only family members were allowed to attend the game. Now, comes the big news that police have arrested a couple of individuals that attended the Rajasthan Royals vs Sunrisers Hyderabad game with fake accreditation cards.
Police revealed the names of the accused that are Krishan Garg of Swaroop Nagar and Manish Kansal of Jalandhar in Punjab. During the investigation, they failed in giving a satisfactory answer to the police on why they were present in the VIP Lounge.
Police is currently investigating if the accused were bookies or had any connection with the betting. At the moment, police have put charges on the accused under the section of the Indian Penal Code.
BCCI suspended the cricketing extravaganza, people raised several questions on the credibility of the strongest cricket board in the world. Before IPL 2021, BCCI claimed that their Bio-Bubble is Covid-19 free and they assured that every player will be safe. But, that never happened as Varun Chakravarthy, Amit Mishra, Sandeep Warrier, Wriddhiman Saha, Laxmipathy Balaji, and two non-playing members were tested Covid-19 positive,