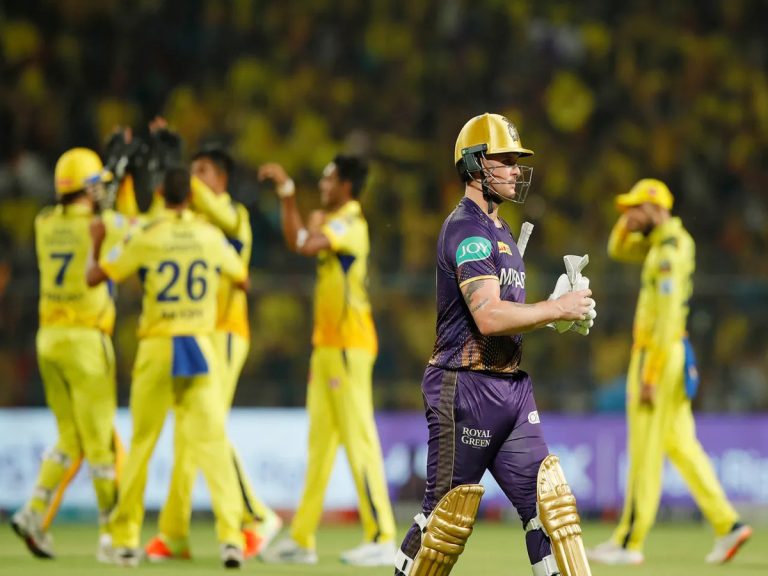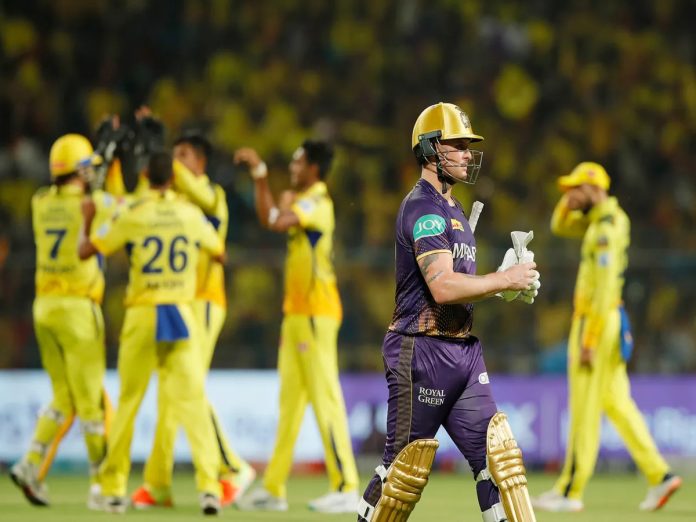 The much-awaited clash between Chennai Super Kings (CSK) and Kolkata Knight Riders (KKR) is all set to take place in the IPL 2023. The 61st match of the tournament will be held at the MA Chidambaram Stadium in Chennai on Sunday, 14th May at 7:30 PM IST.
CSK have been having a great run in the tournament so far and currently occupies the second spot on the points table with 15 points from 12 matches. 
A win in this match will guarantee their place in the playoffs, and they will be aiming to continue their winning streak as they approach the crucial stage of the tournament.
On the other hand, KKR's campaign has dealt with inconsistency, leaving them in eighth place in the points table. Their chances of making it to the playoffs are quite slim, and they would have to win both of their remaining matches and hope for other results to go their way. 
KKR needs to pull out all the stops and produce their best game if they intend to keep their hopes alive in the tournament. Here are the top 5 must-have fantasy picks for the upcoming match.
Devon Conway (CSK)
The CSK hitter is a must-have for your fantasy teams because of his incredible performance this year. Conway has accumulated 468 runs from 11 innings, batting with a strike rate of 136.84, an average of 52, including five fifties.
Conway has demonstrated that he can recover from hardship and can be the difference-maker for the Super Kings despite his failure in the previous game.
Ravindra Jadeja (CSK)
This year, Jadeja has been a crucial component of the CSK winning squad, especially when the team has the ball in hand. In 12 games, the all-rounder has taken 16 wickets for an economy rate of 7.13.
His bat work has also been helpful; he has 113 runs scored at an average of 18.83 and a strike rate of 141.25. For the CSK vs KKR game, fantasy players shouldn't leave Jadeja off of their team.
Varun Chakravarthy (KKR)
Varun Chakravarthy is an excellent pick for your fantasy team because the Chennai pitch is expected to help spinners. From 12 games, the KKR spinner has taken 17 wickets at a 7.94 economy rate. If KKR is to win their next game, Chakravarthy will play a key role.
Jason Roy (KKR)
The KKR opener has 228 runs, a strike rate of 157.24, an average of 38 runs, and two half-centuries in six games this season.
Roy was the top scorer for KKR in the most recent game against CSK, scoring 61 runs off of 26 deliveries. Roy's powerful batting has the potential to shift the course of a match for the Kolkata Knight Riders.
Andre Russell (KKR)
For KKR this season, Russell has excelled at both bat and the ball. The all-rounder for West Indies scored 218 runs in 12 innings at an average of 21.8 and a 150.34 strike rate.
Additionally, he has taken seven wickets at a 22.85 average. Russell is a smart choice for your fantasy team because of his capacity to alter games with both the bat and the ball.