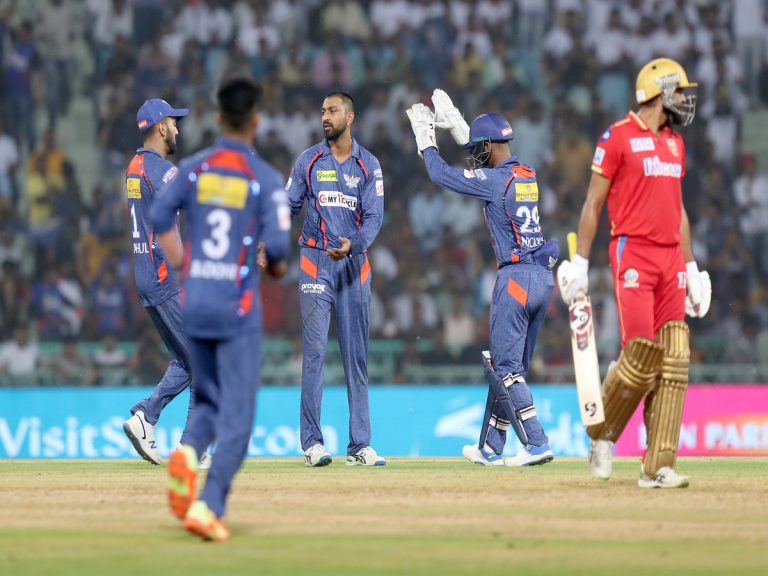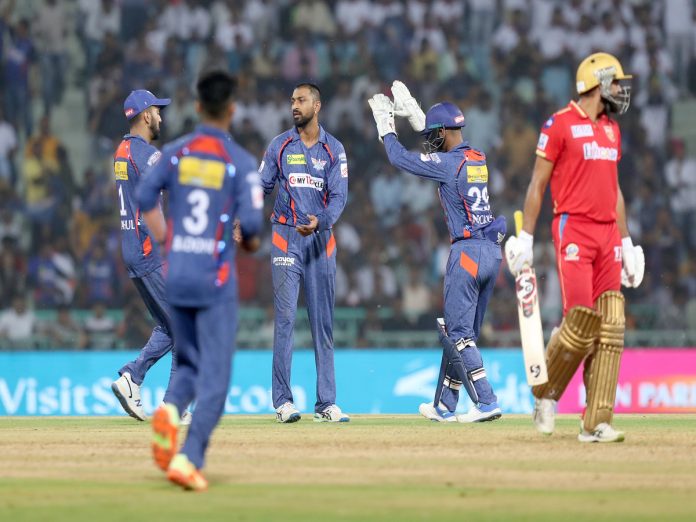 On Friday, April 28, the Punjab Kings (PBKS) and Lucknow Super Giants (LSG) will play in the 38th game of the IPL 2023 at the PCA Stadium in Mohali.
With four victories out of seven matches played thus far, Punjab Kings and Lucknow Super Giants have similar records to show for their efforts this season.
Punjab has performed admirably without Shikhar Dhawan, but Lucknow enters the match after suffering a discouraging home loss to the Gujarat Titans. Due to a well-balanced team captained by KL Rahul, the Super Giants will start as the favourites despite the setback.
Some of cricket's top temperaments are scheduled to tackle the pitch for the Lucknow Super Giants (LSG) and Punjab Kings (PBKS). LSG will be cautious of Punjab's depth, though, given that players like Liam Livingstone and Arshdeep Singh are just finding their rhythm.
For fantasy cricket enthusiasts, picking the right players for their teams can be the difference between winning and losing. Take a look at the top 5 must-have fantasy picks for the PBKS vs LSG game.
KL Rahul (LSG)
KL Rahul, the captain of the LSG, is unquestionably one of the IPL's most reliable players. Any fantasy cricket squad must have Rahul because he has a track record of winning games. In seven games, he has scored 262 runs and hit a handful of fifties. KL Rahul is a strong candidate for the PBKS vs LSG matchup.
Krunal Pandya (LSG)
A key component of the LSG equation is Krunal Pandya. In fantasy cricket, his capacity to stop the flow of runs and take wickets at critical moments makes him a valuable asset. This season, he has performed superbly both with the bat and the ball.
In seven innings, he has produced 103 runs at an average of 20.6 and a strikeout percentage of 115.73. Additionally, Pandya has taken six wickets at a 20.32 average.
Kyle Mayers (LSG)
Kyle Mayers, the LSG's opener, is a reliable T20 performer and a hard-hitting batsman. He has been among LSG's top players this year. In seven games, he has scored 243 runs, averaging 34.71 and using a 150.93 strike rate. He is an absolute must for every fantasy cricket team due to his capacity to attack the opposing bowlers and score runs quickly.
Arshdeep Singh (PBKS)
With 13 wickets in seven games, Arshdeep Singh is among the IPL's leading wicket-takers this year. He enters the match fresh off a four-wicket haul against the Mumbai Indians with a ball average of 15.69. Arshdeep is a must-have in any PBKS vs LSG Dream11 prediction team because of his outstanding performance this year.
Sam Curran (PBKS)
For the Punjab Kings, Sam Curran has performed admirably as interim captain. In seven games, he has amassed 142 runs and five wickets, including a performance that earned him a Player of the Match award against the Mumbai Indians.
Given his abilities and current form, Curran is a strong candidate to serve as the captain or vice-captain of your PBKS vs LSG Dream11 prediction team.
Also Read: IPL 2023: Top 3 Captain Picks For PBKS vs LSG Fantasy Team