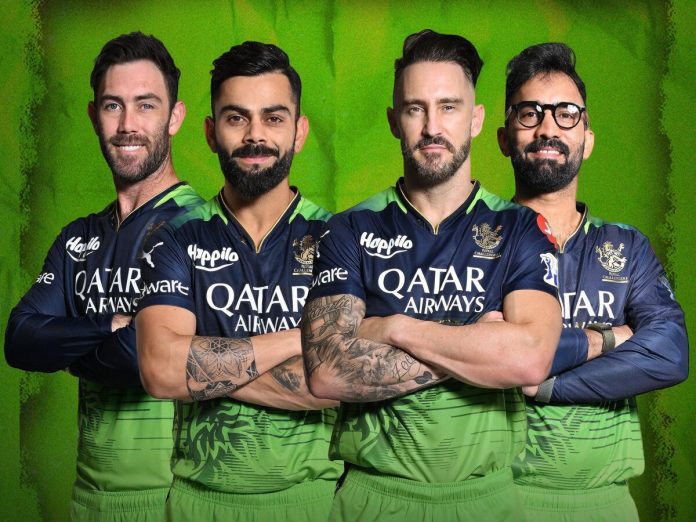 During their home game against Rajasthan Royals (RR) on April 23 in IPL 2023, Royal Challengers Bangalore (RCB) players will wear green jerseys.
In 2011, as part of their "Go Green" project, RCB adopted the green jersey in an effort to promote environmental sustainability and raise awareness of ecological issues. Every season since they have participated in one game while wearing green jerseys.
Fans have loved RCB's green uniform over the years, and it has won praise for its creative use of the sport of cricket to spread awareness of environmental issues. The team has taken use of the occasions when they wore the green jersey to talk to fans about environmental protection, sustainability, and conservation.
Green jerseys are made of 100% recycled material
On Wednesday, RCB posted a picture of some of its players wearing green jerseys to Twitter. The promotional photo that marked the team's home game against RR as their first "Go Green" match of the season included captain Faf du Plessis, batter Virat Kohli, all-rounder Glenn Maxwell, and keeper-batter Dinesh Karthik.
"Green Game will be played on the 23rd of April, against Rajasthan Royals at the Chinnaswamy stadium. Our special green jerseys are made of 100% recycled material and you can now get your hands on them, on the RCB Website and App," sharing details about their green game in IPL 2023 RCB tweeted.
RCB already played 12 IPL matches in green jerseys
Over the years, RCB's followers have expressed support for the green jersey. The franchise has won praise for its innovative use of the game as a platform to bring attention to environmental issues.
Whenever they play in the lucrative league, they wear the green jersey to spread awareness of environmental issues including sustainability, conservation, and the need to protect the environment.
Interestingly, RCB has worn green jerseys for 12 of their IPL games so far. Yet, they had a terrible record in such games, winning just three times while losing eight of them. They lost against RR by 19 runs the last time they competed in the IPL while wearing the green jersey.
Before facing the Rajasthan Royals, Faf du Plessis' side will play Delhi Capitals (DC), Chennai Super Kings (CSK), and Punjab Kings (PBKS) on April 15, 17, and 20, respectively.
Also Read: "Some Of The Decisions In This IPL Have Been Surprising": Ravichandran Ashwin Gives Shocking Statement About IPL 2023