Mumbai Indians is currently playing the 1st match of IPL 2021. RCB won the toss and elected to field first. Like always the track of MA Chidambaram supported spinners from the word go. But, MI opener and skipper Rohit Sharma got out due to a goof-up between the wickets while stealing a run-off from Yuzvendra Chahal, who was playing his 100th IPL game.
Mumbai Indians came out with a new opening pair of Chris Lynn and Rohit Sharma. They got off to a poor start in the game. Rohit Sharma, who was looking confident in batting got out due to a small mistake of Chris Lynn sent MI skipper back to pavilion.
Rohit Sharma Pays Price Of Goof-Up Between The Wickets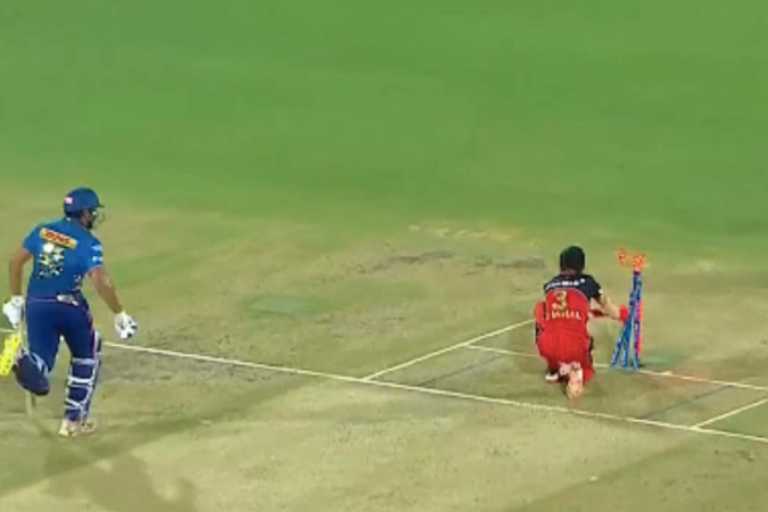 Mumbai Indians were unexpectedly struggling for runs and they had just made 24 runs with one delivery left in the fourth over being bowled by Chahal. Lynn, cover drove the ball to Kohli's left who scooped it up. Rohit saw a run that was actually non-existent. To make things worse for Rohit, Lynn was watching the ball, not even aware that Rohit was running down the track. Lynn's ' No' sent Rohit to turn around and recover his crease. But, it was too late as Chahal received the throw from Kohli and whipped up the bails with Rohit yards out! An unfortunate wicket lost due to pressure.
Coming onto the match, MI managed a respectable total of 159 runs for a loss of 9 wickets. Harshal Patel, the shocking pick from RCB for the opening game, He took a five-wicket haul dismissing Ishan Kishan, Hardik Pandya, Kieron Pollard, Krunal Pandya, and Marco Jansen. Meanwhile, Chris Lynn missed out on his maiden fifty for Mumbai Indians by a margin of 1 run. But, he finished as the highest run-scorer for MI in the opening game with his glittery knock of 49 runs in just 35 balls.