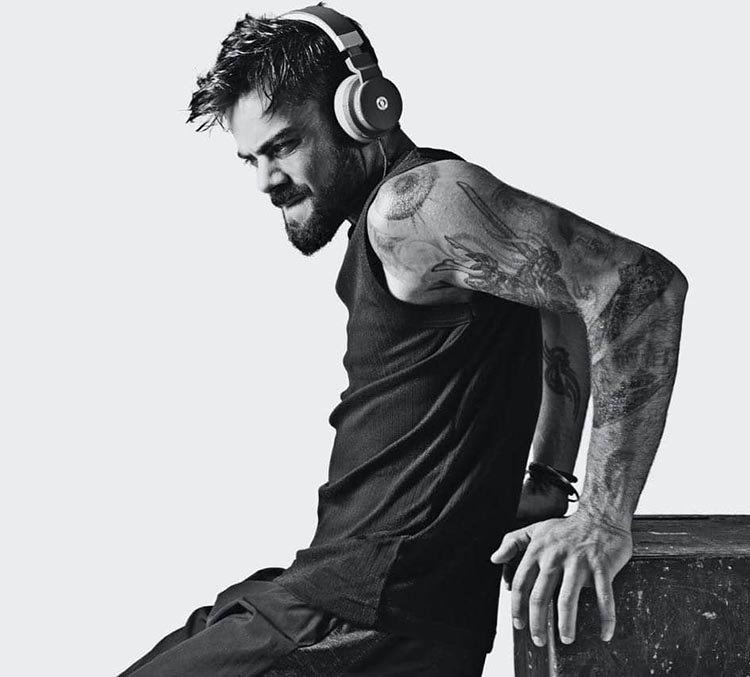 Virat Kohli is one of the most passionate Cricketers that have managed to wear his passion for the game on his sleeves. It has reflected on and off the field many times. He has made his own ways to do things differently. He is now among the best batsmen in the world. And he has put in plenty of effort to achieve this. Virat is also the only Indian Captain who has such an immense liking for sporting tattoos on his muscular body.
As things stand today, the right-hand batting machine has as many as 9 tattoos on his body. Other than being fashion statements for sure, each one of them is vital in his life. It is because each comes with different meanings and carries diverse perspectives.
When he started his Cricket career, he was counted as one of the Delhi brats. But over the years, he has made many fans across the world with his exemplary batting skills.
The presence of every tattoo on the chiseled body of Virat is a symbol of obsession with perfection and Psychology. He has got 9 tattoos to discover new beliefs. In turn, it has helped the RCB Captain to follow his quest to become the best in the world.
On that note, we will take a look at each of the 9 tattoos that Virat Kohli has and their meanings in this post!
9 Virat Kohli Tattoos with their Meanings
1) God's Eye Tattoo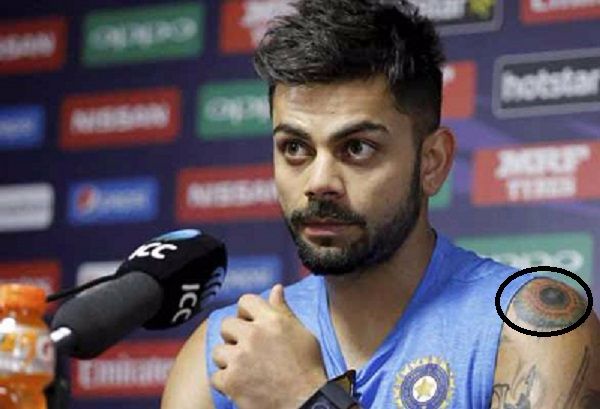 God's Eye tattoo is a tattoo that he has got, and it is on his left shoulder. In Kohli's own words, he calls it as the Eye of God. He is of the opinion that everything that is happening in this universe is being watched. And no matter what you are doing is being consistently on record by a superpower. The tattoo makes him connected and helps to know the meaning of life and what humans should do and about their goals. The meaning of this tattoo of Virat Kohli is that he has connected this with his spiritual self. Hence, when someone is there and keeping a close eye on your doings, you will try to be good with all. And every time you indulge in wrongdoings, your tattoo may give a shout not to do such acts subconsciously.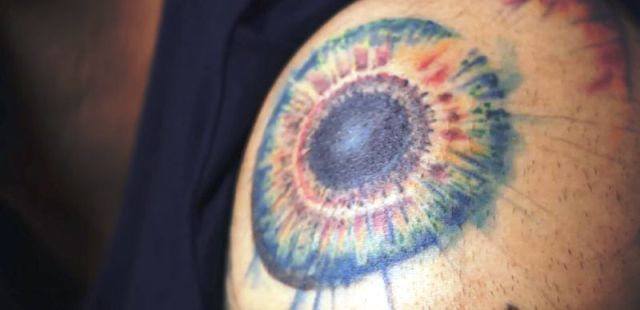 2) Japanese Samurai tattoo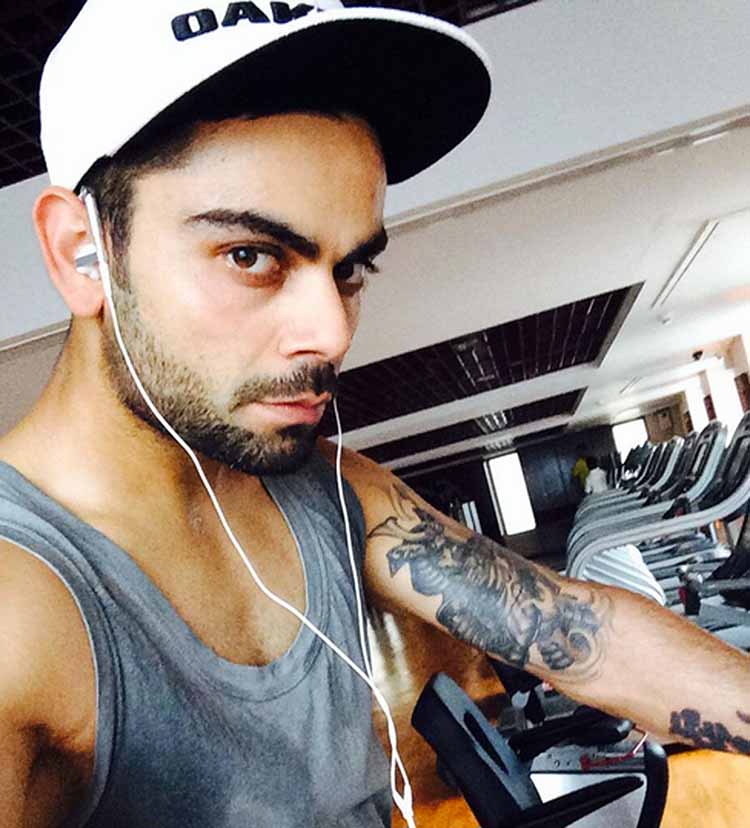 The next big tattoo that you will be able to see on Virat's body is on his left upper arm. It is a Japanese Samurai Warrior tattoo, and it comes with a raised sword. The tattoo denotes 'The Bushido code of the Samurai' showcasing a warrior's 7 virtues. It is one of the favorite tattoos of Kohli. He says that he got it to be reminded of life's fundamental attributes – helping him professionally and personally. It is like going back to the roots – the basics of Cricket. The 7 virtues of Bushido in that tattoo are Gi (Integrity), Makoto (Honesty), Yu (Courage and Courage), Chugi (Loyalty), Rei (Politeness), Meiyo (Honor), and Jin (Compassion and Kindness). Virat opines to getting strength from the sword and practice self-restraint and self-discipline. These virtues in this tattoo were displayed in warriors of Japan of the early days. And they believed in living a life based on respect, loyalty to masters, and ethical behavior.
3) '175' tattoo and '269' tattoo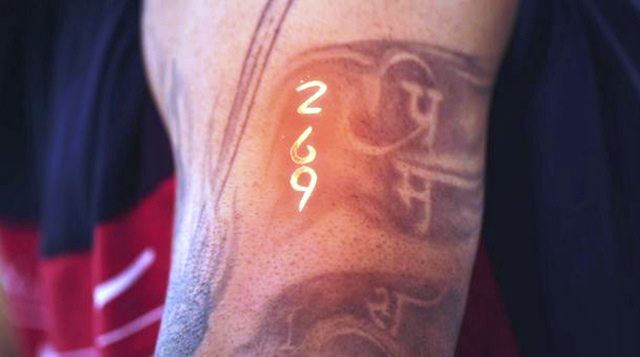 The 3rd tattoo on Virat's body is of '175', and it is the number of his ODI Cap. It is tattooed on his left arm. The next tattoo that you can see on him is '269'. It is his Test Cap number. He is quite emotional with both these numbers. He thinks that when you check out these numbers even after 200 years, his name will be visible. Thinking that they will stick with him for years to come, he got them inscribed on his body. You may have thought that these numbers must have been individual knocks on Kohli in ODIs and Tests. But they are not! He is proud of those numbers. In 2008 against Sri Lanka, Virat Kohli made his ODI debut. His first Test appearance was against Windies in 2011.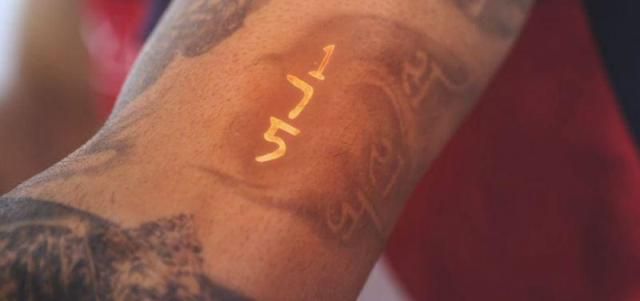 4) The tattoo of his Father's and Mother's name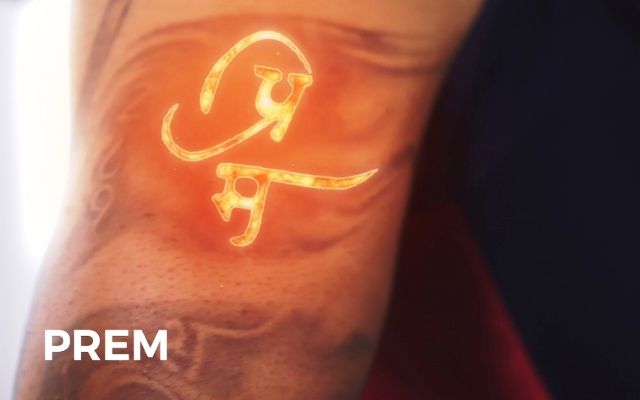 On number 4, he has 2 tattoos displaying the name of this Father and Mother. The left-arm has the name of his Mother, Saroj inscribed. The name of his Father Prem Kohli is also tattooed on his left hand. In his career and life so far, he has been immensely supported by his parents to reach the heights of life. Just like most of us, even Virat has got huge respect for his parents. And that's why you can see Virat sporting their names right on his body with such pride. When he was only 3, it was his Father, who introduced him to Cricket. Kohli, when he was 9, joined a professional Cricket academy, all thanks to his Father. He wanted to carry the name of his parents until he is alive – a feeling that he can't express in words. And that's why these tattoos came up. Virat, on many occasions, has attributed his success to his parents for staying thick and thin with him.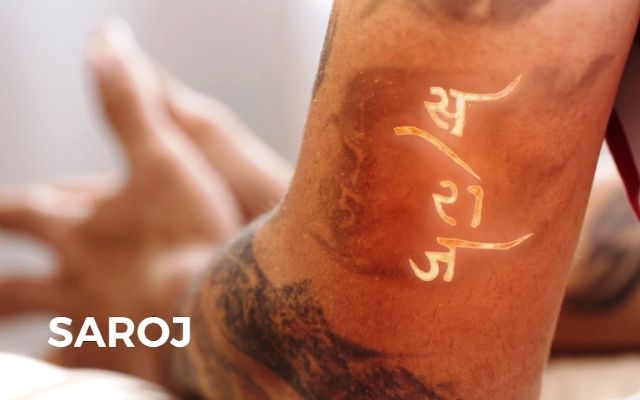 5) Lord Shiva tattoo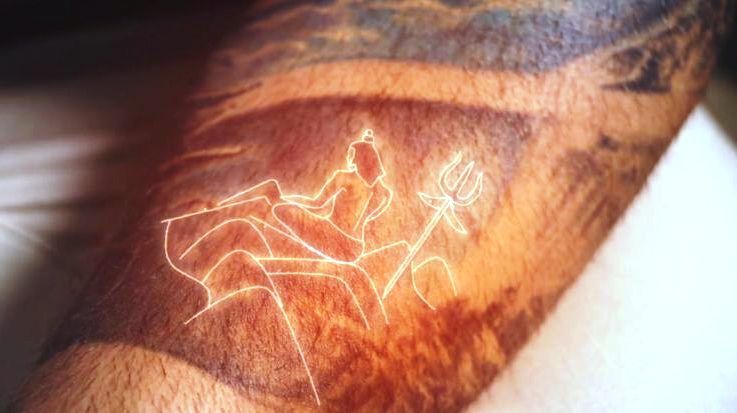 The next tattoo that is inscribed on Kohli's body – on his left forearm is of Lord Shiva. Virat Kohli happens to be the devotee of Lord Shiva. Thus, he has got his tattoo on him. The tattoo is Lord Shiva meditating on Kailasha near Mansarovar Lake. Hindu mythology has a huge significance for Lord Shiva. He happens to be the creator and destroyer of this world. It was the tattoo that Virat got after his father left for heavenly abodes. He channelized his entire grief into a passion for doing better in Cricket. And that's why you can see him yearning for so much when he is on the ground. The meaning of having this tattoo as per Kohli is that he wanted to fulfill his and his Father's wishes. Hence, it is denoted by Lord Shiva's tattoo. It is where he is destroying the grief and creating an aggressive identity. The passing of his father left a lasting impression on him. And it was after this incident that he left all distractions in his life to make it big in Cricket.
6) Monastery tattoo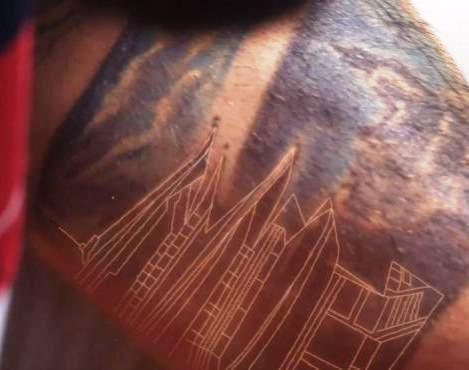 During the 2014 Tour of England, Virat did not have the best of times. He went on that Tour, thinking that he would set new records. It was because he had started the year on a good note. But destiny had some other plans for him. Much to him and shocks for millions of fans, he could score just 134 runs in 10 outings. This English Tour made him realize the meaning of life and career the tough way. He felt he was not enjoying the game and instead of stressing himself too much to exert performances. It was then when he went ahead and got a Monastery tattoo on the left side of the shoulder. The tattoo symbolized peace and strength. It gave him the energy to better his game going forward. In the Tour Down Under, he was able to outclass Aussies and also got the Test Captaincy before the end of the Series.
7) Scorpio Tattoo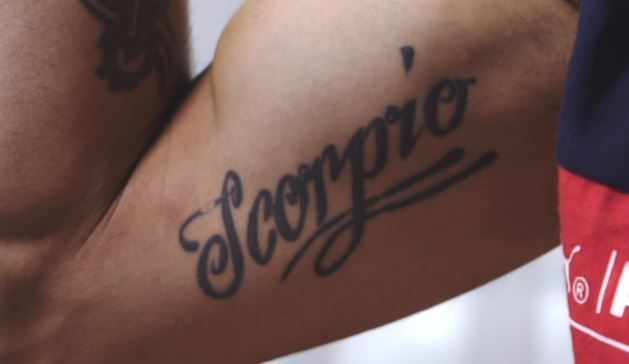 The Zodiac sign of Virat Kohli is Scorpio. And that's why he has got it tattooed on the upper right arm. Virat Kohli was born on 5 November 1988 and that makes him a Scorpio. He believes that he has many virtues that a real scorpion has. For example, a scorpion is extremely passionate and patient yet dynamic. All these traits of the Scorpio inspired the Indian Captain to get the tattoo inked.
8) OM Tattoo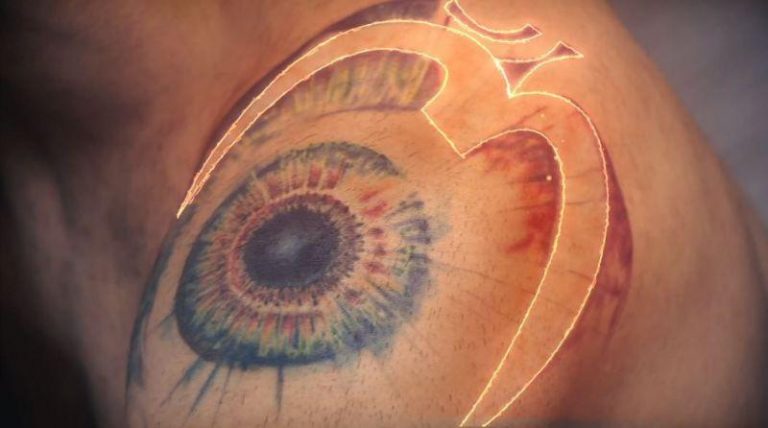 The next tattoo on the body of the Indian batting Super Star is none other than OM. OM is the religious letter in Hindu mythology. And this tattoo is just near the God's Eye tattoo on the shoulder of the right-hand bat. Why Virat has this tattoo is owing to the massive philosophy he believes. He thinks that the sound of OM is the most consistent one in this universe. As per Kohli, OM is the universal sound and most consistent thing in this world. And it is anywhere and everywhere where you go. It is indeed the essence of our lives.
9) Tribal tattoo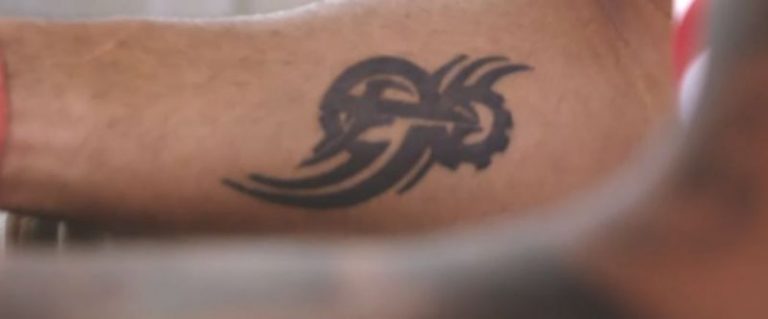 The Tribal tattoo is the first tattoo that Virat Kohli got on his body. And he had no idea of what he was doing when he got it. His basic idea behind getting the Tribal tattoo was that it would look cool on him. Virat Kohli was a teenager when he got this tattoo. And just like any other teen, it is understandable to know that there was no reason behind it. But, after all, it was Kohli's first tattoo on his body; he does have a connection with it now. Yes, after so many years, the tattoo motivates him to keep his feet on the ground. Even though he may be one of the richest Cricketers in the world, the tattoo keeps reminding him of his roots. And he is always able to remember where his Cricketing journey began. Overall, this tribal tattoo being his first has a deep connection with him.