Virat Kohli Net Worth 2020
Many Cricketers are so passionate about the sport that they wear it on their sleeves. You don't need to look any further for an ideal example. Virat Kohli, the Captain of the Indian Cricket Team, is one of those modern-day Cricketers. The right-hand run machine made his debut for India in 2008. And ever since then, he has not looked back. It is not only evident in the field while scoring runs. But he has also made a niche for himself off the ground. Virat has signed many astronomical deals worth crores of rupees. Most of the sports-related news in India is centered on him. In 2020 Virat Kohli's net worth is expected to be around $93 million.
If you want to know more about Virat Kohli net worth, salary, deals, and investments, then this post is for you.
Virat Kohli happens to be one of the most followed Cricketers on the microblogging website, Twitter. He has 25 million+ followers and counting.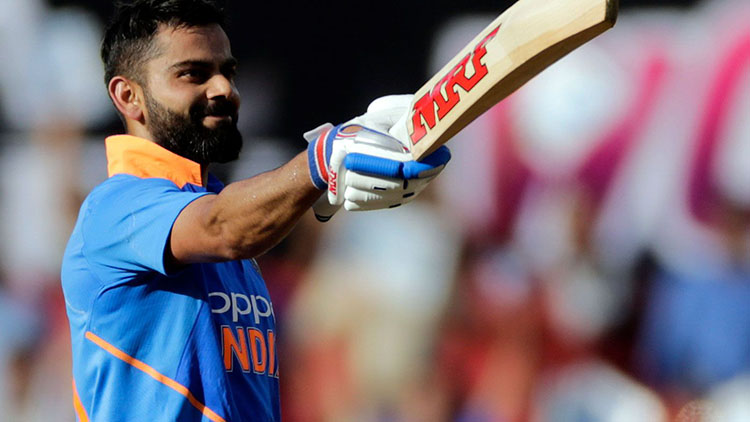 Virat Kohli's BCCI & IPL Salary
BCCI provided him with an A+ contract this year. And only his 4 other Teammates were given the same. He is earning an annual retainer fee of INR 7 Cr
What's more, Royal Challengers Bangalore retained Virat Kohli for a whopping amount of ₹170,000,000 (17 Cr). Virat Kohli has earned around ₹ 1,262,000,000 from IPL alone. Here is a Breakdown of his IPL earnings.
| | | |
| --- | --- | --- |
| Year | Team | Salary |
| 2020 (Retain) | Royal Challengers Bangalore | ₹ 17,00,00,000 |
| 2019 (Retain) | Royal Challengers Bangalore | ₹ 17,00,00,000 |
| 2018 | Royal Challengers Bangalore | ₹ 17,00,00,000 |
| 2017 | Royal Challengers Bangalore | ₹ 12,50,00,000 |
| 2016 | Royal Challengers Bangalore | ₹ 12,50,00,000 |
| 2015 | Royal Challengers Bangalore | ₹ 12,50,00,000 |
| 2014 | Royal Challengers Bangalore | ₹ 12,50,00,000 |
| 2013 | Royal Challengers Bangalore | ₹ 8,28,00,000 |
| 2012 | Royal Challengers Bangalore | ₹ 8,28,00,000 |
| 2011 | Royal Challengers Bangalore | ₹ 8,28,00,000 |
| 2010 | Royal Challengers Bangalore | ₹ 12,00,000 |
| 2009 | Royal Challengers Bangalore | ₹ 12,00,000 |
| 2008 | Royal Challengers Bangalore | ₹ 12,00,000 |
| Total amount earned  | Total Earnings | ₹ 1,26,20,00,000 |
Virat Kohli's Endorsements
Even after making so much by his on-field commitments, he earns more off the field. Surprised? Virat earns a significant portion of his income from endorsements. Over the years, he has had deals with MRF, Puma, Audi, Tissot, Colgate-Palmolive, and more. Kohli has 17 brands that he is currently endorsing for. Virat has been associated with big brands like Pepsi, Oakley, Audi, and Puma. He is now also endorsing for Uber in March. Kohli also went on to collaborate with New Era to come up with his signature headwear line.
One of his exclusive deals worth mentioning here is the 8-year deal that he cracked with Puma, the sportswear company. He pocketed – hold your breath – $17 million for it. Kohli also has a deal with MRF, for $ 15 million and extended it for another 8 years.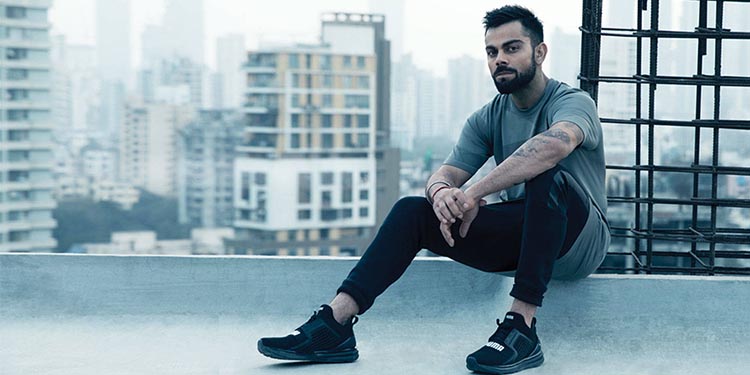 As per many reports, Virat Kohli is speculated to have earned around a whopping 252.72 crore the previous year. Rs.900 crore is the overall net-worth of the Star batsman. Most of his payments come via Ads, endorsements and start-ups.
Virat Kohli may be too costly if you think you may like to call him for a shoot. He will charge you $1 million/day for shoots. The overall figure that he earns via endorsements is $19 million. It is all set to clock a gigantic $34 million in a few weeks.
It was not very recent that he pumped up some money into an insurance start-up known as Digit. 'Chisel' is the name of his Gym chains that he also owns. Virat is also the brand ambassador of Sports Convo and has invested in Stephathlon Kids. Virat also runs an online fashion brand known as 'WROGN'.
| | |
| --- | --- |
| Source of wealth | Professional Cricket |
| BCCI Salary | INR 7 Cr |
| IPL Salary | INR 17 Cr |
| Endorsement Earnings | $19 million |
| Brands Endorsed | Puma, MRF, Audi, Hero MotoCorp, iQOO, Tissot, Blue Star, Wellman, Himalaya, Myntra, Google Duo, Mobile Premier League, Shyam Steel, Uber India, Royal Challenge Alcohol, American Tourister, Vicks India, Remit 2 India, Philips India, Valvoline, Too Yumm, MuveAcoustics, Sun Pharma – Volini, Colgate Boost Drink, FastTrack, Nike, Red Chief Shoes, Manyavar, TVS, Fair and Lovely, Pepsi Ad, Flying Machine Ad. |
| Charity | Virat Kohli Foundation (VKF), Charity football, Social media campaigns |
Virat Kohli Investments
Other than being a passionate Cricketer, Virat also has a keen interest in Football. He loves to follow his passion and now owns FC Goa, a Team in the Indian Super League. It is not the end of it – the quality batsman is also the proud owner of UAE Royals, the ITPL Tennis Team.
Virat Kohli Expenses
Virat Kohli loves owning luxury cars and absolutely likes to go for Audis. He is a proud owner of Audi R8 V10, Audi A8 Quattro, Audi Q7, Audi R8 LMS and an Audi S6. The modern-day run machine also has a Renault Duster, Toyota Fortuner and many sports bikes.
The latest outlay of Kohli includes a Sky Bungalow in Mumbai. He has bought it at a price of $5.3 million.
It is located in the Worli area of Mumbai and gives a perfect view of the sea. His bungalow is on the 34th floor. Upon completion, it can be converted into a 5-bedroom apartment.
Yuvraj Singh, the 'Man of the Series' in the 2011 ICC Cricket World Cup also owns a house in the same building but on 29th floor.
Charity Causes of Virat Kohli
While Virat earns in crores, he also does his bit for the society and unprivileged by spending a lot via his charity causes.
With the name of Virat Kohli Foundation (VKF), Kohli operates a Charity Foundation. It has connections with many NGOs who gather funds to help children.
Virat is also the Skipper of 'All Hearts', a Football Team. He plays matches with 'All Stars', the Team owned by Abhishek Bachchan for charity purposes.
Virat Kohli's Brand Value has increased by a Massive 39%
You would be amazed to know that the overall brand value of Kohli has surged by an astronomical 39% in comparison to 2019. And that's what has been recently reported by Deff and Phelps, an MNC consultancy firm. As of now, Virat Kohli Net worth is growing at an exponential rate
The Indian Skipper is earning Rs.17 crore for playing for RCB in the IPL. He is also earning Rs.7 crore as a yearly Salary from the Board for the Control of Cricket in India (BCCI).
In the prestigious Forbes Celebrities 100 List of 2019, Virat is ranked first. On the other hand, his Bollywood actress wife Anushka Sharma occupies rank 21.
What's more, Kohli's charge for 1 tweet is a mindboggling 2.3 crore and 1.35 crore for a single post. All these and of course the discussed brand endorsements, make him one of the richest in the world.
Overall, Virat Kohli has emerged as one of the mainstays of Indian Cricket, and a perfect businessperson. He also happens to be India's leading celebrity brand and a caring husband. After marrying Anushka Sharma, the collective net worth of the duo is expected to go over $156 million by 2020.