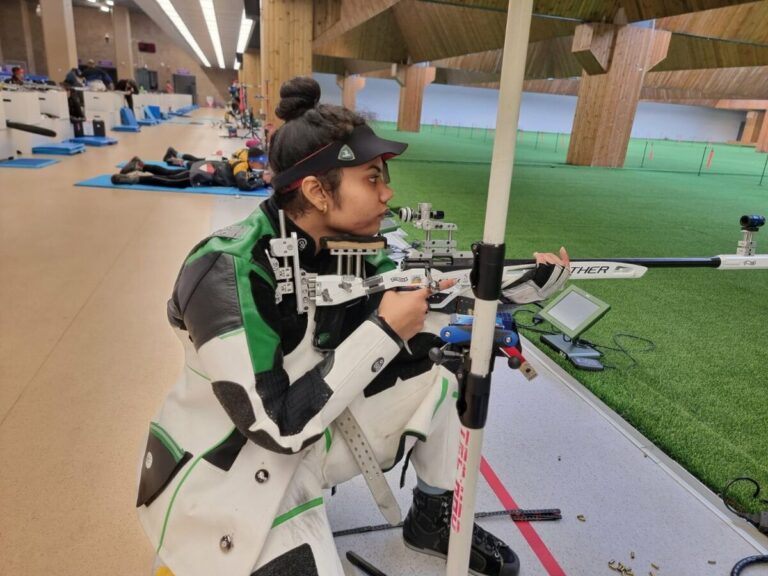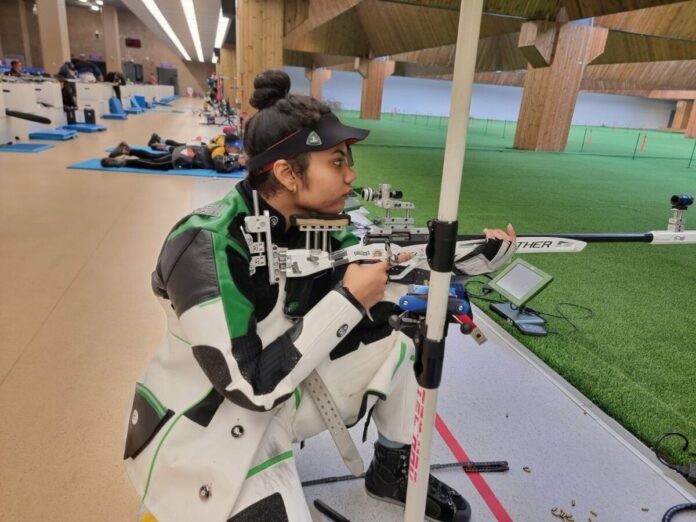 The Asian Games 2023 witnessed a thrilling day of competition on September 27, as India continued its impressive performance, clinching both gold and silver medals across various game events. The day was marked by stunning victories and notable achievements, reshaping the medals tally.
India's Sift Kaur Samra emerged as the star of the day, winning the gold medal in the women's 50m Rifle 3-P individual event. Her exceptional precision and composure secured India's fifth gold medal at this year's Games. The nation celebrated her remarkable achievement, recognizing her dedication and talent.
In the same event, Ashi Chouksey displayed her shooting prowess by clinching a well-deserved bronze medal. With this victory, India's shooting contingent reached a total of eight medals, showcasing their remarkable skills on the international stage.
Triumphant Trio in Men's Shotgun Skeet Team:
India's medal count continued to rise as the trio of Angad Vir Singh Bajwa, Gurjoat Siingh Khangura, and Anant Jeet Singh Naruka secured a bronze medal in the men's shotgun skeet team event, accumulating a score of 355. This victory marked India's ninth shooting medal and their 19th medal overall at the Asian Games.
Vishnu Saravanan's Sail to Bronze:
The excitement extended to the waters as Vishnu Saravanan secured a bronze medal in the men's dinghy ILCA7 sailing event, adding to India's medal haul. His skillful navigation and determination earned him a spot on the podium, contributing to India's 20th medal in the competition.
Esha Singh's Silver in Pistol Event:
Esha Singh demonstrated her shooting excellence by winning a silver medal in the 25m women's pistol individual event. Her outstanding performance marked India's 10th medal in the shooting category and their 21st overall at the Asian Games.
India continued to dominate in shooting as the women's team secured the top position in the 25m pistol event, claiming their fourth gold medal of the Games. This achievement marked India's 16th medal overall.
Asian Games 2023 Updated Medal Tally:
While India celebrated its remarkable achievements, the overall medals tally underwent changes. Thailand's impressive performance on the day, which included securing five gold medals, propelled them into sixth position, while India slipped to sixth. Meanwhile, the People's Republic of China maintained its commanding lead with an astonishing 62 gold medals out of a total of 110 at the time of this update.
Asian Games 2023 Medal Tally
| | | | | | |
| --- | --- | --- | --- | --- | --- |
| Rank | Country | Gold | Silver | Bronze | Total |
| 1 | People's Republic of China | 62 | 35 | 13 | 110 |
| 2 | Republic of Korea | 15 | 18 | 23 | 56 |
| 3 | Japan | 9 | 21 | 21 | 51 |
| 4 | Hong Kong, China | 5 | 7 | 12 | 24 |
| 5 | Uzbekistan | 5 | 6 | 11 | 22 |
| 6 | India | 5 | 6 | 10 | 21 |
| 7 | Thailand | 5 | 2 | 8 | 15 |
| 8 | Indonesia | 3 | 1 | 5 | 9 |
| 9 | Chinese Taipei | 2 | 3 | 3 | 8 |
| 10 | Singapore | 2 | 2 | 4 | 8 |
Also Read: Asian Games 2023 Hangzhou: India Women's Cricket Dominance Continues, Enters Into The Final