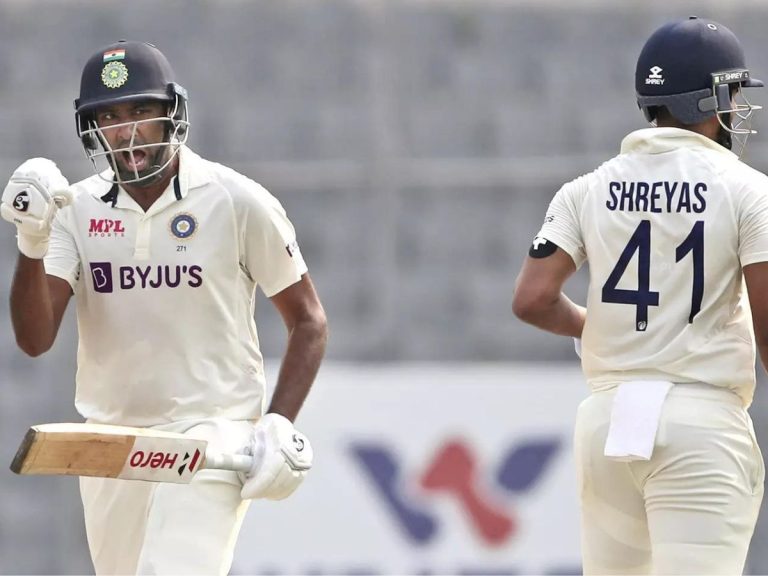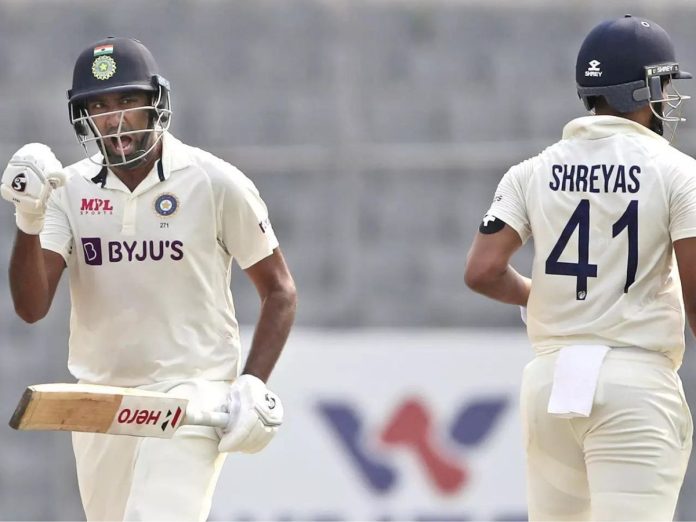 There are only 2 cricketers in the history of Indian cricket who have bagged 400+ wickets and have also scored 3000+ runs. While one of them is the legendary World Cup-winning captain Kapil Dev, the other one is presently India's most valuable player in the Test format.
Reeling at a precarious situation at 74-7, Ravichandran Ashwin bailed India out of troubled waters yesterday during the 2nd Test at Mirpur against the Bangladesh cricket team. The 36-year-old scored a gutsy knock of 42*(62) and along with Shreyas Iyer, guided India to a resilient victory.
If you take out Ravindra Jadeja from the Indian team, there is always an Axar Patel to fill the vacuum. Take out Jasprit Bumrah and there is always a Mohammad Shami and Mohammad Siraj to act as backup options. But if you remove Ashwin, there isn't an effective bowling all-rounder who can take his place. That explains the class and skill set of Ravichandran Ashwin, India's premier off-spinner in Tests.
Whenever India plays a Test match in sub-continent conditions, the first name that inadvertently finds its place in the squad is Ravichandran Ashwin. With 449 wickets in 88 Test matches, Ravichandran Ashwin is a doyen of spin-bowling in India.
It was Anil Kumble who helped India win matches with his wily bowling in the 2000s. Now the mantle has been safely taken over by the 36-year-old smart bowler in the form of Ravichandran Ashwin. He can spin a web and bamboozle all the batters. And also, simultaneously bat with supreme concentration and willpower when the team's back is against the wall.
He already has proven his credentials as a batter. With 5 centuries and 13 fifties under his belt in the longest format, Ashwin is the number 2 all-rounder in Tests according to the International Cricket Council (ICC) rankings.
Cast your mind back to the 3rd Test match between India and Australia at the Sydney Cricket Ground (SCG). India pulled off a heist in the form of a draw as Ravichandran Ashwin and Hanuma Vihari stitched a solid partnership and stood the test of the menacing Australian bowlers' bowling. Ashwin suffered blows from the bowlers but made sure his country doesn't end up losing the game. It was an innings that was oozing resilience. It was an innings of a different pedestal altogether.
The days might be near when Ashwin calls it quits on his glittering and illustrious career. But as a fan, we must acknowledge the greatness of one of the greatest spinners and all-rounders to have donned the jersey of the Indian cricket team! Salute to you, Ravichandran Ashwin. We thank you for your immense contributions to Indian cricket.
Also read: "Sack Rahul Dravid": Twitterati Fume At Indian Team Head Coach After India's Batting Collapse In The 2nd Test Match Vs Bangladesh