Shoaib Akhtar lashes out at Pakistan's former pacer Mohammad Amir for spilling beans on the current management over his treatment. The former pacer feels that the 29-year-old should be thankful that he got the opportunity to play for Pakistan post his match-fixing ban.
Mohammad Amir first bid adieu to Test cricket before Pakistan was set to travel for an Australia tour. Later on, he called his time off from limited-overs cricket as well. And, he claimed that his return to international cricket is only possible if the current team management changes.
The pacer has also applied for UK citizenship and informed the fans about the same through his social media activity. Before Amir announced his retirement, he was dropped from the limited-overs squad for a sudden dip in his bowling form.
Shoaib Akhtar Shows Mirror To Mohammad Amir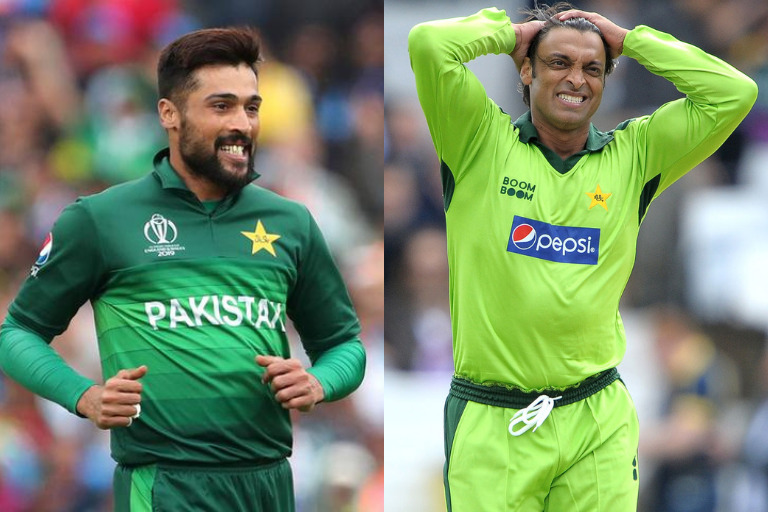 It is known that Mohammad Amir has not performed well in the past 24 months for Pakistan. The swing and accuracy are not there in his bowling. Also, he has struggled to take wickets in crucial situations for his side. This became one of the biggest reasons behind his exclusion from the national side.
However, the pacer did not have any regrets and rubbishes all the claims that were being made on his bowling form.
In an interview, Shoaib Akhtar lashed out at Mohammad Amir for his reaction and attitude towards PCB. He said that the latter should know that Mickey Arthur will not be there to protect him from the board. As per him, Amir should act maturely and solve his issues with the board.
"Amir should have realized that 'papa' Mickey Arthur will not always be there to safeguard him and he has to now grow up," Akhtar told PTV.
"You must be matured enough to realize that the management is not going to act according to my wishes. Therefore now I have to raise my performance and level of hard work," he said.
Shoaib Akhtar gave a brilliant example of Mohammad Hafeez and asserted that the batsman was going through a poor patch and the board reacted in the same way. He added that the right-handed batsman then responded with brilliant batting instead of chirping words against the cricket board.
"The management was also against Hafeez. But he just made runs and nothing else. He didn't give the management an envelope full of cash. Amir should learn that from Hafeez."
He opined that current Pakistan coach Misbah-ul-Haq is absolutely right that Mohammad Amir's pace has gone down and the team has suffered a lot due to the same.
"Misbah is right when he says that Amir's pace has gone down. There is nothing wrong with that assessment. I don't think the team management was unfair with Amir. They gave him ample chances before he was dropped from the team."
The Rawalpindi Express feels that Amir should work on his bowling and he should give answers with his performance instead of words.
"When you have pace and fitness then, you know, you will be in the team regardless and your focus is completely different."