Dale Steyn is one of the best and quickest bowlers ever produced by South Africa in its cricket history. He used to make many batsmen dance on the rhythm of his swing and quick deliveries. However, now he is moving in the last leg of his cricket career. However, he still too often comes out with an opinion to trap famous batsmen in the matches. And, just ahead of the World Test Championship, he has revealed a plan to trap Indian skippers in the high-profile World Test Championship final.
Dale Steyn has already bid adieu to Test cricket. But, he is still playing in the limited-over format for South Africa. He has taken 439 wickets in Tests, 196 wickets in ODIs, and 64 wickets in T20Is. He holds several accolades next to his name. When in prime, Dale Steyn was simply unplayable for any best batsmen in the world at that time.
Dale Steyn Explains How To Take Wicket Of Indian Skipper Virat Kohli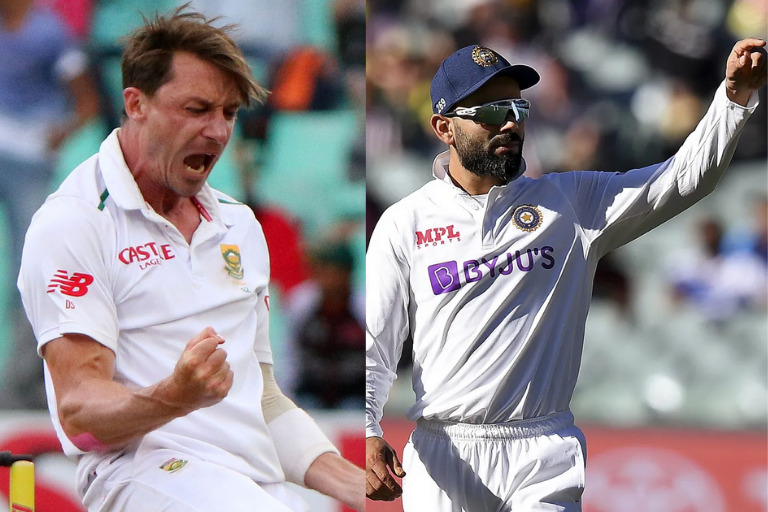 If we go down the memory lane then fans will remember how he used to clean bowled batsmen with his toe-crushing Yorkers and in-swingers. In an interview, Dale Steyn said that Kiwi bowlers will have to play with the mind of an Indian skipper in order to chip his wicket early in the game.
Steyn asserted that he would let Kohli know that he can anytime bowl him a brutal bouncer to keep him inside the crease. But he will bowl the same delivery when his plan A doesn't work because bowling bouncer is always the last option for the bowler to bowl.
"You've got to play the mind games with Virat. I would look at putting somebody in a short leg. I would let him know that I'm going to come at him, come at his body, want to come quickly at him. And I'd want him to try and pull because I feel like that's his B game," Steyn
"Even though he does it really well, I'd want him to think that's where I'm going to bowl, and then get it up there because I like to swing the ball, I like to move the ball. Look for those three modes of dismissals, LBW, bowled and the caught behind."
Dale Steyn mentioned that every batsman takes at least 20 balls to get settled on the wicket and that is the best time for a bowler to take the wicket of the batsmen.
"We know, every batter's feet in the first 20 balls is not moving as well as he's like to. His eyes haven't adjusted, he hasn't adapted to the wicket just yet. So I'd want him to think I'm going to go short but I'll probably bowl six full balls to him, to be honest," Steyn added.
"I'll probably trying to get him to nick every single ball but I'll be telling him, 'it's coming… I'm going to hit you in the head you know'. I'm not going to swear at him but let him know that that short leg is in business."