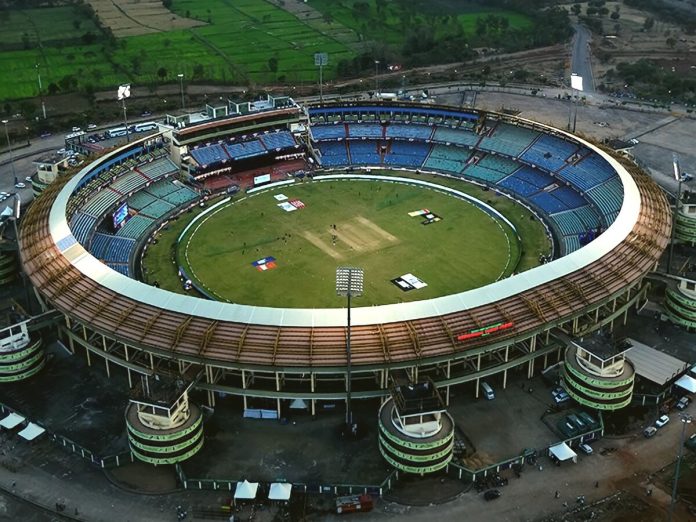 After receiving the allocation of the second match of India vs New Zealand ODI series scheduled to be played in January of next year, Raipur is ready to become the newest international cricket venue in India.
The BCCI announced the schedule for New Zealand's limited-overs tour of India on Thursday. There will be six white-ball contests between the two teams, including three ODIs and as many T20Is.
The first One-Day International (ODI) will be played on January 18 in Hyderabad, while the first international game will be played at Raipur's Shaheed Veer Narayan Singh International Cricket Stadium on January 21. In Indore, the third game will take place.
New Zealand tour of India: Complete Schedule
| | | | |
| --- | --- | --- | --- |
| Day | Date | Match | Venue |
| Wednesday | 18th January | 1st ODI | Hyderabad |
| Saturday | 21st January | 2nd ODI | Raipur |
| Tuesday | 24th January | 3rd ODI | Indore |
| Friday | 27th January | 1st T20I | Ranchi |
| Sunday | 29th January | 2nd T20I | Lucknow |
| Wednesday | 1st February | 3rd T20I | Ahmedabad |
Raipur's first-ever international match
Although this will be Raipur's first-ever international match, the venue has previously hosted IPL games. The Chhattisgarh State Cricket Association will host an international cricket match for the first time thanks to the BCCI. Two IPL 2013 matches were played here earlier.
In addition, T20 Challenger Trophy matches and the second IPL season of matches were played in 2014. Since then, the Chhattisgarh State Cricket Sangh has been in charge of overseeing all BCCI domestic cricket matches, including those for the Syed Mushtaq Ali T20 Trophy and Ranji Trophy. Additionally, this is where the Road Safety World Series cricket competition was held.
Chhattisgarh State Cricket Sangh (CSCS) media in-charge Rajesh Dave said, "It will be the first time when an international cricket match will be played in any stadium in Chhattisgarh. The second ODI match of the India vs New Zealand series will be played here on January 21, 2023. No international cricket match has been played in the stadium till date. It will be the first time that Chhattisgarh will get a chance to host an international cricket match."
Also Read: IPL Auction 2023: 3 Players Who Can Be The Most Expensive Player In IPL History