Royal Challengers Bangalore holds a big fanbase due to their star-studded line-up that comprises Virat Kohli, AB de Villiers, Yuzvendra Chahal, and others. In IPL, teams are generally made using players from different countries and it is one of the events where many get to meet their idols as well. Every side consists of a prankster, sincere based on everyone's individuality. And, now RCB has raised curtains on which player is one of the funniest within their team.
Advertisement

RCB had a great IPL 2021 season and they can be spotted in the upper half of the league table. The 5 games out of their total 7 outings and grabbed 10 points. Leaving the history behind, this season RCB looks like one of the favorites to win the tournament in the presence of some top players like Glenn Maxwell, Virat Kohli, and AB de Villiers.
RCB Players Reveals Teams Secrets Out In An Interview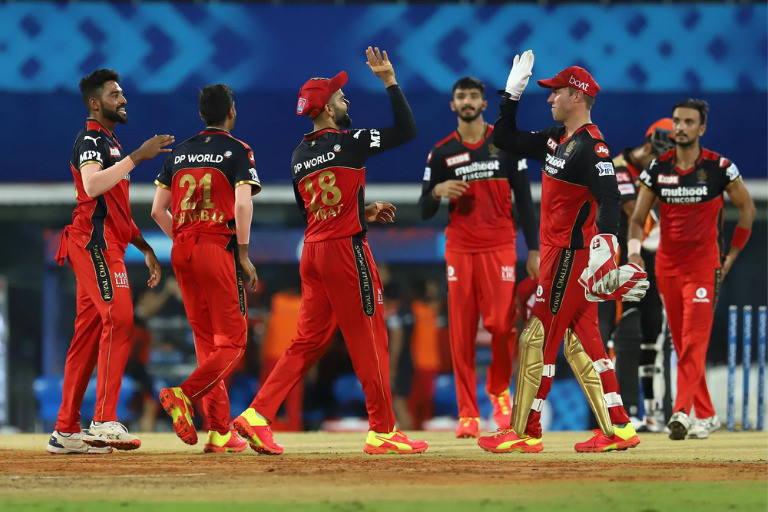 RCB is one of the sides that stays quite active on social media by sharing constant posts directly from practice sessions, meets, etc. Recently, they shared a clip in which RCB players were quizzed over different questions.
They were asked to pick the funnies cricketers on the side. Many thought, Yuzvendra Chahal will top the list. But that was not the case. RCB player Bharat Arun took the name of Mohammed Siraj, Navdeep Saini, and last but not least Yuzvendra Chahal.
Meanwhile, Navnita Gautam, RCB's athletics therapist picked Shahbaz Ahmed as one of the funniest in Royal Challengers Bangalore squad. Also, she took Virat Kohli's name while picking the fittest player in the side.
RCB will be seen in action in the IPL 2021 Phase-2 and BCCI has already announced their plans going ahead in the future. However, Virat Kohli's side will be under pressure as they might not get the services of Aussie all-rounder Glenn Maxwell after CA signaled that their players will not be available for the IPL 2021 Phase-2.