India's bowling coach Bharat Arun is impressed with Shardul Thakur and his emergence as an all-rounder in the absence of Hardik Pandya. And, he feels the latter will get a fair amount of chances to prove his caliber in the upcoming series of Team India.
Shradul Thakur expressed his desire to become a utility all-rounder for Team India. In the recent past, he also showed a glimpse of his talent with bat and ball. Thakur also gave a pleasant performance in his debut Test series. Interestingly, he saved a crucial game for Team India with his bowling and batting.
Bharat Arun Outlines Upcoming Star All-Rounder For Team India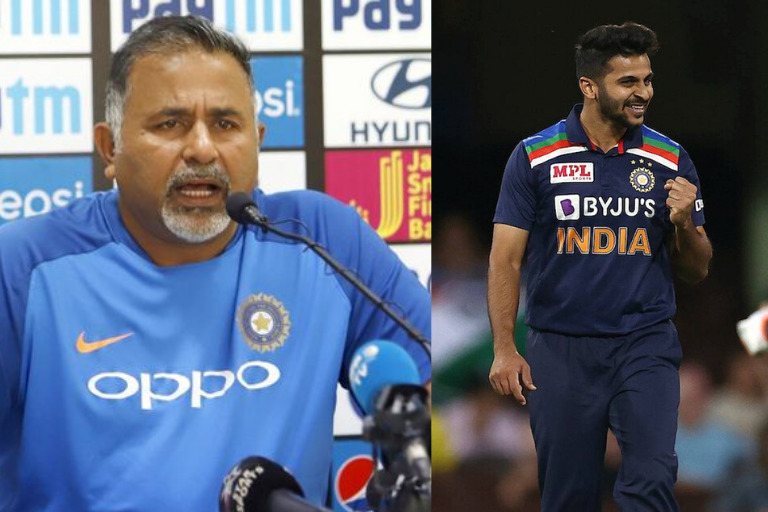 In last year, Shardul Thakur has done a great job with the ball whether be it in overseas conditions or home. In an interview, Bharat Arun said that it is the job of the selectors to find all-rounders and develop them. As per him, Hardik Pandya is a talented all-rounder, who did immensely well on his previous outing to England. But, the management has a big task to manage his workload in order to utilize him to the fullest.
The Indian bowling coach asserted that Shardul Thakur is expected to get fir chances going ahead in the Test series against England post World Test Championship final.
"It is more of a selectors' job to find them and then we can develop those all-rounders. Shardul has proved he can be an all-rounder. What he did in Australia was fabulous," Arun said during the interaction facilitated by Ironwood Education Company.
"I wish you could just wish and develop bowlers like that. Hardik is an outstanding talent, but unfortunately, he had to undergo a back operation, and then it's not very easy to come back after that," he said.
"He bowled against England, I thought he did a really good job. But, to sustain that we need to manage him well and build on his strength," he added.
"Even we have a policy in place at the moment. We have rested players in between matches, and also some top players for a series and things like that. It is under place, even for us," Arun said.
"That is going to be the future because the volume of cricket that is being played, and also with all the current rules which are going to exist for some time. I think it is extremely important that the players are fresh mentally, physically, so workload management is going to be big in the future."