Team India in a surprising decision opted to change the opening pair in the final T20I against England. Indian opener KL Rahul struggled throughout the series with the bat. And, in the series decider hosts, the skipper took responsibility in his hands that turned things around. Virat Kohli along with Rohit Sharma took the charge from the word go. The fans got crazy after witnessing scintillating batting from the duo in the 5th T20I. Now, Michael Vaughan himself emerged comparing the new Indian opening pair with the likes of Virender Sehwag and Sachin Tendulkar.
The former Indian opening pair of Virender Sehwag and Sachin Tendulkar dominated world cricket for more than a decade. They were simply exceptional throughout their international career. They were like ice and fire against the bowlers during the games. Sehwag used slam boundaries and sixes with ease. On the other hand, Sachin used to play classical strokes with the willow.
The fans got a glimpse of the same in the final T20I match when Virat Kohli stepped out to bat alongside Rohit Sharma and the rest is history. The duo slammed 94 runs in just 8.5 overs before Rohit Sharma walked back to the pavilion. On one side, fans got to watch classical Rohit Sharma innings. Meanwhile, Kohli also hogged the spotlight by scoring another marvelous knock of 80 runs in just 52 balls.
Virat Kohli-Rohit Sharma Reminded Me Of Virender Sehwag & Sachin Tendulkar: Michael Vaughan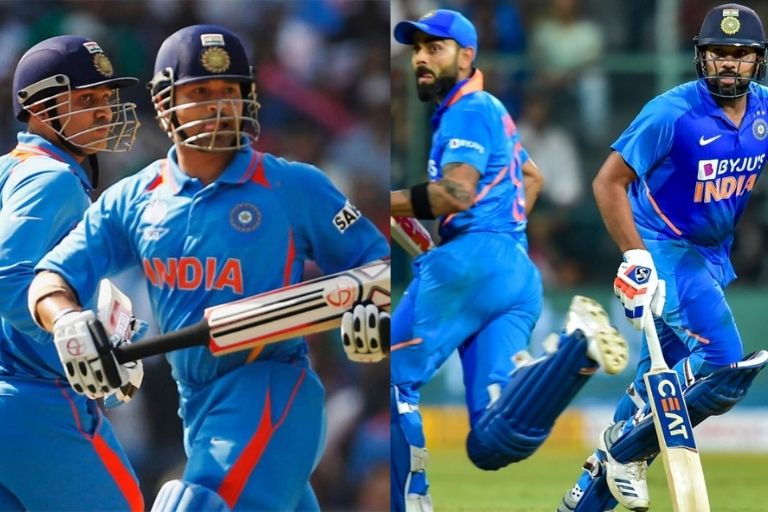 Soon social media was flooded with posts comparing Virat Kohli-Rohit Sharma with Virender Sehwag-Sachin Tendulkar. Now, Michael Vaughan, the former England skipper said that teams sometimes have to go out of the box in order to reap out good results and the same happened in Team India's case.
He opined that the impressive duo reminded him of Virender Sehwag and Sachin Tendulkar. As per him, in the shorter format of the game, every side gets 120 balls to play and every team will want their best players to face a maximum of them. He added that in Team India's case, Virat and Rohit should get to face the most number of balls.
"Sometimes you just need a little bit of luck and stumble across the right batting order. India has done that with Virat Kohli and Rohit Sharma opening. I'm sure that was not their intention at the start of the series. But today they reminded me of Virender Sehwag and Sachin Tendulkar. In T20 innings, you have 120 balls to spread across your players so if you are India then you want Virat and Rohit to face the maximum amount. The rest of the Indian lineup can go for it because they know Virat will play in such a solid way," Vaughan wrote in an article for Telegraph.